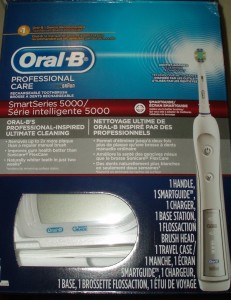 Every year, I renew my resolve to find new ways to improve my health and to continue the healthy habits I've already developed.  This year, when it comes to tooth care, I'll be doing both.
Thanks to my mother's influence, I have good oral care habits, including brushing, flossing, and rinsing regularly to ensure my teeth are healthy and cavity-free.  But even so, I find during check-ups that I have more plaque build-up than I'd care to have.  I also worry about maintaining my oral health throughout my lifetime as aging and wear can certainly have adverse affects.
So when I had the opportunity to switch from my standard battery-powered toothbrush to the Oral-B® Professional™ Precision 5000, I did the oral care happy dance of joy… which turned into a full-blown mega-happy-dance celebration after a week of using and realizing the tremendous benefits of this system!
First and perhaps most important, my teeth are cleaner.  You know that lovely just cleaned smooth feeling you get after your six-month checkup and cleaning at the dentist?  That's the feeling I have every day now after I use my Oral-B Professional Precision 5000.
The brushing technology, which comes from the oscillating, rotating and pulsating movements, is a lot gentler on my teeth than the less expensive battery-powered brushes that have rely more on vibration for cleaning motion.  There is a gentle setting on the Oral-B Professional Precision 5000, but I didn't find the need to use it as the normal setting was far gentler than the brushes I've been using.  There's also a deep clean setting and a massage setting for gums (nice bonuses!)
To help encourage good brushing habits, the system comes with a timer that is automatically set to the brush.  You can set the timer to remind you to brush twice daily at specific times and you can use it while brushing to ensure you are ideally brushing for a two minute time period.  I love the setting that times each quadrant of your mouth (upper left, lower left, etc.) for 30-second intervals, than signals when to change throughout the two minute time period.  A little "smiley face" on the timer also lets me know I'm finished, which is a fun, upbeat way to end my tooth care session.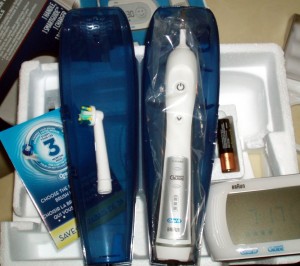 I've also noticed my teeth are whiter as any stains I may have from coffee or tea are easily removed.  And I love that the brush system comes with a travel case so that I don't have to do without amazing oral care when on-the-go.
I'm curious to see how my next check-up will go, but I'm betting already that I will have less plaque build-up to deal with. The Oral-B Professional Precision 5000 delivers an amazing clean- A brilliant beginning to my new year!
Disclosure: I wrote this review while participating in a blog tour by Modern Mom on behalf of Oral-B and received a product sample to facilitate my review.