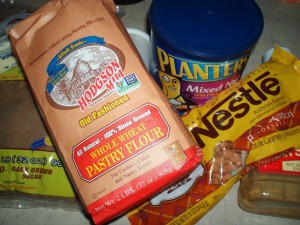 Only 6 ingredients are needed for this
delicious holiday treat!
My grandmother used to make amazing caramel cashew bars for the holidays.  Over time, they turned into caramel mixed nut bars (likely because mixed nuts were a favorite of my father's at holiday time.)  Now, to me, nothing speaks of fall harvest and holiday cheer than this great cookie bar with a special, nutty topping!
Several years ago, I pulled out this old recipe and made Salted Caramel Nut Bars because we received an abundance of salted nuts during the holiday season (far more than we would ever eat.) I served them at a New Year's Eve party and they were an instant hit… with one caveat.  I noticed that some of the guests (particularly the youngin's) had picked out a lot of the Brazil nuts and Hazelnuts off the bars, discarding them on the platter.
When I asked about it, I learned that many simply didn't like (or didn't think they liked Brazil Nuts) or they were picking off any nut shapes they were not familiar with. What really got me, though, was when one of my sons kept picking off the peanuts and insisted he didn't like them.  This is the same son who adores caramel apples with peanuts, crunchy peanut butter, and so on.
Fast forward to two years later, we again received an abundance of salted mixed nuts and I decided to give the bars a try for Christmas.  Only this time, I chopped the nuts so that the effect was truly a "mixed" one. They received rave reviews and no nut was left behind!
Since then, I no longer wait to see whether we receive salted mixed nuts for gifts, I purchase them and make these lavish treats for holiday gatherings and often gift them to neighbors and friends (who now request them each year.)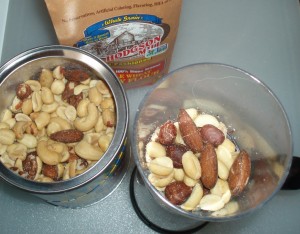 When the nuts are chopped together, the blend is divine! 
This year when Hodgson Mill challenged me to make a healthy swap in a recipe by exchanging white flour for whole wheat, I instantly thought of my Salted Caramel Mixed Nut Bars.  I thought the richer grain texture of whole wheat pastry flour would complement the caramel flavor and chopped nuts nicely.  I couldn't have been more right!
This family recipe has certainly under-gone a metamorphosis over the years and now it has a healthy upgrade!  Introducing the new and improved Rural Mom's Whole Wheat Salted Caramel Nut Bars… we welcome them whole-heartedly to our continued family traditions!
Whole Wheat Salted Caramel Nut Bars
Ingredients: 
1 1/2 cups Hodgson Mill Whole Wheat Pastry Flour
3/4 cup of Dark Brown Sugar
3/4 cup Butter, softened
2 cups of Salted Mixed Nuts, chopped
1 1/2 cups of Butterscotch Chips
3/4 cup Light Corn Syrup
Directions: 
Pre-heat oven to 350 degrees Fahrenheit.  Lightly grease bottom and sides of a 13 x 9 x 2 inch baking dish.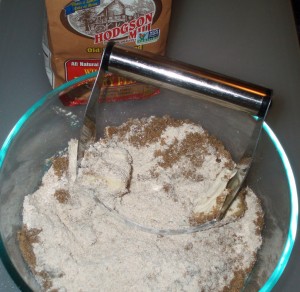 Pour Hodgson Mill Whole Wheat Pastry Flour and brown sugar into a mixing bowl.  Cut in 1/2 cup of softened butter with a pastry cutter. (If you do not have a pastry cutter, a fork or a food processor on "chop" setting may be substituted.)
When flour, brown sugar and butter are evenly mixed, spread mixture evenly across the bottom of the baking dish.  Press down firmly to create an tightly packed, even layer of crust.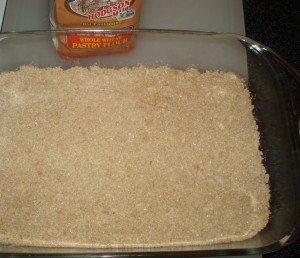 Bake crust for 15 minutes.  Remove from oven and cool for 15 minutes.
While crust is cooling, using a nut mill to chop nuts. When crust has cooled for 15 minutes, spread chopped nuts evenly over the crust.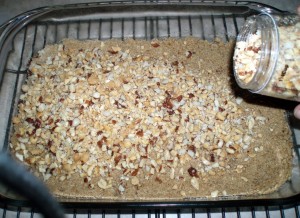 Using a small sauce pan, heat butterscotch chips, corn syrup and remaining butter over a low heat.  Stir mixture occasionally until chips are completely melted.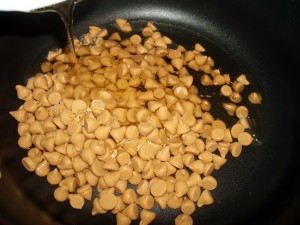 The secret to the salted caramel is that the salt comes from the nuts and though
there are no caramels used, the flavor is certainly there! 
Pour the heated butterscotch mixture in an even layer over the nuts.  Use a spatula to spread sauce lightly to ensure even coverage.  Bake 10 minutes.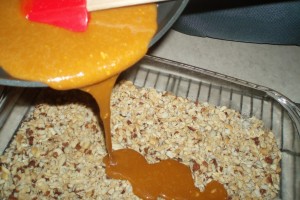 Remove from oven and cool on cooling rack.  While still warm, cut into desired bar size for easier removal later.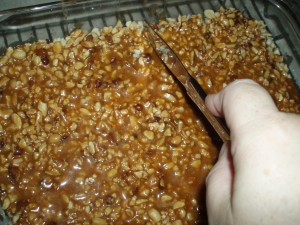 When fully cooled, use a fork or small spatula to remove bars.  Serve and enjoy or store in cool location, in a sealed container.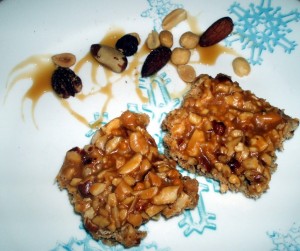 Additional Tips: 
These rich bars can be served individually or warmed and served with ice-cream
For a fun fall treat, warm up the bars and drizzle warm apple pie filling over them.  It will taste like you are eating a taffy apple!
Mixed nuts can be substituted with any nut of choice.  Some years I add in black walnuts from our backyard, other years, I've made an all pecan version.
If you are cutting back on sodium, swap out the salted nuts for salt free.  You'll still have a rich, tasty treat!