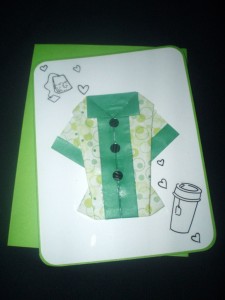 Fall is the perfect time to get started in cardmaking.  With all the upcoming holidays, hand-made sentiments will be a real treat for your recipients.
Sending a greeting card is a great way to show someone how much you care. There are scores of designs in stores for every occasion. Still, it can be difficult to find just the right one. Sometimes we have an idea in our heads and just can't find anything that comes close to it. This is why many crafters get started making their own cards.
Card making doesn't have to be complicated, and although it takes more time and thought than picking one from the store, it's really not all that time-consuming.
What You Need
Making beautiful cards starts with the right kind of paper. You'll need card stock or pre-scored cards. These can be found in a wide variety of colors, designs and sizes. But some card makers stick to one or two colors of card stock and invest in a paper cutter to use for making smaller cards.
Envelopes are also a must. Just like card stock, they are available in a wide variety of designs and sizes. Some card makers, however, choose to make them instead of buying them. You can purchase easy to use templates to use if you would like to make your own envelopes.
You'll also need some paper to use for accents. Rice paper and vellum are nice to use on the inside of cards, and are found in many of the cards you see in stores. Patterned papers are good for making your own punch-outs.
Punches may be used to punch designs out of paper to attach to the cards, or to punch designs out of the cards themselves. Some are specially designed to reach farther in from the edges. Corner punches are used to make rounded or decorative corners.
Next you'll need some adhesives. A good glue stick is a must. It will hold die cuts and other embellishments without making a mess. But liquid glue may be required for some embellishments. If you plan to do any layering, you might like to use double-sided tape.
Rubber stamps are great for decorating cards the quick and easy way. You can get them in all sorts of motifs from craft or scrapbooking supply stores. You'll also need some ink pads and a few colors of ink.
There are many more types of embellishments that may be used in card making. Embossing supplies, stickers and calligraphy pens are just a few of the ones that are available. Brads are my favorite tool for card making as they make attaching items like flowers very simple.
Grab a few supplies and get started making your own beautiful greeting card.  You'll enjoy the creative process and your recipient will certainly enjoy the greeting!