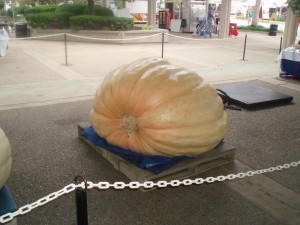 KY State Fair Blue Ribbon Winner
It's that magnificent time of year again when we get to enjoy all the goodies of the Kentucky State fair and oogle all the interesting eccentrics like the largest pumpkin.

As we wondered over to the contest area, noticeably absent were… the pumpkins! A few bottomed out on the way in and a few others suffered the ill effects of drought in Western Kentucky this year.

But two lucky pumpkins made it out of the patch to set center stage.  The blue ribbon winner, despite getting a nasty bump from a fork lift, weighed in at a whopping 1,074.5 pounds.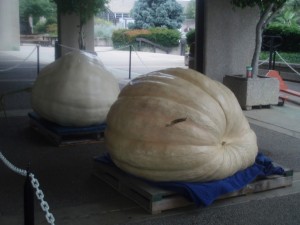 Blemish on winning pumpkin was due to a run-in with a fork lift.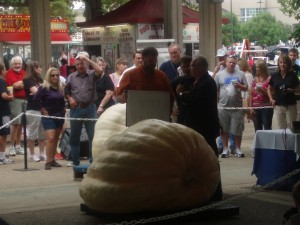 Winners with prize. 
If you want to take a try at growing a great big pumpkin, the time to start is now.  Your soil will need to be tested and the ground fertilized for optimal spring seed starting… see you at the fair!