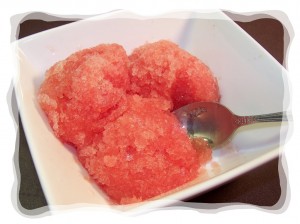 To me, watermelon and summer are synonymous. A fresh, juicy slice with any barbecue is a must! But sometimes, I like to try a little something different. Sorbet is an easy dessert that makes a great finish to a picnic meal or simply a fabulous treat to enjoy on a hot summer day.
Watermelon Sorbet Recipe
3 cups water
1 cup sugar
4 cups seeded, chopped watermelon
1/4 cup lime juice
Optional: 4 Tbsp. white rum (or your preferred alcohol)
In a medium saucepan, over high heat, bring water and sugar to a boil. Stir until sugar is completely dissolved, about 1 minute. Remove from heat and cool.
In a blender or food processor, puree the watermelon. Slowly add the cooled sugar water. Add lemon juice and mix for 10 seconds more.
Note: Because alcohol does not freeze, it keeps the sorbet soft. If you are using alcohol, add it now.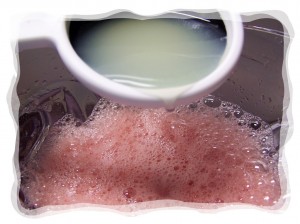 Pour watermelon mix into a freezer safe container. Cover dish and place in the freezer. It will take several hours to freeze completely.


Once per hour; pull the sorbet from the freezer and mash it up with a fork. When you're ready to serve, remove it from the freezer and mash it with a fork again or place it in a food processor or blender and process until smooth.
Alternative freeze method: Use an ice-cream maker and freeze according to manufacturer's instructions.
For extra watermelon flavor, eliminate the water and replace it with more watermelon puree.


This recipe works with other fruits, too:
For Lemons – substitute 1 1/2 cup lemon juice and 2 tbsp. lemon rind for the watermelon and lime juice.

For Oranges – substitute 5 cups orange juice and 2 tbsp. grated orange peel for the water, watermelon and lime juice.

For Strawberries, raspberries, blackberries or blueberries – substitute 6 cups fresh or frozen berries for watermelon.
After making, all you need to do is kick back and enjoy the taste of summer!