Earlier this week, in my Sherlock Holmes Date Night feature, I promised to share the recipe for the Beef in Stout with Herb Dumplings dinner that accompanied the fabulous showing of Sherlock Holmes: A Game of Shadows…. and so you shall have it… enjoy!
Beef in Stout with Herb Dumplings
(I adapted this recipe from one I found in The Complete Irish Pub Cookbook)
2 tbsp EVOO
2 Onions (sliced)
1 small bag of Baby Carrots
¼ cup All-Purpose Flour
3 pounds Beef Chuck Ribs (cut into cubes)
2 cups Guinness Draft (this is what I used, another Stout may be substituted)
2 tsp Brown Sugar
2 Bay Leaves
1 tsp Fresh Thyme (chopped)
1 tsp Salt 1 tsp Pepper
1 tsp Parsley
10 Frozen Country-Style Biscuits (or made from scratch country-style biscuits. Frozen cuts my prep time allowing me to enjoy date night a bit more!)
Preheat the oven to 325 degrees.
In a cast iron Dutch oven (or casserole dish,) add EVOO, onions, carrots. Sauté over a low heat until onions are softened.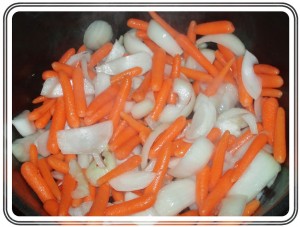 In a large plastic storage bag, add flour, salt, and pepper. Shake gently to mix. Add a batch of beef (about a handful) to the bag and shake to coat beef. Remove 1 batch, set aside, and repeat until all beef is coated in flour. Reserve remaining flour.
Set aside softened onions and carrots (on a plate or bowl) and cook first batch of beef in Dutch oven over a medium flame, stirring, until beef is browned on all sides. Remove, set aside, and repeat process with next batch until all beef is browned.
Return browned beef, carrots, and onions to the Dutch oven. Add Guinness, remaining reserved flour, brown sugar, bay leaves, and thyme. Stir. Bring to a boil, then place cover on Dutch oven, remove from the stovetop and place onto center rack in oven. Cook for 1 hour 45 minutes.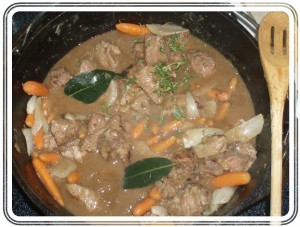 After placing beef in oven, begin defrosting the country-style biscuits (in a single layer) on a plate in the refrigerator.
After the 1 hour and 45 minute bake time is over, remove Dutch oven lid and add biscuits to the top of the beef casserole. Sprinkle parsley on top of the biscuits.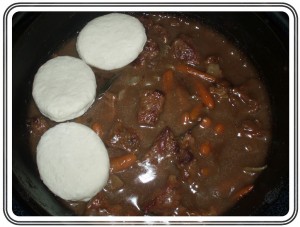 Keep the lid off the Dutch oven and bake for an additional 30 minutes, or until biscuit tops are lightly browned.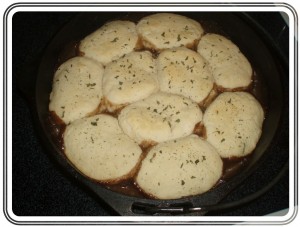 Remove bay leaves from Beef in Stout, serve and enjoy this delish dish!
Note: If you are interested creating (or adapting) authentic Irish recipes for your rural kitchen, I highly recommend adding a copy of The Complete Irish Pub Cookbook. I picked up my copy at Barnes & Noble, but it's available on Amazon, too, and certainly through your local bookseller.