Love the great outdoors?  As nature lovers and sports enthusiasts, camping, hiking, fishing, boating and off-trail ATV riding are activities we participate in regularly.  Thanks to our partnership with Best Buy, we have received an assortment of OtterBox Outdoor Gear collection to test out along our travels.  Opinions, experiences and love of nature are that of Rural Mom!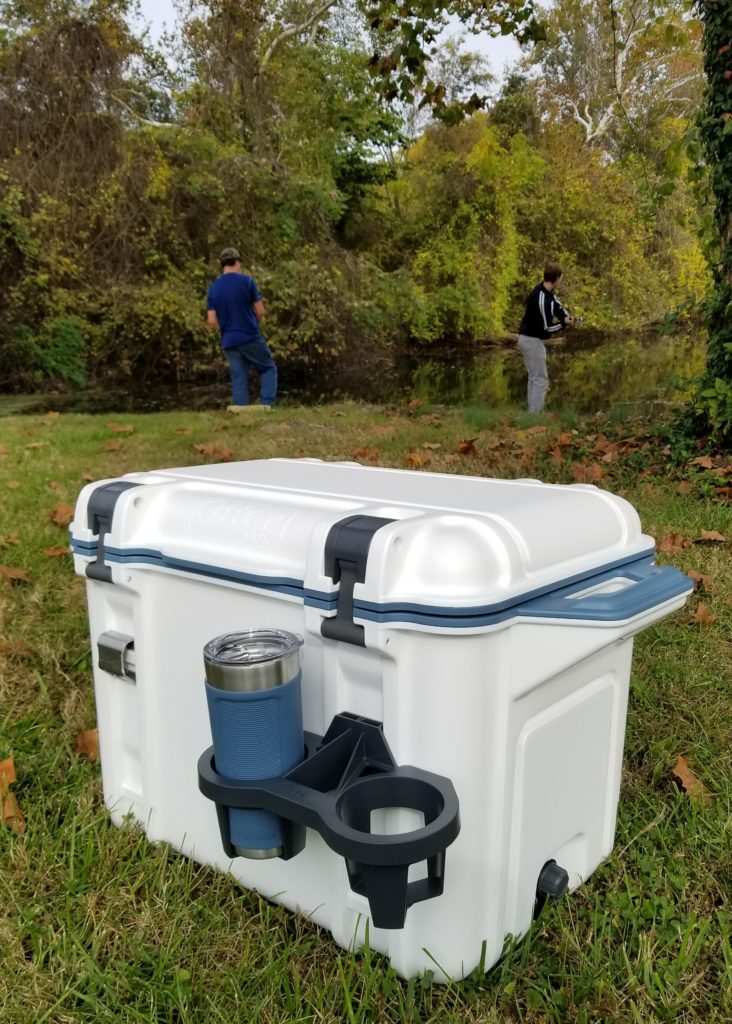 As every nature lover knows, when you head out to the wilderness for any length of time, it's important to be well-supplied with enough sustenance for your journey.  The trick is always finding clever ways to not only keep the food and water well preserved but also wildlife tamper-proof.  The Otterbox Outdoor Gear collection is designed to do exactly that, allowing you easy, convenient and secure ways to carry along everything you need for a fun family adventure.
The OtterBox Outdoor Gear collection includes coolers, tumblers, dry boxes and accessories that will be available at Best Buy (yet another reason to love this store!)  At the center of the collection is the Venture Cooler with an innovative design to keep all your food and beverages fresh and your gear together.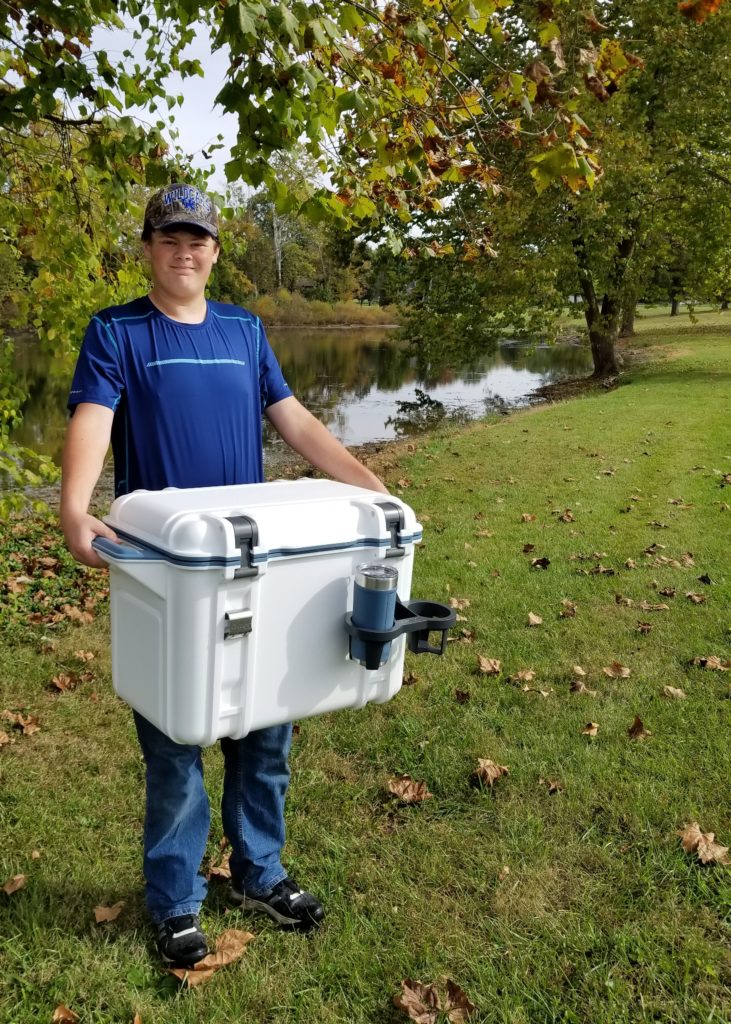 We tested out the OtterBox Venture 45-Quart Cooler which is the perfect size for our family of four for a day trip or weekend journey.  It's designed to keep ice for up to 14 days, has a complete mounting system for accessories and is touted as being ultra-bear resistant.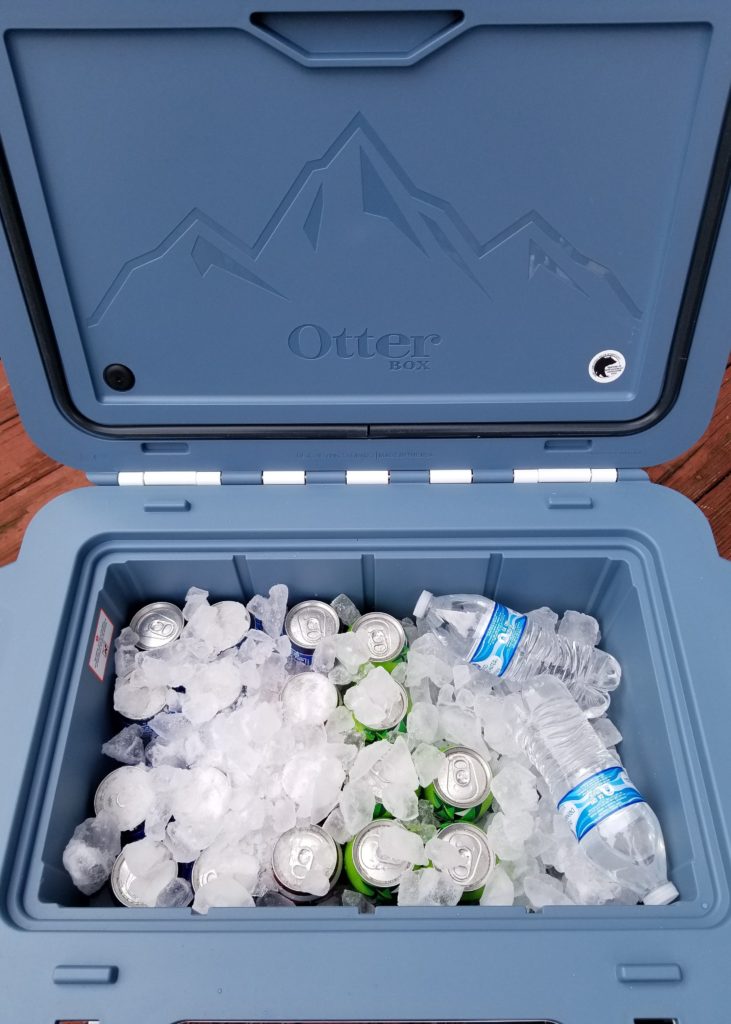 After testing the cooler in a variety of situations from a fishing trip to a family party, we found that the cooler does, indeed, keep ice for a long time.  We haven't had the opportunity to hit the 14-day mark, but the ice was still present after 6 days of sitting outside in 60-70 degree (F) weather.  I can't attest to the ultra-bear resistant-ness of it as well, we fortunately did not encounter any bears along our travels, but it is made of super sturdy, tough materials and we can attest that it is definitely house-cat proof!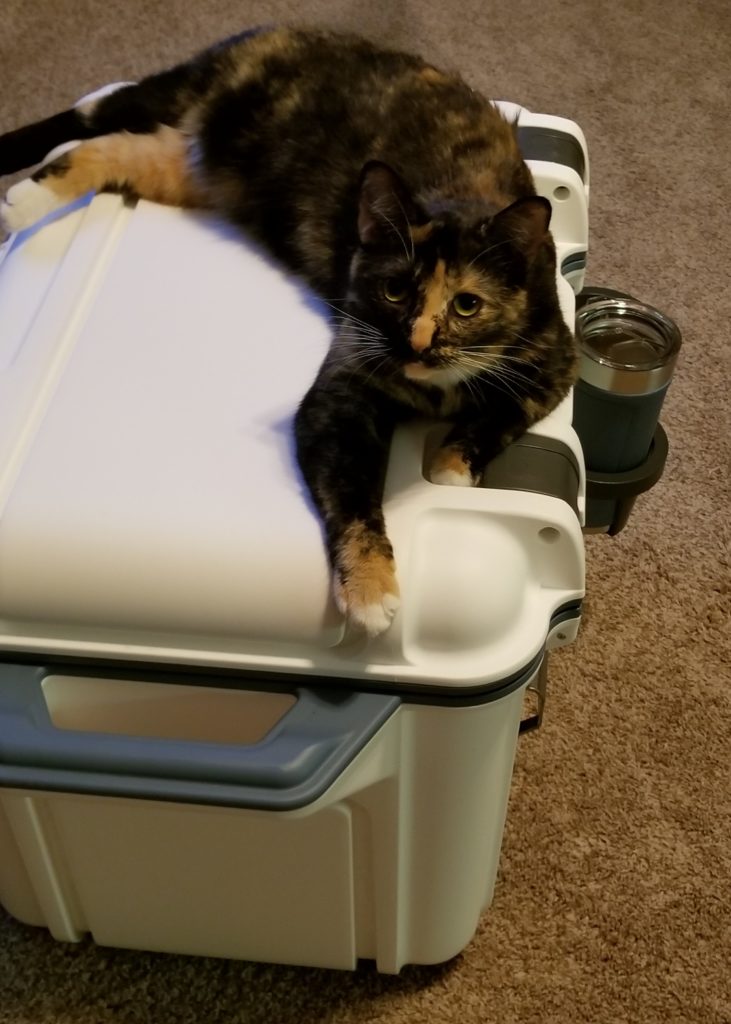 The Venture Cooler has a crazy-cool design feature that allows a wealth of accessories to be utilized including a cutting board, separator, double cup holder, dry box, bottle opener and even a side tray table.  With the unique setup, the possibilities are endless and I hope (and anticipate) that Otterbox will continue to come out with more and more add-ons.
One of my husband's favorite features is the 3250 Series Dry Box accessory that's perfect for holding cell phones, fishing licenses, keys or anything else you want to keep dry during your trip.  With its streamlined design, the OtterBox Drybox keeps items waterproof and secure throughout your trip.  With the Venture Drybox Clip, it secures right to your Venture Cooler, too!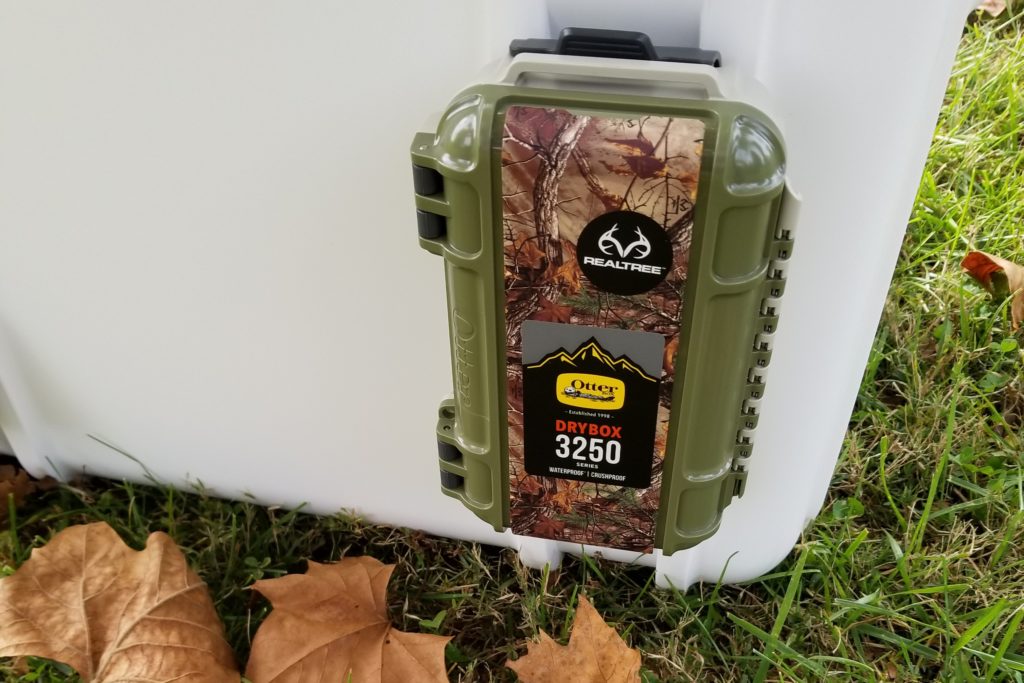 When you are camping, having simple conveniences like a cutting board are invaluable.  I love that Otterbox thoughtfully included this feature.  The Separator for Venture Coolers is also a super handy feature to have.  As it completely seals each compartment from the other, it allows you amazing storage flexibility.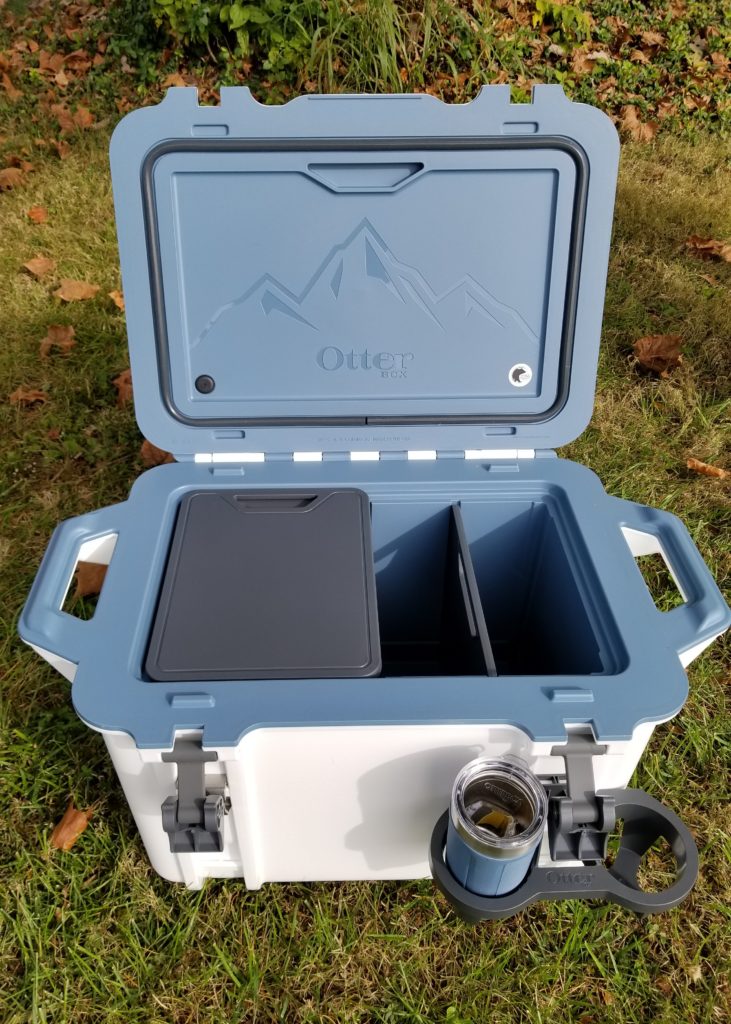 We are also quite enchanted with the Venture Dry Storage Tray which allows us to keep smaller items from getting lost or crushed in the cooler or dry foods dry.  There is nothing worse than water getting into your lunch meat container (I speak from experience!) and the dry storage tray prevents this from ever happening.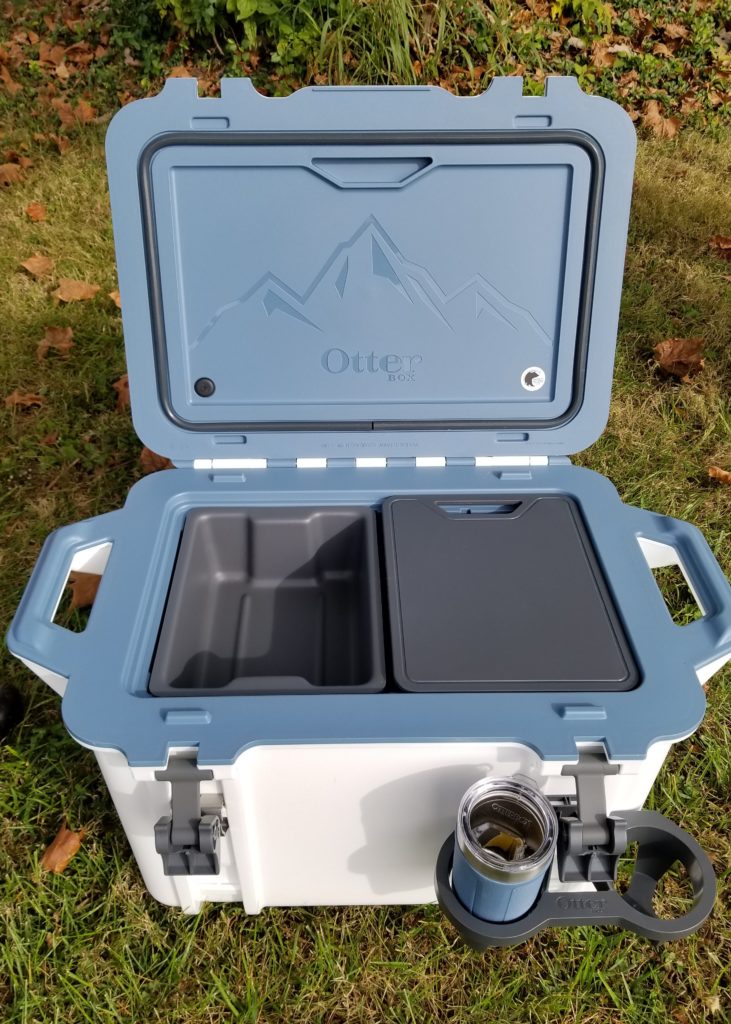 You can truly make the outdoors your with the OtterBox Outdoor Gear collection.   The exterior attachments like the double cup holder and dry box are such a joy to have, too.  The Venture Double Cup Holder fits all Venture coolers and holds two Elevation tumblers or other beverage containers of your choice.
We think the Elevation 20 ounce Tumbler is the bomb-diggity of tumblers, though, with it's modular lid system.  You can switch lids to switch your mood or use to a Shaker Lid, French Press Lid, Flavor Infuser Lid, Thermal Lid and more.  Want to mix up your favorite margarita at your campsite?  No problem, just pop on the Otterbox Shaker Lid for the Elevation Tumbler.  In the mood for coffee?  Switch it over to the French Press lid.  It's crazy-cool how versatile this tumbler is.  And it's stainless steel with an internal copper lining to always keep your beverage at a perfect temp.  There's also an OtterBox Tumbler Sleeve available to provide a comfortable grip and added protection for your tumbler.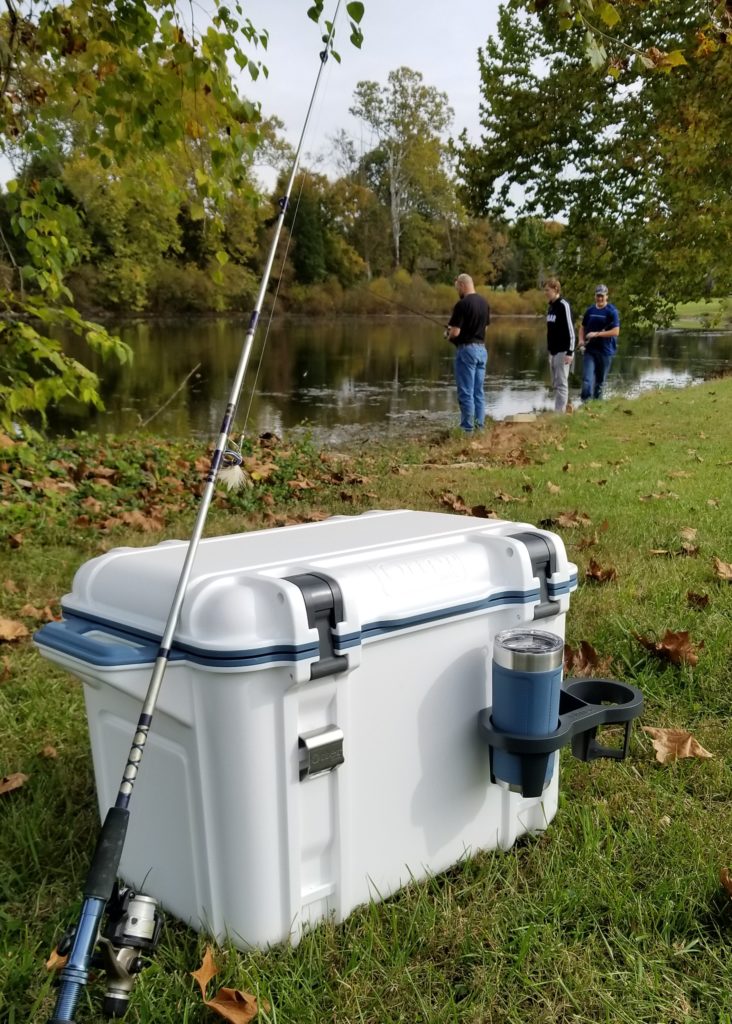 It's easy to see how perfect this system is for outdoor living.  It's even more exciting when you learn that the OtterBox Outdoor Gear products have the OtterBox Limited Lifetime Warranty.  As someone who has used OtterBox phone and tablet protection products for over a decade now, I've always been impressed by the quality of product.  I'm more-than enamored with the new OtterBox Outdoor Gear collection now, too.  For our rugged lifestyle, this collection fits right in and enhances every journey!