There are some moments in life that are unforgettable and certainly some people who are, too.  I reckon most of us do not take our passion for people quite as far as Katherine Heigl does in her role in UNFORGETTABLE!  Thanks to our partnership with Warner Bros. Home Video, we are celebrating the release of this exciting thriller with an awesome giveaway!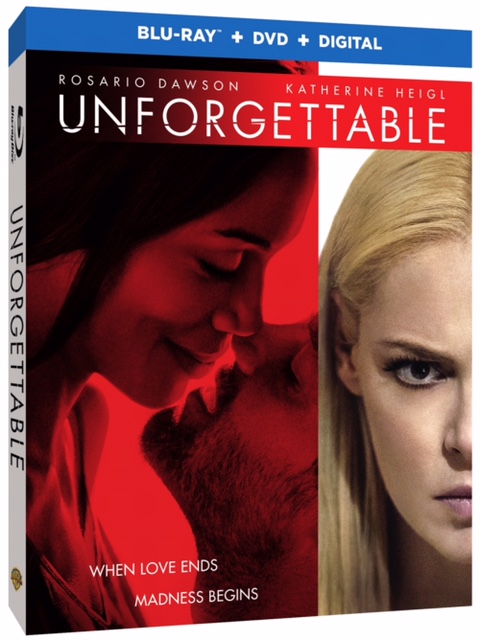 UNFORGETTABLE is available on DVD and Blu-Ray Tuesday, July 25th to add to your home movie collection.  The film is already available to own for streaming and download to watch anywhere in high definition and standard definition on favorite devices from select digital retailers including Amazon, CinemaNow, FandagoNOW, iTunes, PlayStation, Vudu, Xbox and others. (On 7/25 is will also be made be made available digitally on Video On Demand services from cable and satellite providers, and on select gaming consoles.)
Did you catch UNFORGETTABLE in the movie theater?  If not, be sure to check out the trailer and story line notes below.  You'll quickly see how intriguing this film is!
About UNFORGETTABLE
Tessa Connover (Heigl) is barely coping with the end of her marriage when her ex-husband, David (Stults), becomes happily engaged to Julia Banks (Dawson)—not only bringing Julia into the home they once shared but also into the life of their daughter, Lily.  Trying to settle into her new life, Julia believes she has finally met the man of her dreams, the man who can help her put her own troubled past behind her.  But Tessa's jealousy soon takes a pathological turn until she will stop at nothing to turn Julia's dream into her ultimate nightmare.
UNFORGETTABLE DVD and Blu-Ray Extras
We all know one of the awesome perks of owning the DVD or Blu-Ray copy of a film we love is gaining access to the extras.  UNFORGETTABLE has some great extras for fans to enjoy that will give you even deeper insight into the film including:
"Unforgettable" Blu-ray Combo Pack contains the following special features:
Reclaiming What's Yours: Making Unforgettable
Director's Commentary
Deleted Scene with Commentary
"Unforgettable" Standard Definition DVD contains the following special features:
Win a Copy of UNFORGETTABLE
Thanks to our friends at Warner Bros. Home Video, I will receive a copy of this film and one (1) Rural Mom reader will, too!
U.S. residents only, age 18+ The information and prize pack have been provided by Warner Bros. Home Video
ENTER via the Rafflecopter below for your chance to win:
Who will you watch UNFORGETTABLE with if you win?