Artisan Books partnered with me to support an exciting new cookbook!  Read on to learn more about THE HAVEN'S KITCHEN COOKING SCHOOL: Recipes and Inspiration to Build a Lifetime of Confidence in the Kitchen by Alison Cayne (released April 4 by Artisan Books,) including an excerpt and exciting giveaway!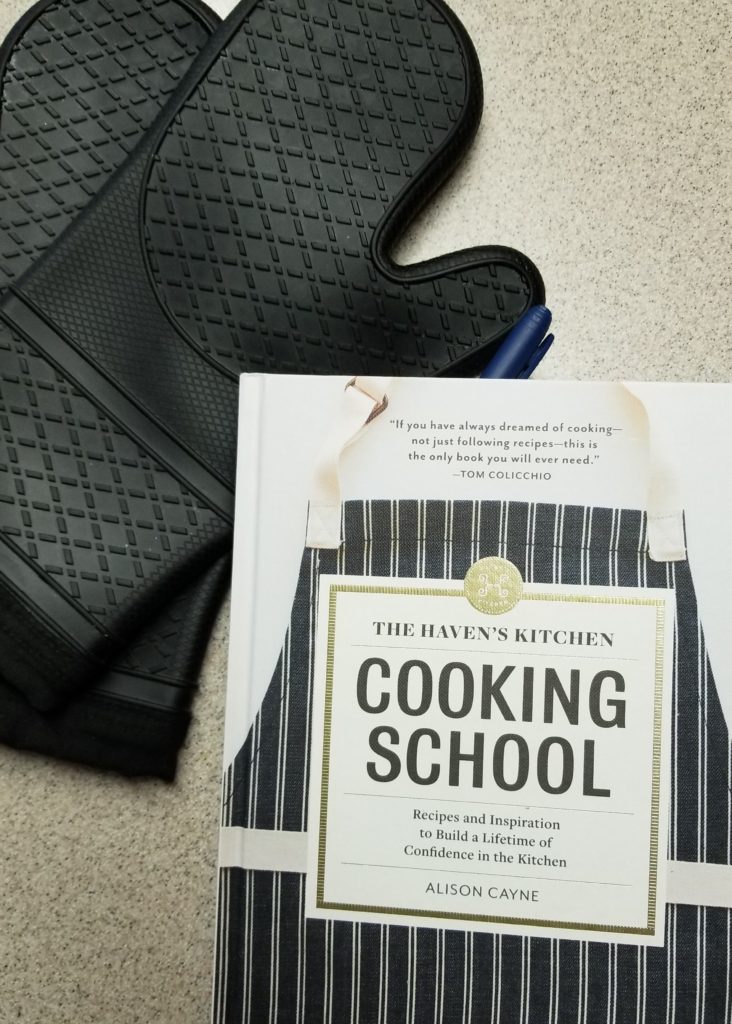 As a professional chef and cookbook author, I'm no stranger to the kitchen.  One thing I still struggle with regularly, though, is figuring out what to do with leftovers.  As creative as I may be in developing a recipe, sometimes I simple just have a pinch of this and a little of that left with no clue on what I want to do!
Like recently, I had a bunch of leftover summer vegetables from our holiday celebrations.  I'd already had my fill of dips, hummus and salads.  I wasn't quite in the mood for soup yet and didn't have quite enough for a stir fry.  So what else to do with a small mix of carrots, sugar snap peas, celery, broccoli, cauliflower and peppers?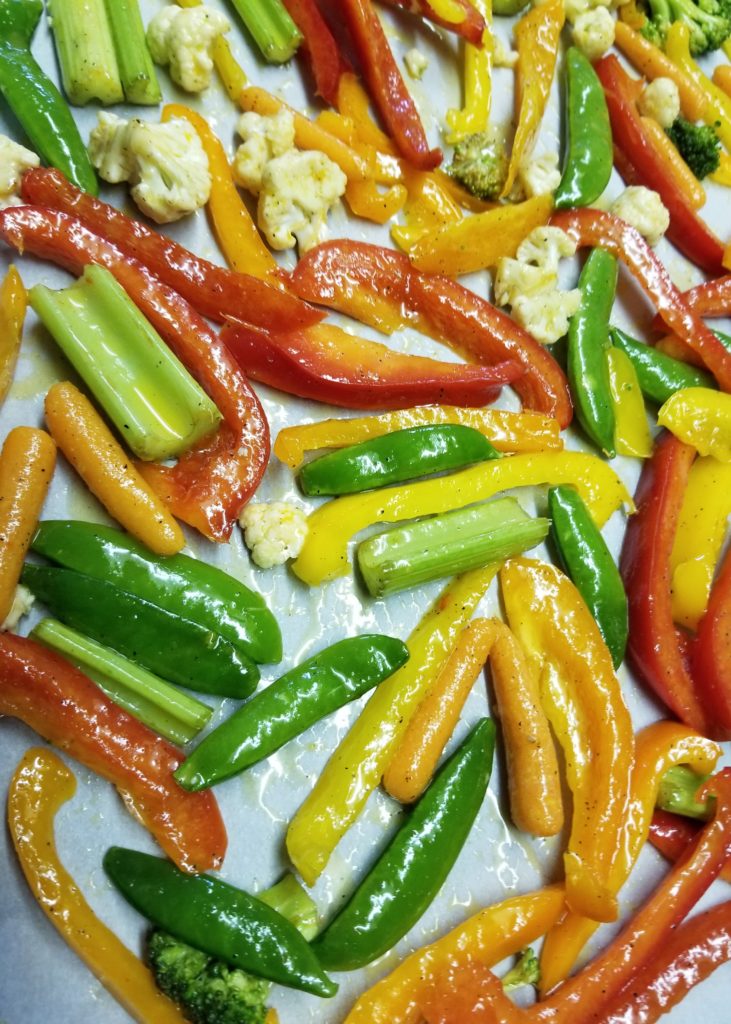 Lucky for me I was in the midst of digesting THE HAVEN's KITCHEN COOKING SCHOOL book.  When the title touts that it's full of inspiration, the author is not exaggerating!  One of the primary principles, as taught in the school and the book, is "cooking is less of a skill set and more of a mind-set—a way of thinking and problem solving that can be applied to any ingredient, dish, or craving."
This notion really set my mind to seeing my vegetable dilemma as more of a delicious puzzle to solve.  Flipping through the pages of the cookbook, a roasted root vegetable recipe caught my attention, especially as I noticed it used celery.  My Irish roots certainly lead me to roasting delicious root vegetable every year but I hadn't considered adding celery to the mix before.
But, hello, yum… roasted vegetables?  I had carrots, peppers, broccoli and cauliflower – all excellent for roasting.  The book suggested celery and well, why not try sugar snap peas, too?  A little olive oil, salt, pepper and roasting time and viola!  I had a delicious side for dinner!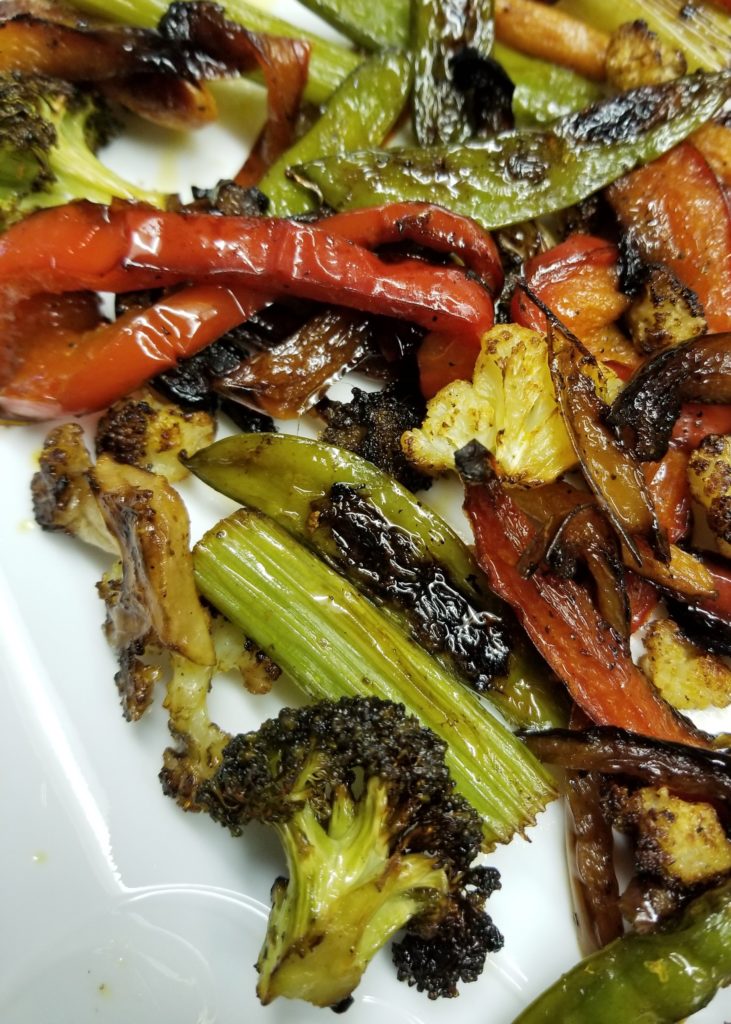 Everything I needed to succeed was in the book – the recipe, tips for seasoning, suggested tools and super easy to follow instructions for success.
I have to admit that roasted celery is not going to make it in my roasted root vegetables routine, but it was awesome to try and I may begin to roast it prior to adding to soup.  What truly rocked my taste-buds were the roasted sugar snap peas.  Pure awesomeness!  Who knew?  Not me!
This motivation to step outside the culinary box, the inspiration to approach cooking as an adventure and having all the information I need to still be comfortable with my decisions… well, that's what I consider the mark of a great cookbook.  I still have much to learn from the pages of THE HAVEN'S KITCHEN COOKING SCHOOL and I'm a more-than-willing student.
About THE HAVEN'S KITCHEN COOKING SCHOOL
Alison Cayne takes the essential skills gleaned from her popular cooking school classes at Haven's Kitchen into her first comprehensive teaching cookbook, The Haven's Kitchen Cooking School.
The Haven's Kitchen Cooking School includes 100 delicious recipes carefully chosen by Cayne and her expert staff with food inspired by global cuisine and a modern sensibility of how we like to eat today.
Each of the book's nine chapters revolves around a key lesson taught through a collection of recipes to ensure that readers are not simply memorizing a canon of tried-and-true instructions; they are learning how to cook for a lifetime.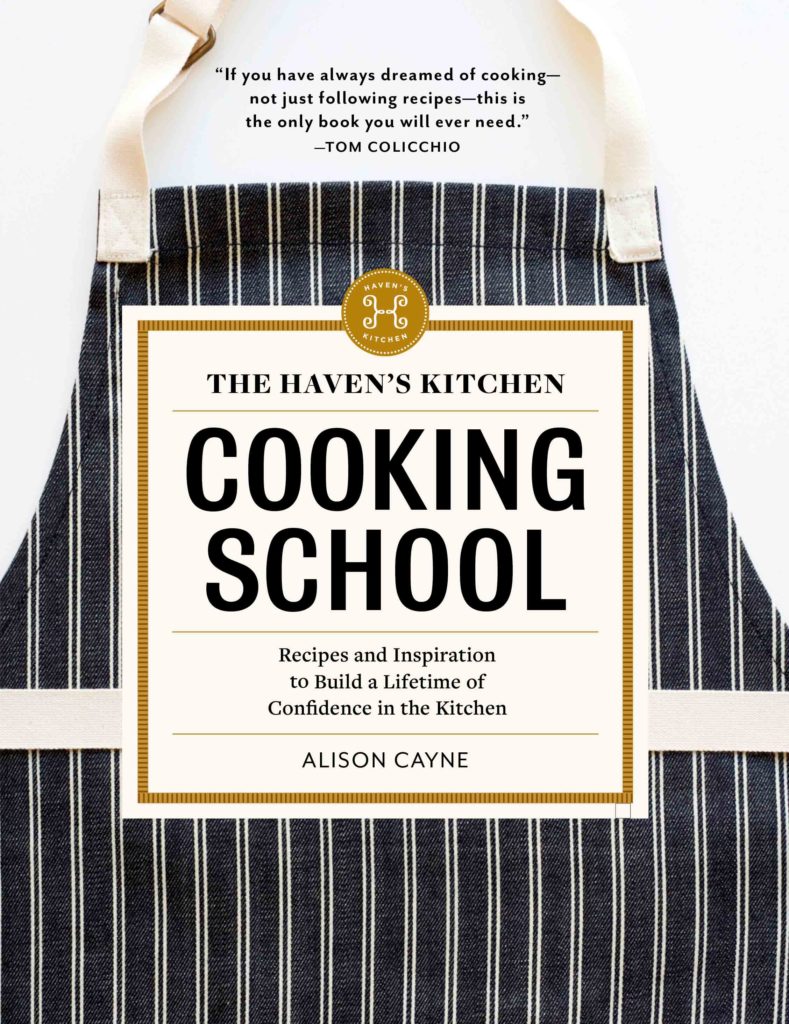 Cayne equips home cooks with fundamental building blocks they need to feel confident and at ease in the kitchen. Those skills include:
How to Get Over Your Fear of Frying
How to Pick & Cut Herbs
How to Make Stock
How to Stock Your Refrigerator & Pantry
How to Boil Eggs
How to Make an Omelet
How to Make Dressing
How to Filet a Cooked Fish
How to Roast Garlic
How to Make Stock
How to Make & Store Sauces
How to Assemble a Galette
Knife Cuts: Slice, Dice, Julienne, Oblique, Brunoise, Chiffonade, Supreme
How to Cook Vegetables: Blanche, Braise, Sautée, Roast & Grill
How to Cook Proteins: Poach, Roast, Steam, Broil, & Stew
Introduction to THE HAVEN'S KITCHEN COOKING SCHOOL
Excerpted from The Haven's Kitchen Cooking School by Alison Cayne (Artisan Books). Copyright © 2017. Photographs by Con Poulos.
About the Author of THE HAVEN'S KITCHEN COOKING SCHOOL
Alison Cayne is the owner of Haven's Kitchen, a cooking school, café, and event space in New York City. Cayne started Haven's Kitchen as a place to inspire and educate people about food and sustainability issues. She serves on the boards of Edible Schoolyard NYC and the Food and Environment Reporting Network and has been featured in such publications as the New York Times, Vogue, Elle, Domino, Bon Appétit, Food & Wine, and Goop. She has a master's in food studies from New York University, where she is now an adjunct professor. Cayne lives in New York City with her five children. Find her on Instagram @havenskitchen.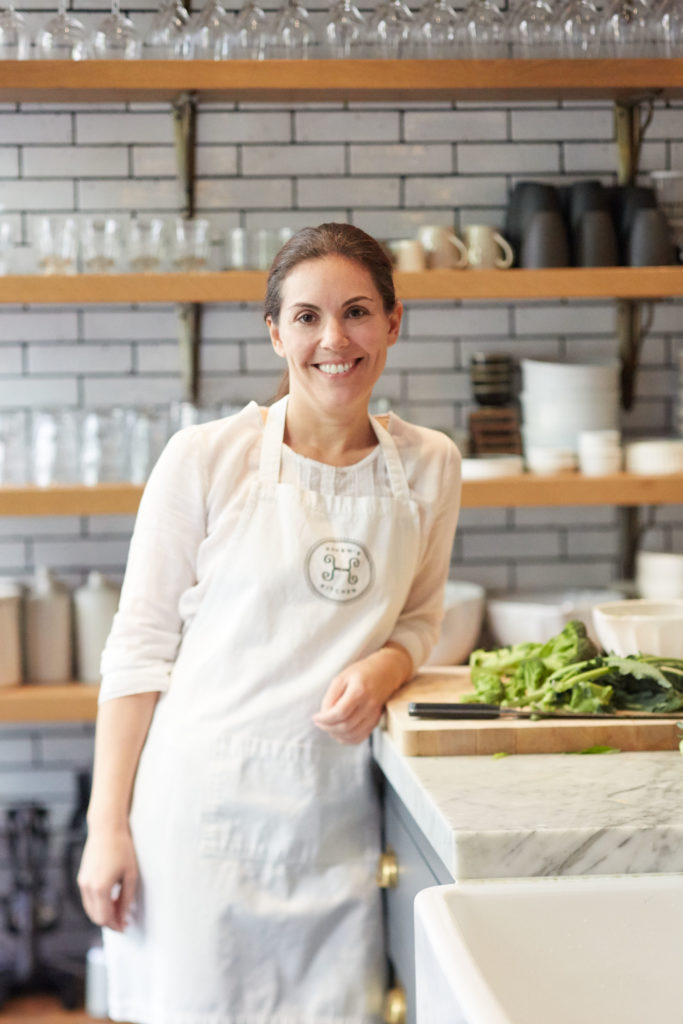 For more information:
Follow Haven's Kitchen on Instagram, Twitter and Facebook
Look for hashtags #HavensKitchenCookbook and#CookWithConfidence on social media
Win THE HAVEN'S KITCHEN COOKING SCHOOL Prize Pack!
Learn all the fundamentals of cooking!  One (1) Rural Mom reader will win a THE HAVEN'S KITCHEN COOKING SCHOOL Prize Pack that includes:
The Haven's Kitchen Cooking School (deliciously educational!)
plus a $100 Visa gift card to stock the kitchen with the essentials!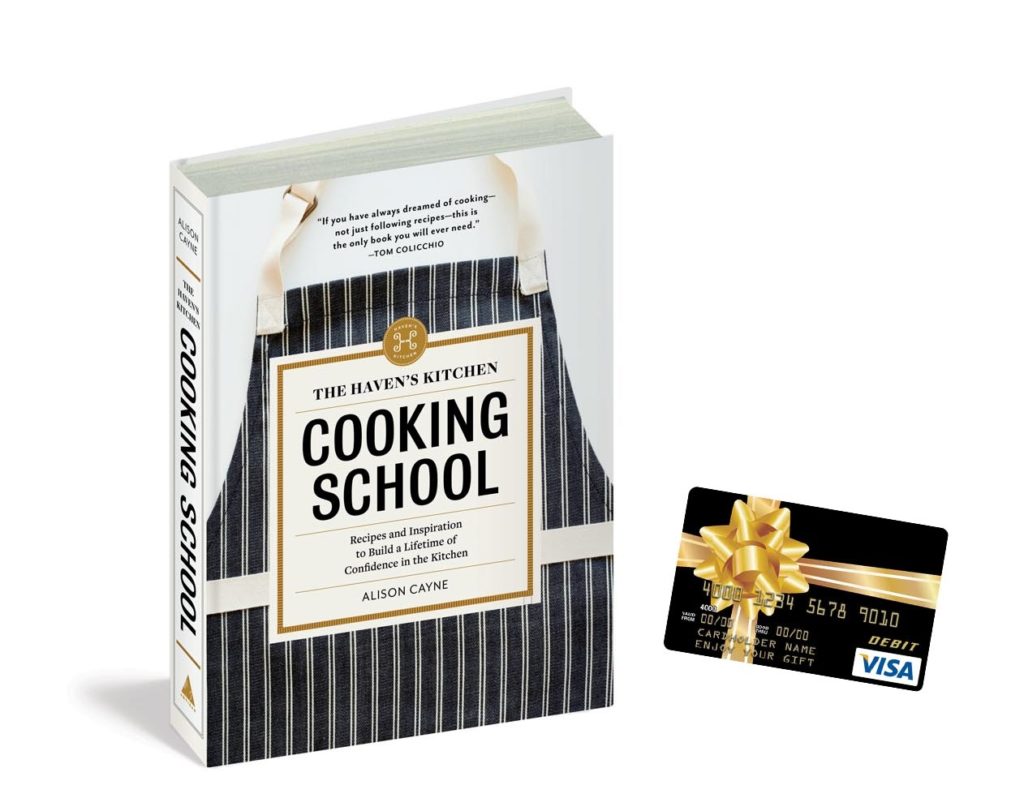 Giveaway open to US addresses only.
Prizing and samples provided by Artisan Books.
ENTER via the Rafflecopter below:
What cooking skill(s) would you like to learn more about or strengthen?