Every day, I focus all my energies into being a "good mom."  This precious gift of motherhood we are given is not something I take lightly and I'll confess, I am often guilty of being a so mom-focused that I neglect my own needs.
That fear of being a "bad mom," of making mistakes is something we moms all face every day.  How can we not?  When our child is happy and well-cared for, we  feel that same joy.  When our child hurts, we feel it deeply.  Our children, though individuals, are still entwined with our heart, minds and souls.  We grew these tiny miracles and loved them before they took their first breath.
To be a "good mom" is a staggering expectation to fill.  The painful truth is moms judge other moms, and non-moms have their opinions, too.  Just scroll through Facebook or attend a school function and you'll witness a way too much judgement going on!  In turn, we spend a ridiculous amount of time judging ourselves.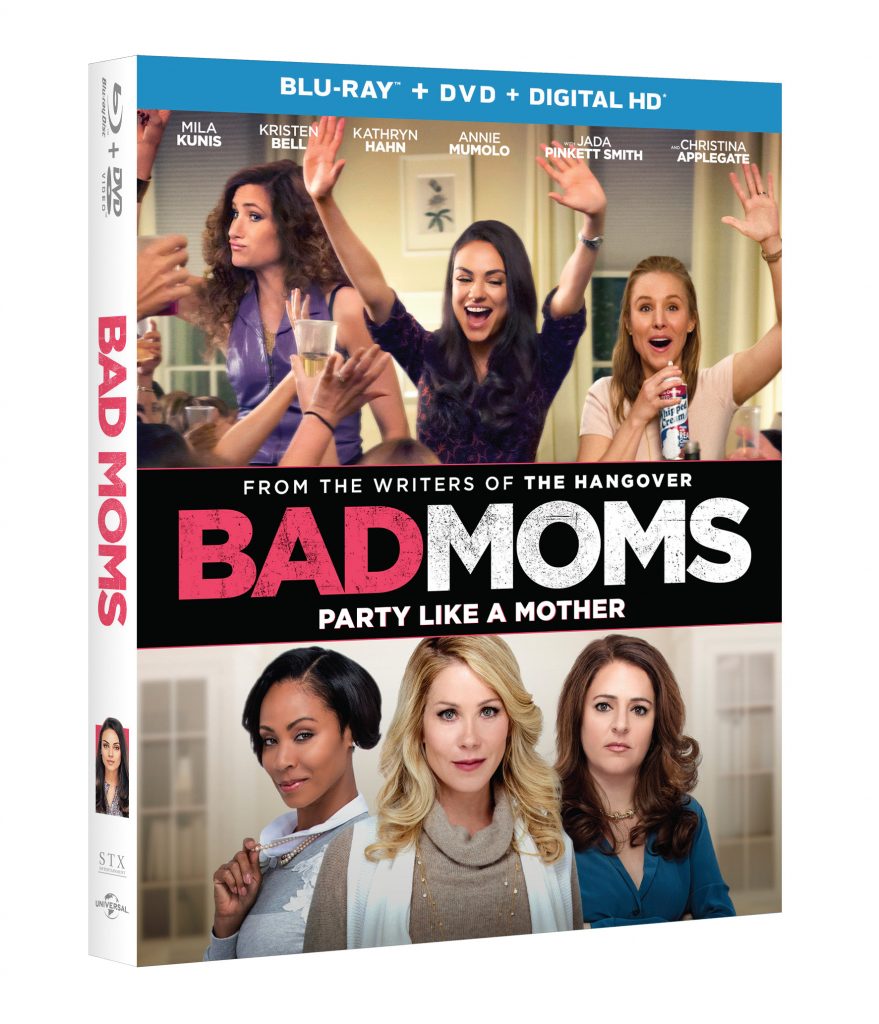 These truths are at the center of BAD MOMS (on Blu-ray, DVD and VOD on Tuesday, November 1st,) a funny-yet-candid look at what the measure of a mom is, how warped idealist "mom perfectionism" can be, and how being a bad mom may actually make you a better mom.  This is why I raise my glass in cheers to BAD MOMS for delivering a much-needed poignant message is a fresh and light-hearted way!
ABOUT BAD MOMS
Bad Moms, the year's biggest R-rated comedy – a runaway hit with audiences and critics alike – is coming to Digital HD on October 18, 2016 and Blu-ray™, DVD and On Demand on November 1, 2016, from Universal Pictures Home Entertainment. The raunchy film described as "incredibly funny!" by Chris Nashawaty, Entertainment Weekly, is the first R-rated comedy since The Hangover to earn an "A" grade from audiences nationwide. Hailed by critics from The New York Times, Chicago Sun-Times and Washington Post, Bad Moms is one comedy not to be missed.
In this hilarious and heartfelt comedy from the writing duo behind The Hangover, Amy (Mila Kunis) has a seemingly perfect life – a great marriage, over-achieving kids, beautiful home and a career. However, she's over-worked, over-committed and exhausted to the point that she's about to snap. Fed up, she joins forces with two other over-stressed moms (Kristen Bell and Kathryn Hahn) on a quest to liberate themselves from conventional responsibilities – going on a wild, un-mom-like binge of long overdue freedom, fun and self-indulgence – putting them on a collision course with PTA Queen Bee Gwendolyn (Christina Applegate) and her clique of devoted perfect moms (Jada Pinkett Smith and Annie Mumolo). See the movie that critics are cheering as "…a funny, giddy, sentimental laugh-in…" – Manohla Dargis, The New York Times.
The Blu-ray™, DVD and Digital HD come with nearly an hour of exclusive bonus content including:
hilarious deleted scenes
gag reels
exclusive interviews with the cast and their moms
Written and directed by Jon Lucas and Scott Moore (The Hangover, Four Christmases) and produced by Suzanne Todd, (Alice Through The Looking Glass) and Bill Block (Dirty Grandpa), the comedy also features Jada Pinkett Smith (The Women), Christina Applegate (Anchorman 1 &2), Annie Mumolo (The Boss) and Jay Hernandez (Suicide Squad). It's time to party like a mother with this hysterical and relatable film.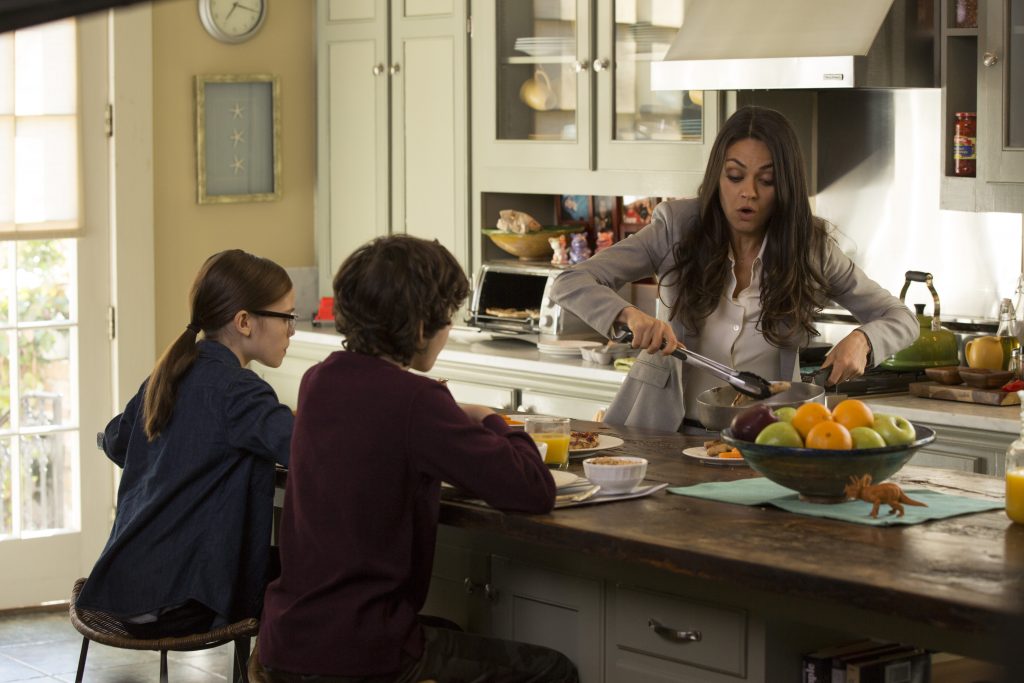 MORE THOUGHTS ON BAD MOMS
Thanks to Universal Pictures Home Entertainment, I had the opportunity to preview BAD MOMS.  As a work-at-home mom, I related well to the challenges that Amy (Mila Kunis) has in BAD MOMS, trying to juggle her career, raising children, maintaining a happy home life, racing around to extracurricular activities and in the midst of it all, somehow still managing to put supper on the table.  Today's moms certainly have a lot to handle inside and outside of the home and Kunis's character encapsulates the epitome of this reality.
When she bonds with an unlikely duo of moms (Kristen Bell and Kathryn Hahn,) the total bad girl mom and the total good girl mom, the result is a slapstick-romp-of-fun-and-funny moments with a wealth of "ah-ha" and sentimental moments tossed in the mix.  Hahn is a scene-stealer with her natural comedic timing and what I'm betting is a lot of improvisation.  Bell's role is the perfect extreme on the other end of the mom spectrum.  The result with Kunis in the middle is a brilliant blend!
The route Amy takes to unleash her "bad mom" persona is a bit stereotypical (partying and rebelling) but it's all done in good taste and good humor.  Amy's husband (played by David Walton) is a ridiculous pairing (hard to believe she would have ever chosen to marry him, but he adds a level of hilarity to the film that propels Amy's journey.  The movie is not meant to be a heart-felt drama, it's a feel good, have a laugh type of film, yet at the heart of it is a wonderful message that all moms need to hear – it's okay to put yourself in the equation and be a less-than-perfect mom.
In the end, bad mom or good mom, it's motherhood that triumphs and in all it's guise of comedy, BAD MOMS strikes a thoughtful chord.  Overall, cheers to this female-empowered film.  If you get the chance to pick up a copy, gift yourself a BAD MOMS night out!