If you think back a few years, the term "Droid" gave reference to a weird sci-fi half robot half human thing. Now, you hear Droid and you think of a cell phone. Part of the reason for that is thanks to Motorola, which has been one of the leading names in smartphone technology since the beginning. After all, they brought us the infamous RAZR (I still miss my pink one!)
Thanks to my partnership with Verizon, I'm among the first who had the chance to test out the MOTO Z.  Motorola has continued to raise the bar over the years and their line of Droid phones is amazing. I'm absolutely in love with the MOTO Z Droid. The advancement in technology has really blown us away.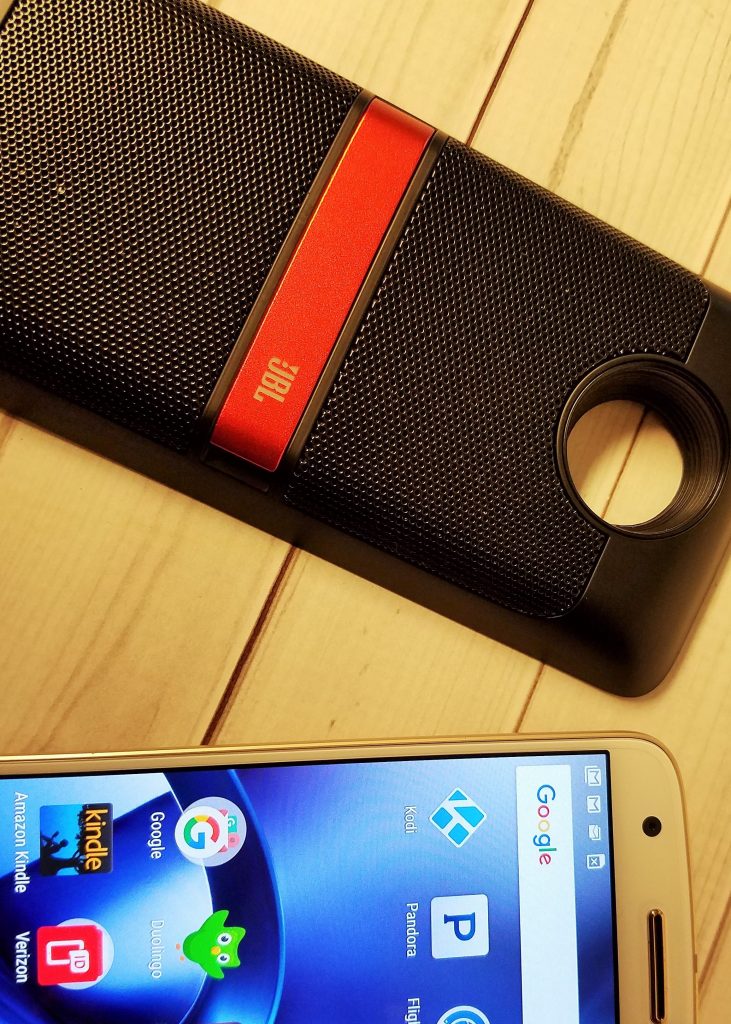 The razor thin smartphone has something called mods – they're basically pieces that attach to your phone to turn it into other things. They snap on to the back with magnets and turn it into a boom box or a powerful projector.
The JBL SoundBoost speaker mod delivers crisp, clear sound for all of your music, videos, and phone calls. It's got a prop-up built in kickstand so you can use it like a television screen if you want to as well. Bonus: It's also a power pack and will add up to ten hours of listening time to your phone.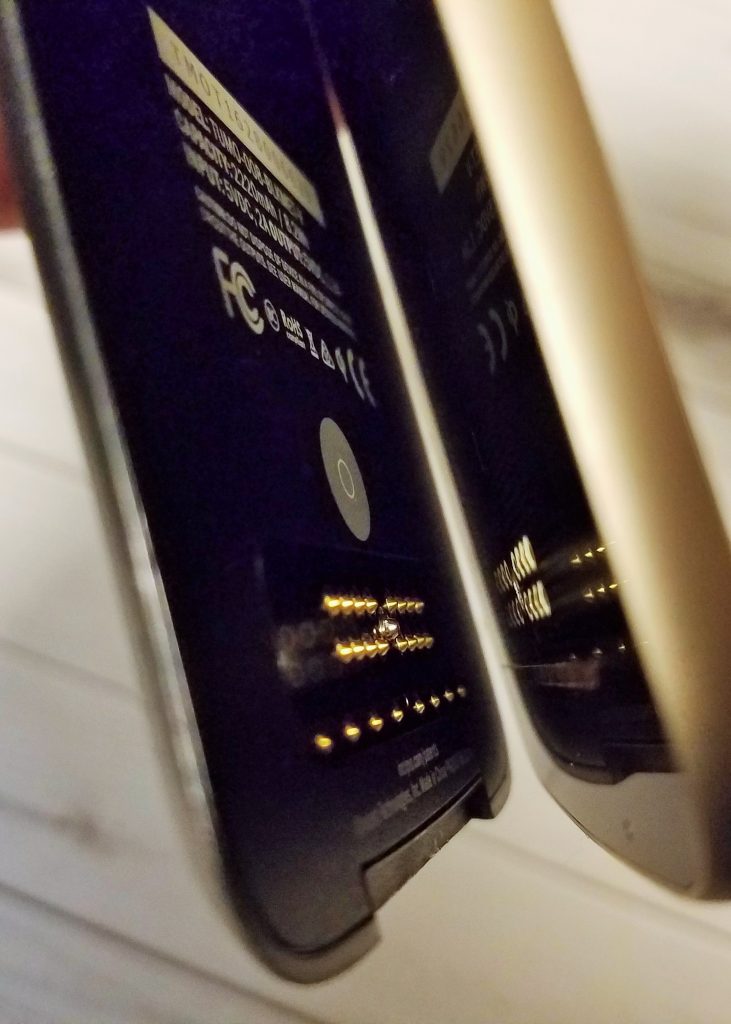 The Insta-Share projector will let you project and share whatever's on your phone anytime and anywhere. Any flat surface is easily transformed into a 70" screen. There are so many different possible ways to use it. Execs will love it for meetings, but it's not just for business. Thanks to the crisp, clear picture, busy moms will now have the ability to project a cartoon on a wall in a pinch for a child that just needs a quick distraction. The projector includes a kickstand for projection from any angle as well as an extra hour of battery life for your phone.
You can also get a plain power pack mod, so if you're one of those people who always forgets to charge their phone (guilty!), you could potentially buy two power packs and switch them. The power pack adds up to 22 hours of extra battery life.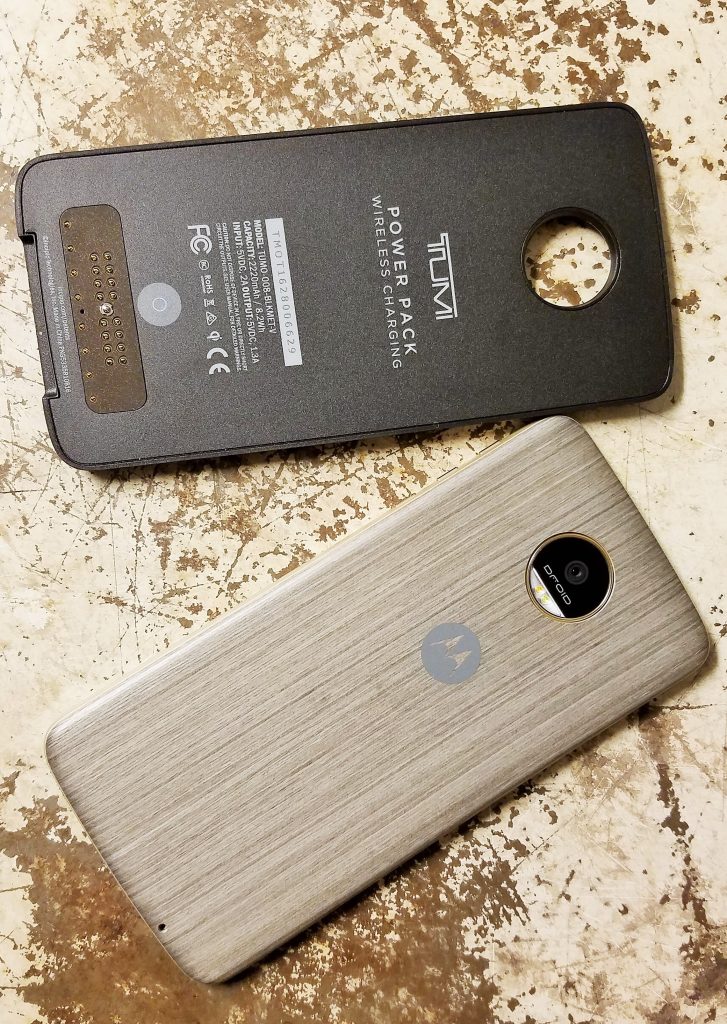 One of the best parts of the mods is that there is very little installation. You attach the mod to the phone, the phone recognizes it, and with a few screen taps, you're done. No standing in line at a store or hour long phone calls to customer service are necessary.
There are only a few mods at the moment, but Moto is working with several partners to keep them rolling out, and the plan is for the mods to work with future Moto Z phones as well. That means that when you upgrade, you can still keep your mods.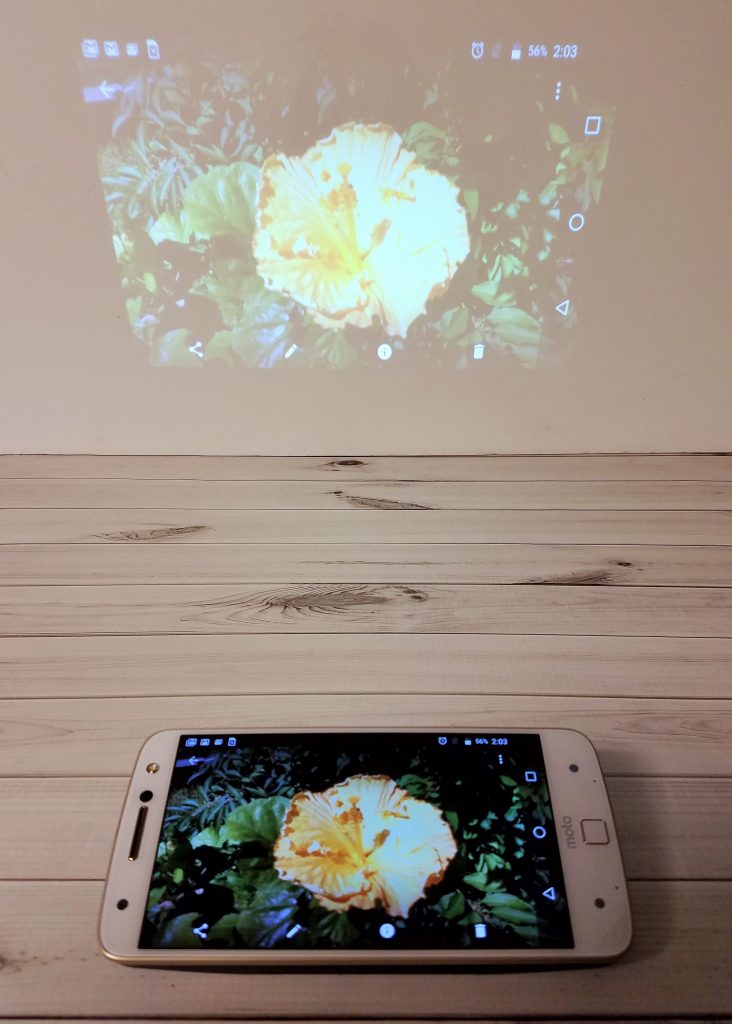 Even without the mods, the Moto Droid Z is a phenomenal smartphone. It operates on Android Marshmallow and has a minimum of 32GB of built in storage with the capability of expansion to 2TB with an SD card. It's fast, too, thanks to the Motorola Mobile Computing System, including Qualcomm® Snapdragon™ 820 processor with 2.2 GHz Quad-core CPU.
And of course, I'd be remiss if I didn't discuss the feature on phone that's of utmost importance to me – the camera.  MOTO Z has a 5MP front and 13MP rear camera with all the bells and whistles make sure you never miss a great shot. The camera is capable of 4K and slow motion video as well. Playback and editing is super easy with the clear 5.5" screen.
I couldn't be happier with this phone. It does everything I want as well as some things I didn't know I wanted. Motorola has come a long way from my RAZR!
How about you? Have you tried the new Droid phones yet? Which one do you like the best?