As much as I'm a little bit sad to say goodbye to summer, I'm happy to welcome Fall and all of the wonderful things that come with it! By wonderful things, I mean apples of course! I'm salivating just thinking about all of the apple-licious goodies I'm going to make this season with these irresistible apple recipes for Fall.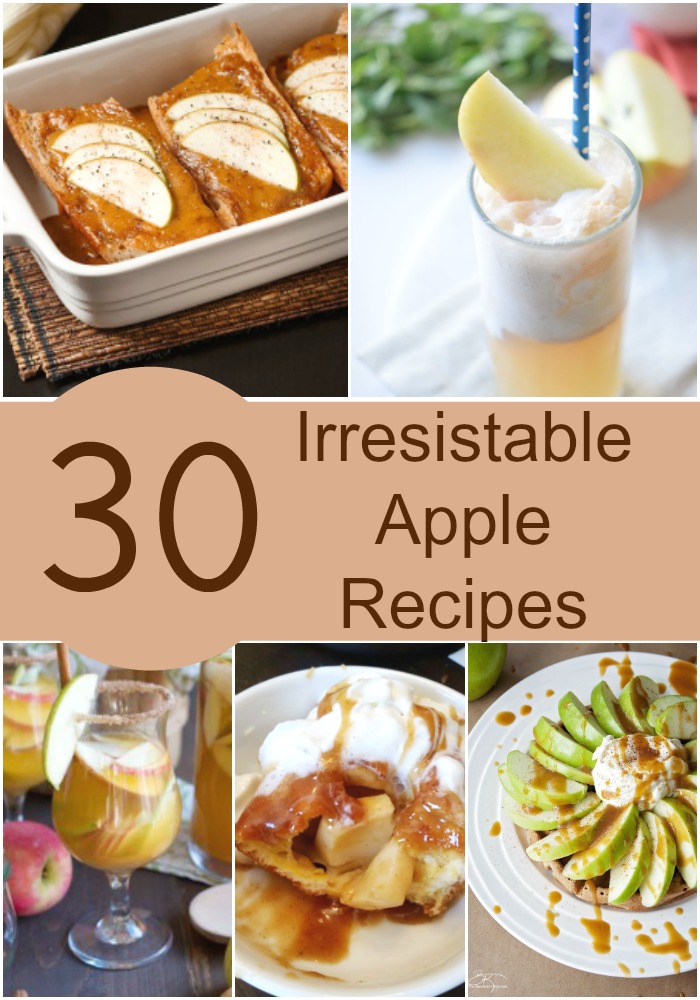 I thought it would be fun to share some of my favorite recipes with you today. Here are some of my own and some from a few of my fellow blogger friends:
Apple Food Recipes
1. Caramel Apple Tarts
2. Fall Harvest Pumpkin Apple Muffins
3. Grilled Dublin Coddle with al fresco Sweet Apple Chicken Sausage
4. Skillet Apple Pancake Puff
5. Mini Caramel Apple Pie Bombs
6. Italian Sausage Stuffed Apples
7. Easy Apple Crisps
8. American Apple Pie
9. Quick and Easy Homemade Custom Caramel Apples
10. Autumn Apple Dumplings
11. Caramel Apple Waffles
12. Green Apple Guiness Melt
13. Caramel Apple Popcorn
14. Irish Apple Cake
15. Red Hot Apple Jelly and Low Sugar Apple Jelly
Obviously we can't forget the drinks! The cool thing about apple drinks is that they're easily transformed from alcoholic to non-alcoholic and vice versa. Many of these recipes contain alcohol, but in most cases it could be omitted or substituted.
Apple Drink Recipes
16. Just Like Ma's Apple Pie Cocktail
17. Crisp Apple Sparkling ICE Cider
18. Non-Alcoholic Apple Pie Punch
19. Spiced Apple Cider with Spiced Rum
20. Hot Apple White Chocolate
21. Carlton Apple Twist
22. Sparkling Apple Cider Sangria
23. Apple Cider Floats
24. Caramel Apple Cider
25. Traditional Wassail
26. Smoked Apple Margerita
27. Spicy Colada
28. Apple Harvest Citrus Sangria
29. Apple Cidertini
30. Pumpkin Apple Cider Cocktail
I'm so excited to get started! If you need me, I'll be picking apples!