Do you believe in miracles?  Have you witnessed a miracle in your life?  I'm partnering with Sony Pictures Home Entertainment to celebrate the release of MIRACLES FROM HEAVEN on Blu-ray and DVD July 12.  Read on!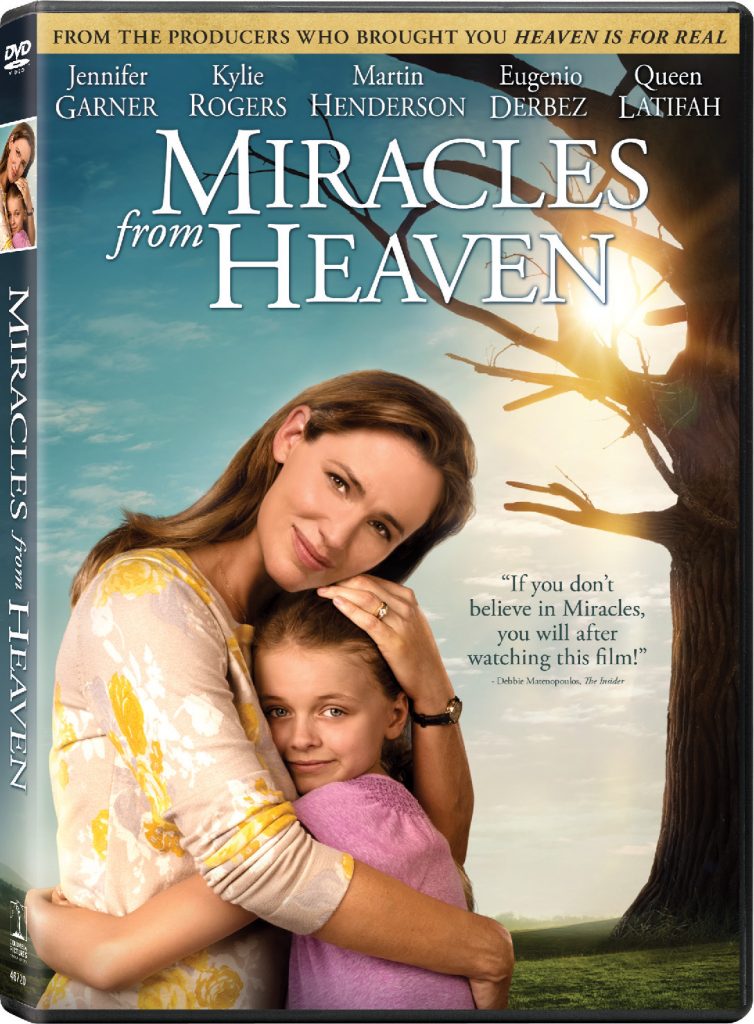 I learned early on in my lifetime, there are some things that simply cannot be explained.  When I was five, my father, a bricklayer by trade, in a terrible accident fell off a seven story building.  The doctors told us to say our goodbyes, expecting he would not survive the night.  Though I don't recall all the details from my young perspective, I do remember the prayers we all fervently prayed.
My father made it through the night and we were blessed to have him with us for nearly three decades more.  Maybe it was a miracle, maybe it was the strong will of my Irish dad, or maybe it's simply that the doctors were wrong in their diagnosis but that moment on, I knew miracles were possible and that was enough for me.
This is part of why MIRACLES FROM HEAVEN immediately resonated with me.  When Christy (Jennifer Garner) discovers her 10-year-old daughter Annabel (Kylie Rogers) has a rare, incurable disease, she becomes a ferocious advocate for her daughter's healing as she searches for a solution. After Annabel has a freak accident and falls three stories, a miracle unfolds in the wake of her dramatic rescue that leaves medical specialists mystified, her family restored and their community inspired.
I can't wait to bring this heart-warming and inspiring story home to watch and share with my family.   Available on Blu-ray & DVD July 12, bonus content on the MIRACLES FROM HEAVEN Blu-ray and DVD releases include two featurettes, as well as commentary. Join Jennifer Garner, Queen Latifah, their costars and crew for a behind the scenes look at the making of this very special film, in "Miracles Abound: The Making of Miracles From Heaven."
Viewers will also meet the real-life Beam family and Dr. Nurko, learn about the casting of the film and the challenge of "the tree." Shot at the Beam family ranch in Burleson, TX, "Bearing Witness," features the Beam Family, their pastor, friends, first-responders and community as they gather around the tree and celebrate their faith and the miracles that brought them together. In the "Your Words" montage, experience some of the film's most touching and memorable moments set against Third Day's powerful rendition of the inspirational song.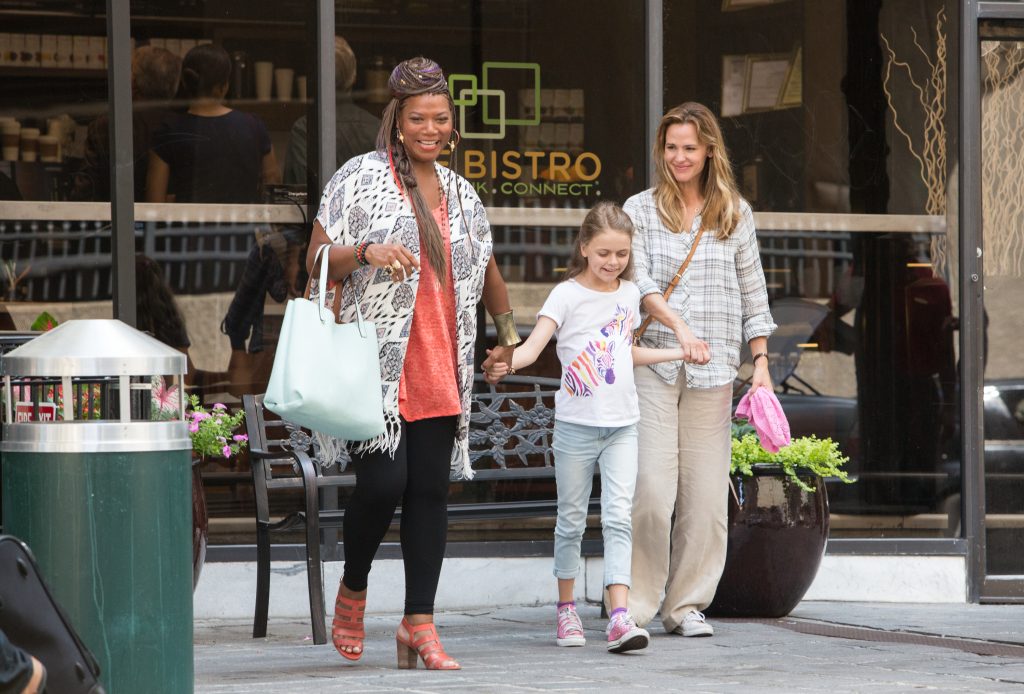 The Blu-ray release exclusively contains deleted scenes and the featurette "Accounts from Annabel," where Christy and Anna reflect together on their past, present, future, faith and bonding over the past four years since the incident.
Starring: Jennifer Garner, Kylie Rogers, Martin Henderson, John Carroll Lynch, with Eugenio Derbez and Queen Latifah, the film is Rated PG, suitable for the whole family to enjoy.  I think this one will certainly lend itself to a lot of discussion in our home, too, about faith and miracles.  One I certainly welcome!
You can bring home a copy today – purchase your copy of the DVD at Walmart at http://po.st/MiraclesFromHeaven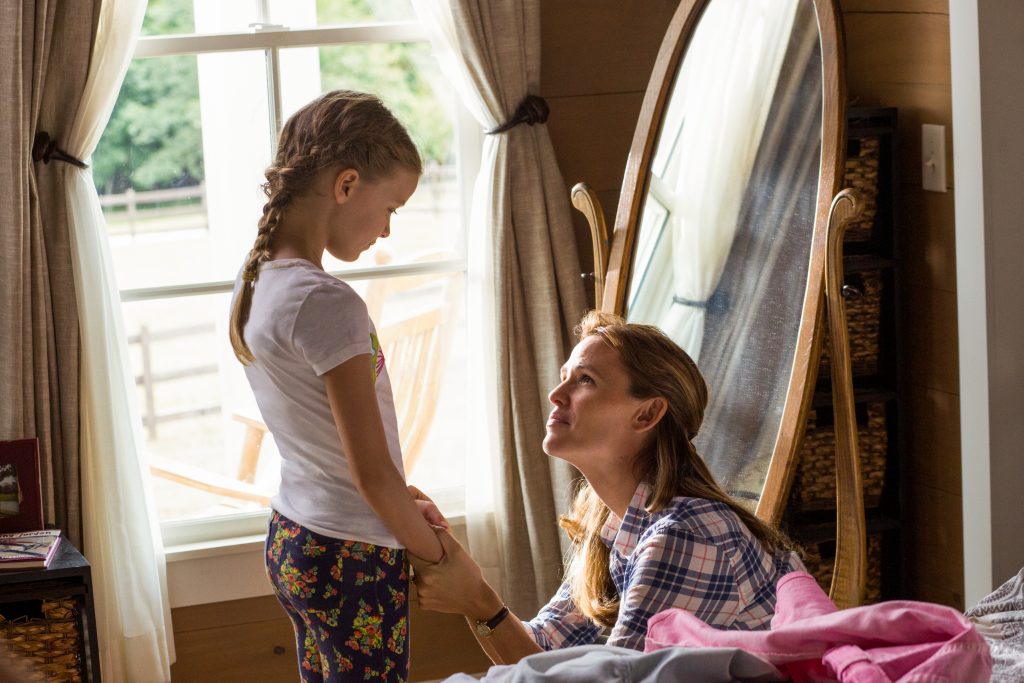 WIN A MIRACLES FROM HEAVEN FAMILY MOVIE NIGHT PRIZE PACK
One (1) Rural Mom winner will win a MIRACLES FROM HEAVEN Family Movie Night Prize Pack that includes:
$25 Visa Gift Card to purchase snacks
Popcorn
Copy of MIRACLES FROM HEAVEN on DVD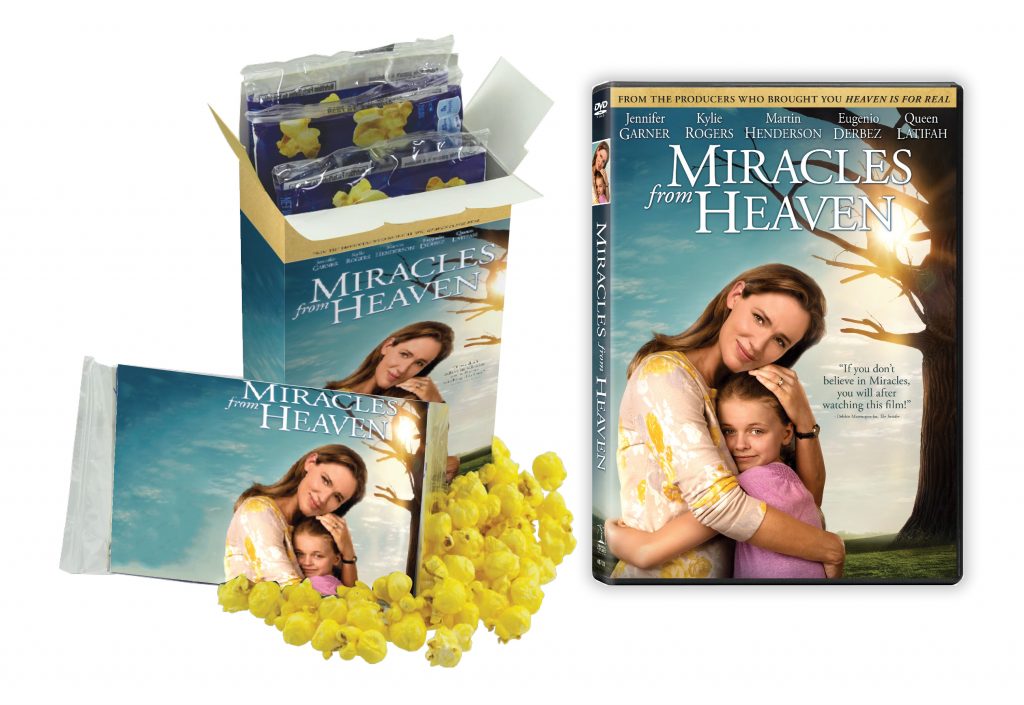 Open to US mailing addresses only
Prizing courtesy of Sony Pictures Home Entertainment
ENTER via the Rafflecopter below:
Have you witnessed a miracle in your life?