Each year we pick a special wine to serve during our holiday celebrations and this year, our guests will be enjoying Woodwork Wine Merlot, Zinfandel and Red Blends with dinner and dessert.  These seasonal favorites pair well with everything from appetizers to turkey and ham, to barbecue feasts for some non-traditional food fun!  I'm inspired by food blogger and recipe creator Nick Evans of Macheesmo who created some delicious recipes just for Woodwork Wine.  The Cedar Grilled Chicken Wings will be on our New Year's Eve celebration plates and we'll be toasting with Woodwork Red Blend (one of my favorites) that marries rich layers of fruit with the elegance of spice and French White Oak.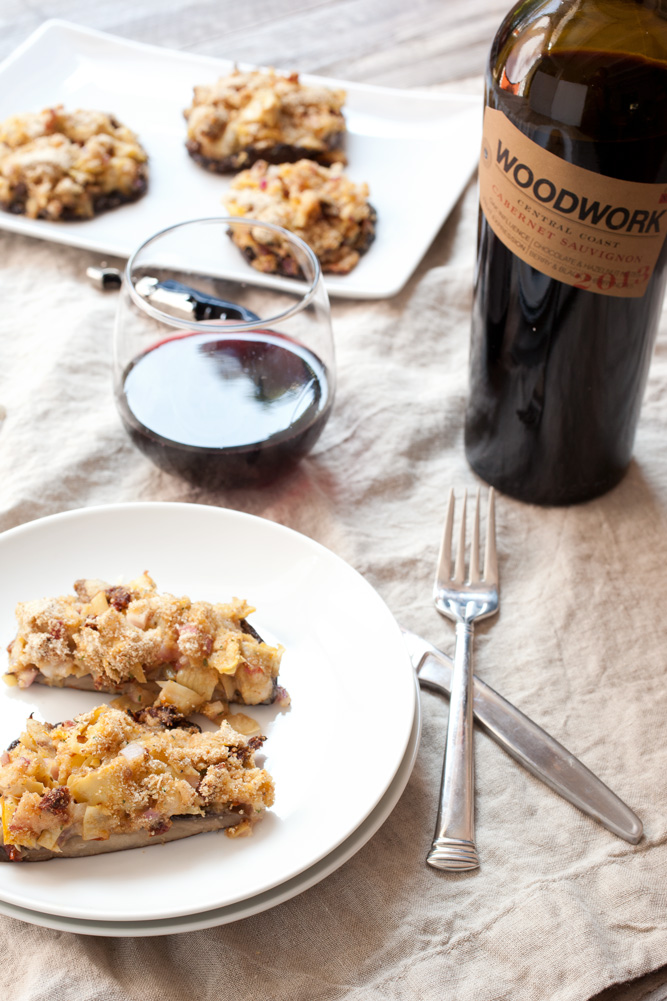 To help you celebrate, we're sharing these delightful recipes along with a few tips from Nick Evans.  Hope they help enhance your holiday celebrations!
"To me, having good food and wine together means I'm having fun with people I care about. Cooking good food and serving it with a great wine for friends and family makes for great memories. Whether it's around a holiday table or a simple tailgate, some of my favorite moments are centered around a great meal!" – Nick Evans
Cedar Grilled Chicken Wings 
Recipe by Nick Evans
Dry-rubbed chicken wings slowly grilled on cedar over indirect heat. The cedar gives the chicken wings a light smoky flavor. These are great on their own, with blue cheese dressing or brushed at the end with Woodwork Cabernet Sauvignon BBQ Glaze.
Prep Time: 10 Minutes
Total Time: 1 hour 30 minutes
Servings: 3 Pounds wings (Serves 3-4.)
Ingredients:
3 pounds chicken wings
2 tablespoons neutral oil
Blue cheese dressing, for serving
Carrots, garnish
Celery, garnish
Dry Rub:
(for 3 pounds of wings)
1 teaspoon Salt, kosher
1 teaspoon Pepper, cracked
1 1/2 teaspoons chili powder, medium – salt free
1 1/2 teaspoons Spanish paprika
1/2 teaspoon garlic powder
1/2 teaspoon ground cumin
1/2 teaspoon Crushed red pepper flakes
CEDAR PLANK NOTE: Before grilling on your cedar plank, soak it in water for at least 30 minutes. You'll need to put something heavy on it to make sure it stays submerged.
Prepare your grill for indirect heat grilling. If you're using charcoal, heat enough coals for 2 hours of cooking. Push the coals to one side of the grill.
If you're using gas, turn on one burner on medium-low (either the far side or the back burner of the grill depending on your model).
If your wings are whole, cut wings into the drumsticks and the flats. Toss wings with the dry rub mixture. Coat wings well. You should use the entire dry rub recipe for 3 pounds of wings.
Place cedar plank over the hottest direct heat area of the grill. Let the cedar plank char for 3 minutes. Then flip the cedar plank onto the indirect (cooler) portion of the grill so the slightly charred side is facing up.
Spread chicken wings out on cedar plank. Try to get them to fit in one even layer. Cover grill and cook over indirect heat for 20 minutes.
Rotate wings and continue to cook wings for at least an hour (or up to two hours). Rotate the wings every 20 minutes to ensure even heat and cooking.
After at least an hour, the wings should be cooked through and tender. Test one to ensure doneness.
To finish the wings, remove them from the cedar plank and place the wings on the hottest part of the grill. Keep turning the wings with tongs as they crisp up and get char marks. They shouldn't need more than 3-5 minutes on direct heat to finish cooking. (If you're using a gas grill for this step, turn the burners up to high heat.)
Serve finished wings with blue cheese dressing and celery and carrots on the side.
OPTIONAL: At the very end of cooking, brush wings with Woodwork Cabernet Sauvignon BBQ glaze or serve the glaze on the side as a BBQ dip.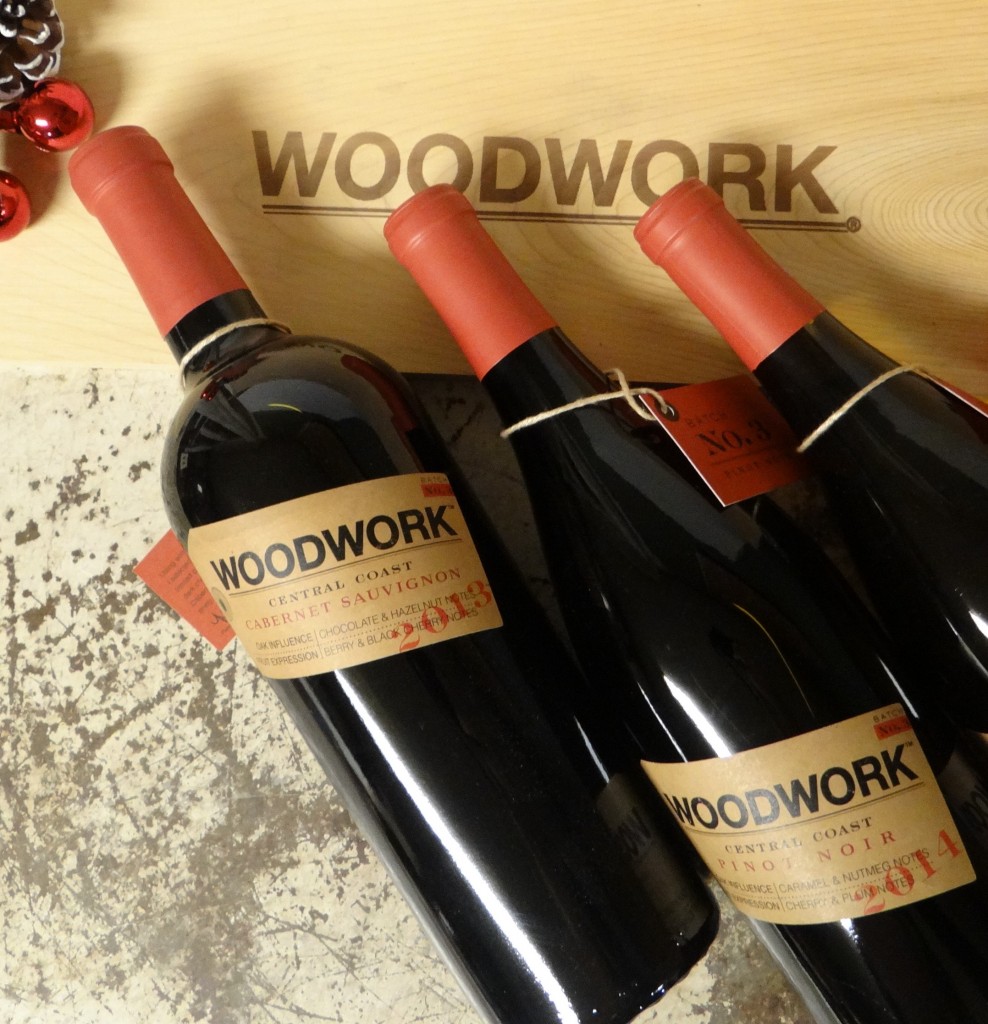 "Woodwork is perfect for grilling and food pairing because the Woodwork winemaker, Monica Belavic, is so passionate about crafting great wine. The Cabernet Sauvignon, for example, is really robust without being pretentious. It pairs nicely with almost anything on the grill, but I think it's particularly good with barbecue!" – Nick Evans
Cabernet Sauvignon BBQ Glaze
Recipe by Nick Evans
This is a simple BBQ glaze that requires no chopping or grating. The finished sauce is slightly thinner than a standard BBQ sauce, but packed with flavor and great for brushing over almost any grilled food.
Prep Time: 5 Minutes
Total Time: 30 minutes
Servings: About 2 1/2 cups BBQ glaze
Ingredients:
1 cup WOODWORK Cabernet Sauvignon
1/2 cup red wine vinegar
1/2 cup apple cider vinegar
1 cup ketchup
1/2 cup honey
2 teaspoons paprika
2 teaspoons kosher salt
1 teaspoon onion powder
1 teaspoon garlic powder
1/8 teaspoon ground cinnamon
Whisk together ingredients in a medium saucepan over medium heat. Once ingredients are combined, bring to a slight simmer.
Turn heat down to low and simmer glaze for 20 minutes, stirring occasionally to make sure glaze isn't burning on the bottom of the pan.
When glaze has reduced and is thick enough to coat a spoon, remove from the heat and let cool. The glaze will continue to thicken as it cools.
Brush glaze heavily on any grilled items. It's particularly good on grilled chicken or pork.
For more information on Woodwork Wines, visit http://thewinebar.com/woodwork