When you were little did you dream big?  I know I did.  I remember using my curling iron as a microphone, dancing in bedroom and putting on the performance of a lifetime to an audience of 80's rock posters taped to my wall. In that moment, my imagination ran wild with glorious dreams of lead singer grandeur!  My life path didn't take me to The Grammy's but those childhood dreams are part of the reason I love watching THE VOICE so much.  And now I can watch The Voice anywhere, any time, for free with NBC TVEverywhere!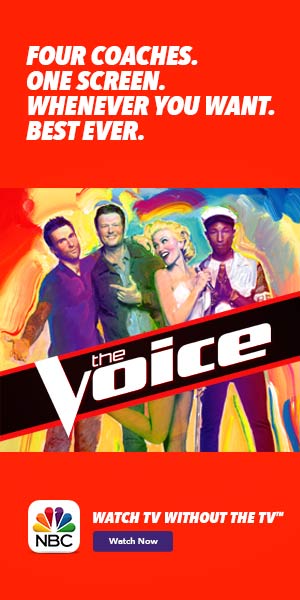 We all have a favorite TV show.  Whether you watch The Voice because it makes you happy to watch a hopeful singer's dream come true, like I do, the one thing we all have in common is we don't want to miss an episode!  Not only is it hard to catch up with everything that happened, we also want to enjoy and savor each triumph (and even the heartaches) of our favorite contestants or characters.
The trouble is – we are busy!  During the week, I often don't have time to watch The Voice or my other NBC favorites like HEROS REBORN when the show airs.   It's a total bummer when I have to miss an episode but I recently found out that I don't have to anymore!  
With TVEverywhere I can watch my favorite NBC show anytime, anywhere and for free! As part of my existing cable subscription, all I need to do is login and I can access the show along with extra content on the NBC brand website.  It's that simple!  Now, when I'm catching up with emails, I can also watch The Voice on my desktop or make dinner catching up on the action via my laptop.
What NBC shows would you love to watch anytime, anywhere for free?  Are you are fan of The Voice like me?  Or is Heroes Reborn, Chicago Fire or The Blacklist more your style? To watch your favorites for free, all you need to do is Click to Watch Now.