We are so excited to bring you the latest announcement that JURASSIC WORLD will be available October 20 on Blu-Ray, DVD and On Demand!  My family absolutely loved the experience of watching this amazing film at the theater and can't wait to add it to our entertainment library.  I'm also thrilled to be on #TeamJurassic to bring you exclusive content and giveaways as we anticipate the arrival of the home version of JURASSIC WORLD!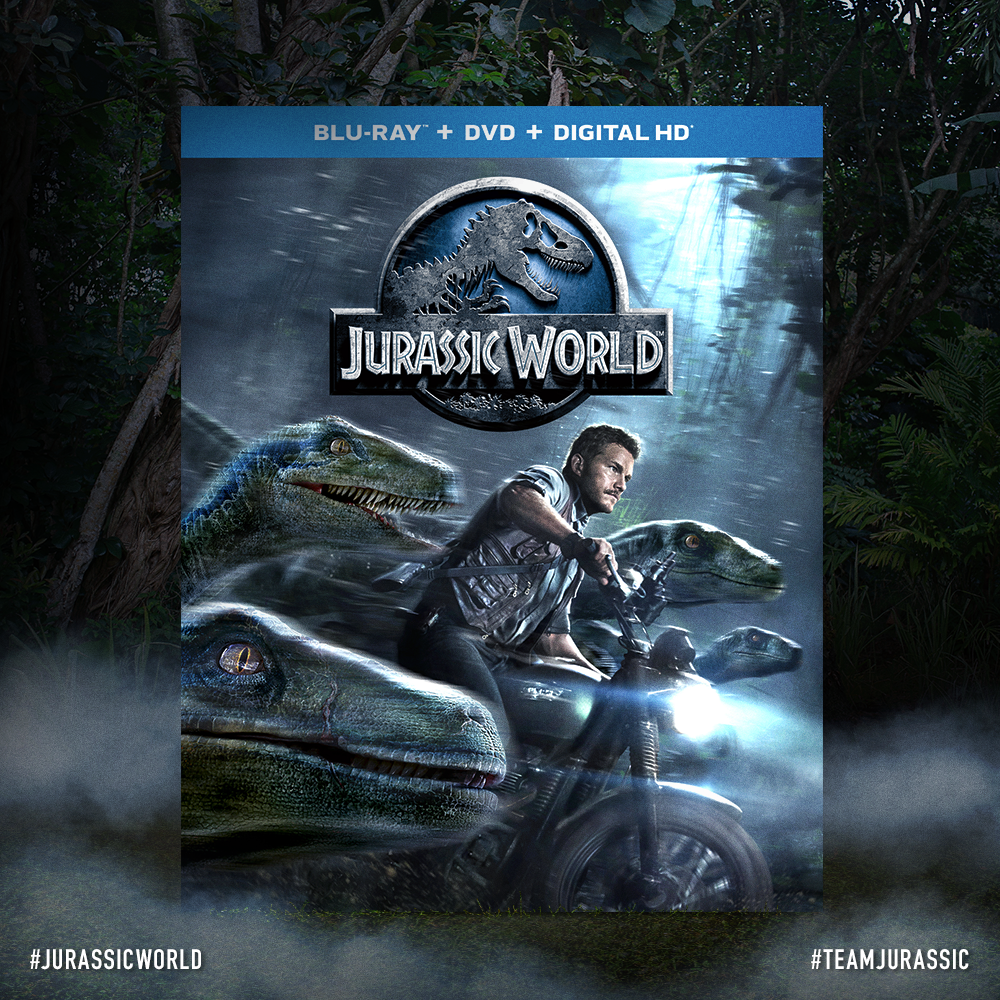 The #1 movie of the year proves that once again, dinosaurs rule the earth! Fans can experience the thrill and awe when Jurassic World arrives on Digital HD on October 1, 2015 and on 3-D Blu-ray™, Blu-ray™, DVD and On Demand on October 20, 2015. The Blu-Ray Combo Pack comes in a special limited edition collectible steel packaging.
Bonus features include:
BONUS FEATURES EXCLUSIVE TO BLU-RAYTM:
WELCOME TO JURASSIC WORLD:  An in-depth take on the creation, look and feel of Jurassic World.  Director Colin Trevorrow and Steven Spielberg discuss how the idea of the film came together and how the casting was decided with actors' commentary on their roles and filming locations.  
JURASSIC WORLD: ALL-ACCESS PASS:  Chris Pratt and Director Colin Trevorrow discuss key moments in the film, supported by behind-the-scenes footage and VFX breakdowns.
INNOVATION CENTER TOUR WITH CHRIS PRATT:  Chris Pratt gives a tour of the Innovation Center, a museum/exhibit, built just for the movie.
JURASSIC'S CLOSEST SHAVES: Clips from all films in the franchise showing "near death" or extremely scary encounters with dinosaurs.
BLU-RAYTM AND DVD BONUS FEATURES
DELETED SCENES
DINOSAURS ROAM ONCE AGAIN:  Behind the scenes look at the making of Jurassic World's visual effects, how the dinosaurs came to life, and actors filmed scenes.
CHRIS & COLIN TAKE ON THE WORLD:   Chris Pratt and Colin Trevorrow (Director) interview each other and discussJurassic World as well as the other Jurassic Park movies.
For more information, check out:
Official Website | Facebook | Instagram | Twitter|#JurassicWorld | #TeamJurassic