I, Barb Webb, from Rural Mom in Salt Lick, Kentucky pledge to FIGHT FOR MY WRITE by encouraging the act of handwriting in my home and throughout my community because writing makes us ALL awesome!
What is the pledge to Fight For Your Write?
It's a special mission to save handwriting by encouraging people to become handwriting heroes. When you pledge, you'll help BIC spread the word and receive useful tools on handwriting to help inspire your children and your community to get writing!
Why should you pledge to Fight For Your Write?
Did you know that writing is a critical learning tool for children? Despite this, over 33 percent of college students are not prepared to write at a college level. The time to help your child is now!
Research shows that working on improving handwriting skills is directly relational to improved cognitive development, motor skills, writing skills and reading comprehension.
It's free to join the cause but the rewards from joining the mission to help save handwriting are priceless!
Take BIC's pledge to save handwriting & enter for a chance to win a $1,200 BIC® Prize Pack! No Purch Nec., U.S. only, 18+. Ends 09/14/15. For details and full rules visit https://goo.gl/3ioGc4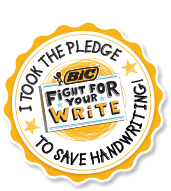 Why did I pledge to Fight For Your Write?
There's a standing joke in our house that no one would ever figure out who the men in our house are by their handwritten signatures… primarily because they are indecipherable!
As a mom, I've worked with my sons to improve their handwriting so that their teacher's will understand what they are communicating. Too many times they had points taken off papers or lost credit for a test question when their handwriting was not clear enough, rendering all their hard work mute.
In the process of working with them and stressing the importance of practicing their handwriting skills, I quickly realized two things: a) the school curriculum did not stress handwriting practice and b) the more that my sons' handwriting improved, they better their grades were. Some of the grade improvement came about from their teachers now clearly recognizing their answers but some of it came from their confidence in their ability to write.
Their signatures are still a bit sloppy, but we can work with that!
Quick ideas for helping your child to improve their handwriting.
Practicing handwriting skills just 15 minutes a day can make a big difference! Try one or more of these ideas to get your children practicing today:
Ask your child to create a dinner menu detailing their thoughts and descriptions of the dishes you will be serving.
Challenge your kids to come up with an invention and share their ideas with your family.
Have your child write a short story featuring your family as a team of superheroes.
Ask your child to create a birthday/anniversary/special holiday card for a loved one and encourage them to write a personal note inside.
Find more inspiring ideas at
This is a sponsored conversation written by me on behalf of Bic. The opinions and text are all mine.