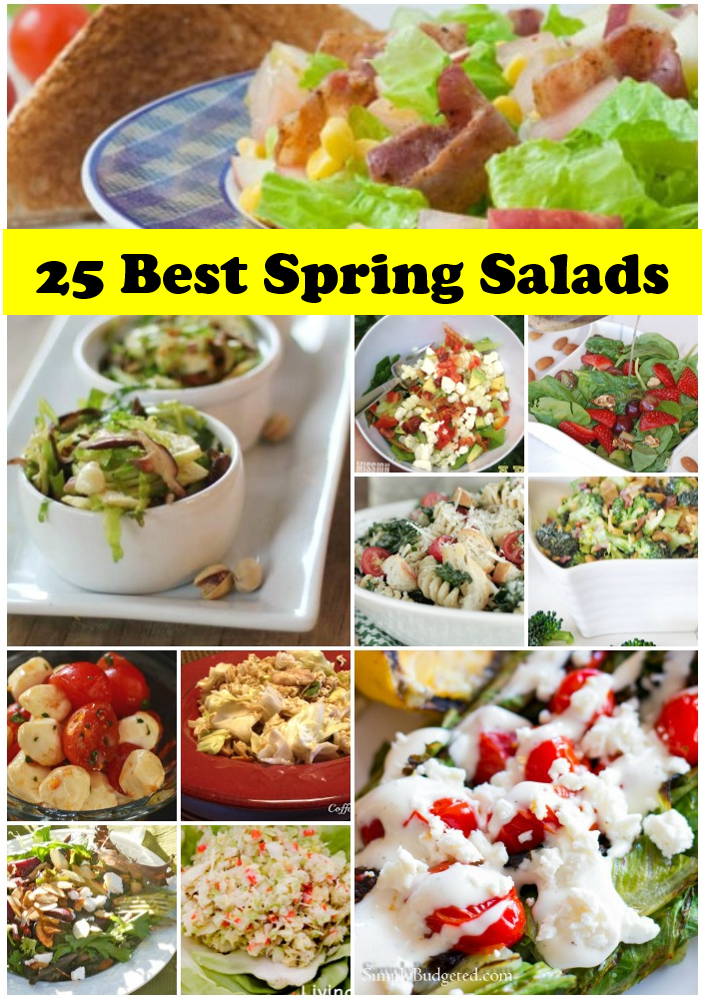 Something about Spring weather screams salad, don't you think?  When compiling this "best salads for spring" roundup, I came across so many different salad recipes that it was hard to choose just 25.  The original idea was Spring salads, but since Spring produce varies across the country, I decided to go with a general roundup of delicious salad recipes.  Most are traditional veggie salads, but I did throw in a few pasta salads for those of you who want to make a fabulous meal or side item, too!
1. Mozzarella, Tomato, Black Olive, and Cucumber Salad
2. Lime and Garlic Cabbage Tomato Salad
3. Easy Italian Pasta Salad
4. Shaved Brussel Sprouts with Crushed Pistachios
5. Chinese Chicken Salad
6. Chef's Salad
7. Strawberry and Candied Almond Spinach Salad
8. Strawberry Spinach Salad with Poppy Seed Dressing
9. Tuscan Kale Caesar Pasta Salad
10. Tomato, Avocado, and Goat Cheese Salad
11. Charred Romaine Salad with Burst Tomatoes
12. Parisian Mumbai Salad
13. Cherry Tomato and Mozzarella Caprese Salad
14. Broccoli Salad with Bacon and Cashews
15. Pasta Salad with Balsamic Vinaigrette
16. Homemade Probiotic Chicken Caesar Salad
17. ABC Cob Salad
18. Fresh Beet and Goat Cheese Salad with Lime and Mango Dressing
19. Cucumber Salad with Dill
20. Garlic Salad
21. Spring Pasta Salad
22. Frito Taco Salad
23. Grilled Radicchio Salad with Manchego
24. Apple and Bacon Salad
25. Spicy Shrimp Salad
Do you have a favorite spring salad recipe to share?  Feel free to leave a link to the recipe in the comments!