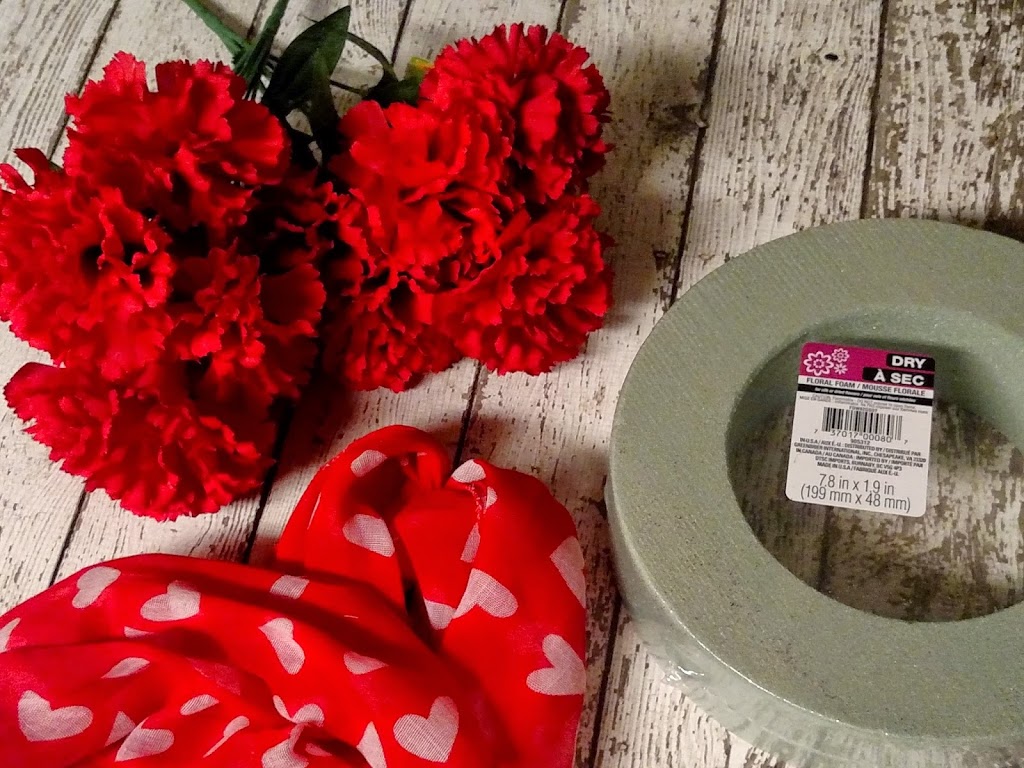 Love is in the air and we're creating a festive Valentines Day wreath with a little help from Dollar Tree! #spon
Last year on a visit to a little housewares boutique in one of my favorite "boho" style neighborhoods, I spotted a pink carnation wreath hung on the wall with a wide red ribbon bow.  I adored the full, lush arrangement of the flowers and the simplicity of the design.  The wreath was perfect for Valentines Day but I could envision using it year-round by either removing the bow or swapping it out with a new ribbon color seasonally.
However, I did not adore the $55 price tag attached, so sadly the wreath did not make it home with me that day.
This year after I had to recycle one of my dried floral wreaths that had suffered the ravages of time and too much wear and tear, I had the notion to replace it with the carnation wreath I was still enchanted with.  No way was I going to pay that hefty price, though.  This became a great opportunity and challenge to create a frugal home fashion makeover!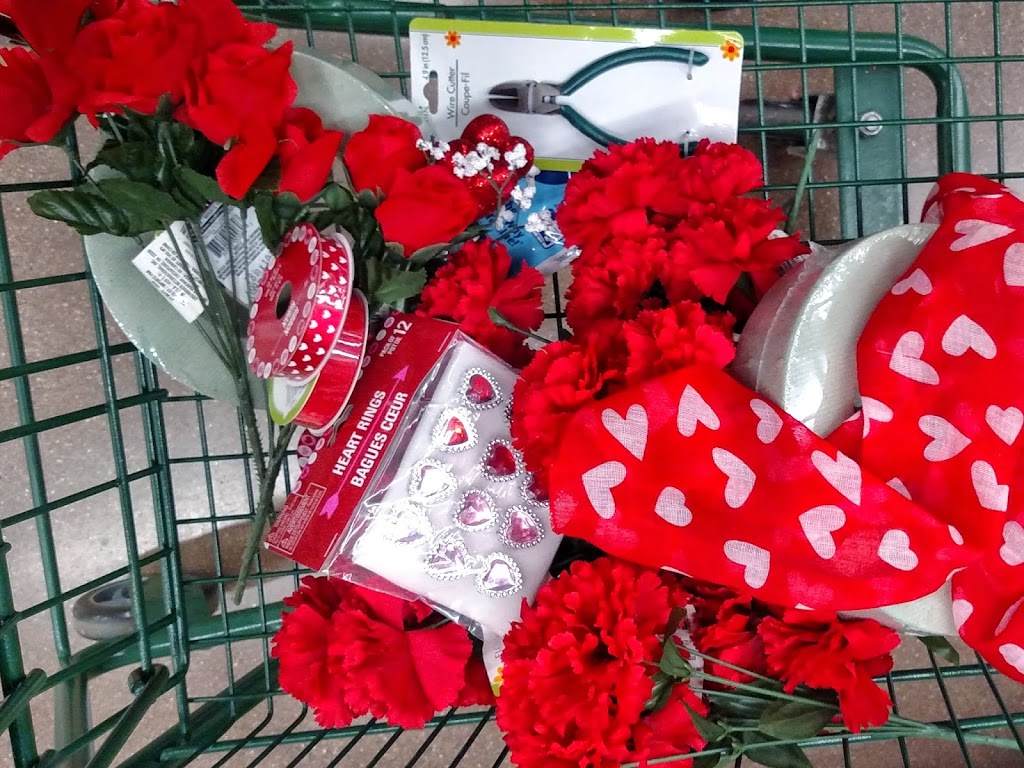 Destination:  Dollar Tree
Materials: 
Green Foam Floral Ring, 7 7/8″
7 bunches of 5-stem Colorful Faux Carnations (in color selection of choice, for this project I used the red ones.)
Valentines Day Print Scarf
Decorator's Choice 5″ Wire Cutters (optional)
Total Project Cost: 
$10 (ten dollars!) If you do not need a wire cutter, the project cost is $9 (nine dollars.)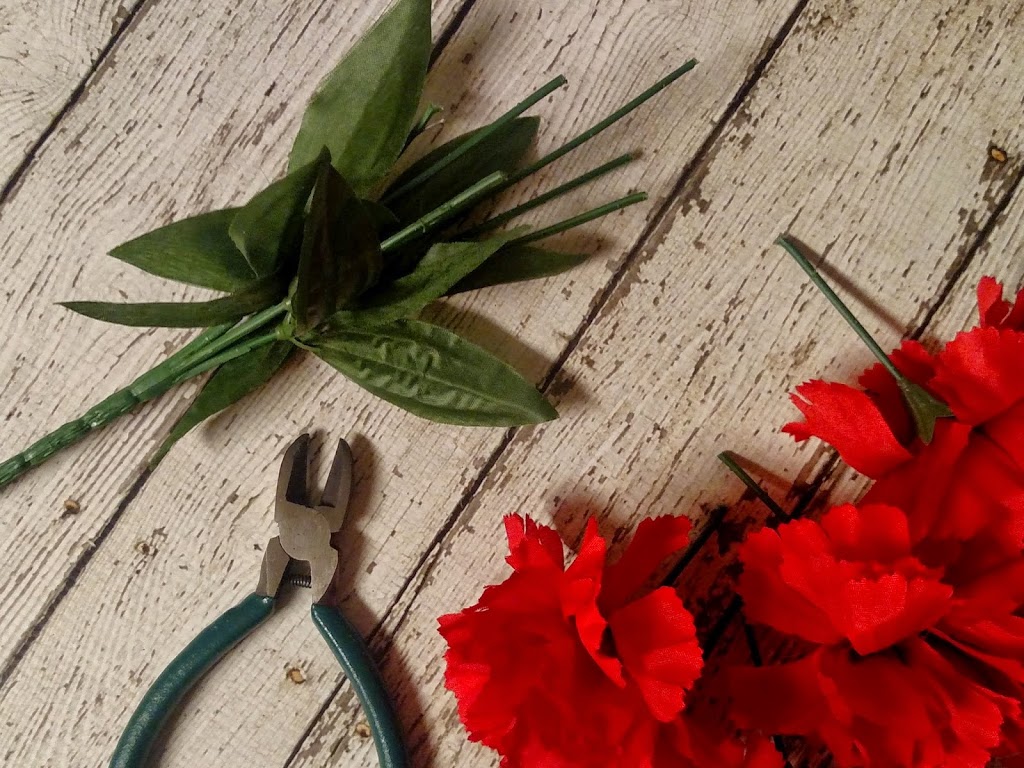 This is by far, one of the easiest craft make-over adventures I've embarked on and one of the most rewarding because I super love the way this wreath turned out!
To begin, using wire cutters, snip the carnation buds from the bundle, leaving a two-inch length of stem for each carnation (as illustrated above.)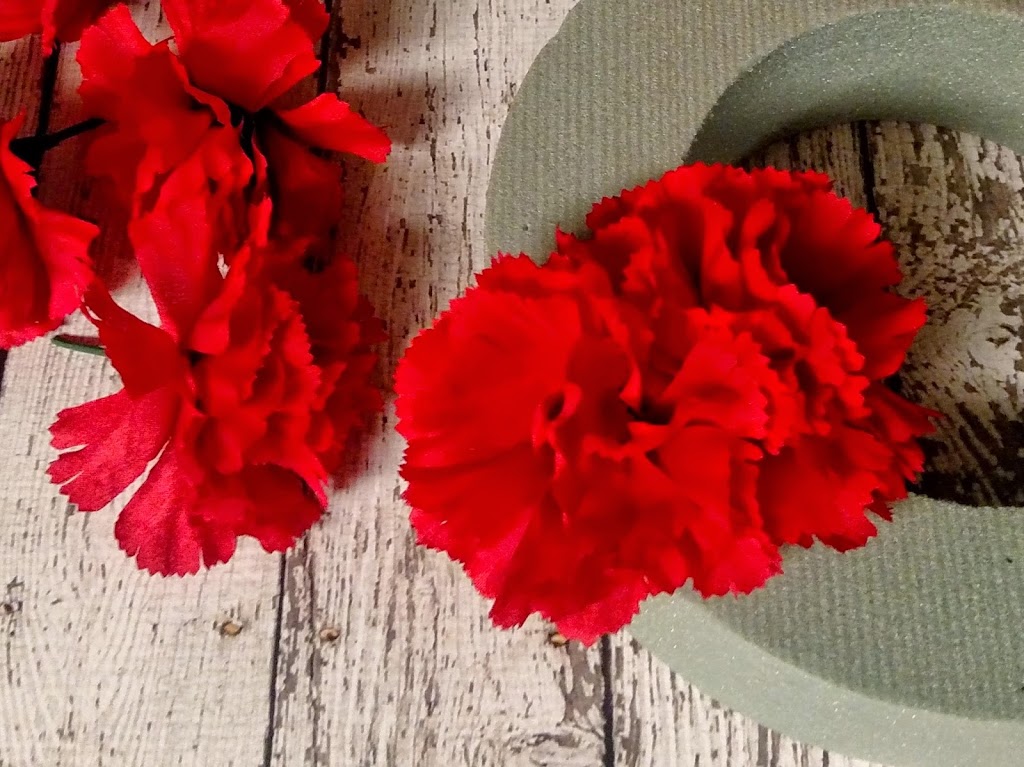 Next, remove cellophane wrapper from the green foam ring and lay it flat on a flat surface.  Insert two carnations, side by side with stem side down into the top surface of the green foam ring (as illustrated above.)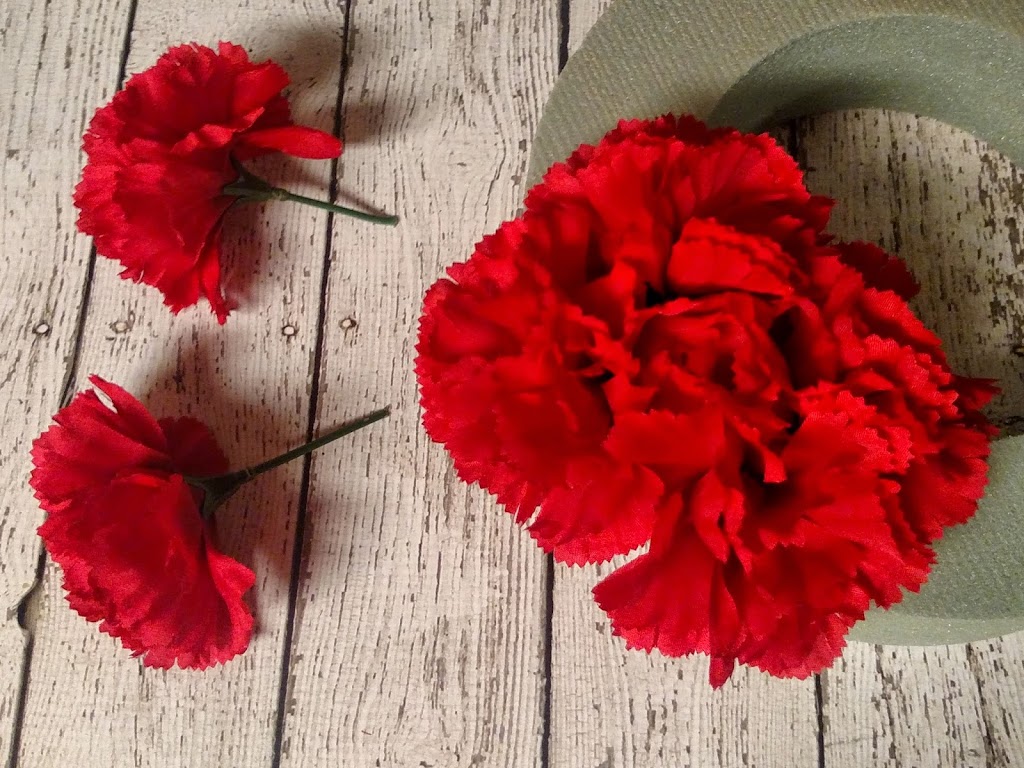 Continue inserting carnation flowers two at a time into the green foam ring, leaving no gap spaces between carnation sets (as illustrated above.)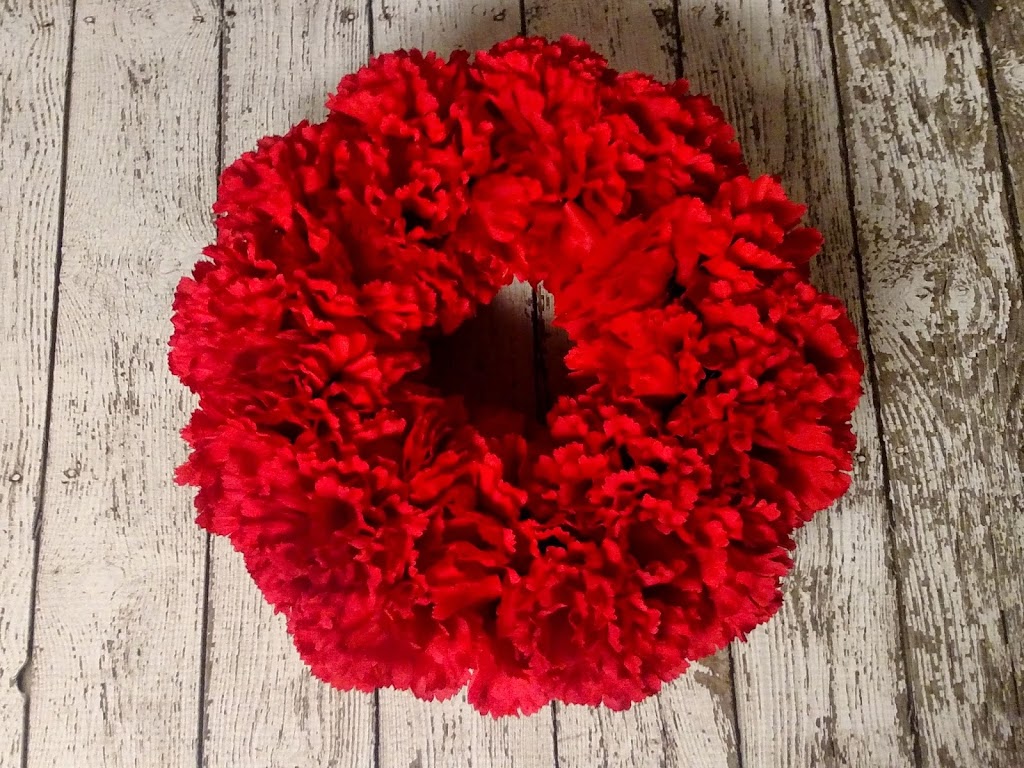 Complete the circle of carnations and viola!  You already have a lovely wreath!  You could stop here and hang this on any wall of your home for a nice bright spot of color.  You could also put a tall glass candle holder in the center and use it as a festive table centerpiece.
Or you can continue forward as I did, to create an even more plush wreath that offers a great "side view," too.
To continue, insert a single carnation stem side down into the side of the green foam ring (as illustrated below.)  Continue inserting carnations, one at a time, side by side until the entire ring is filled.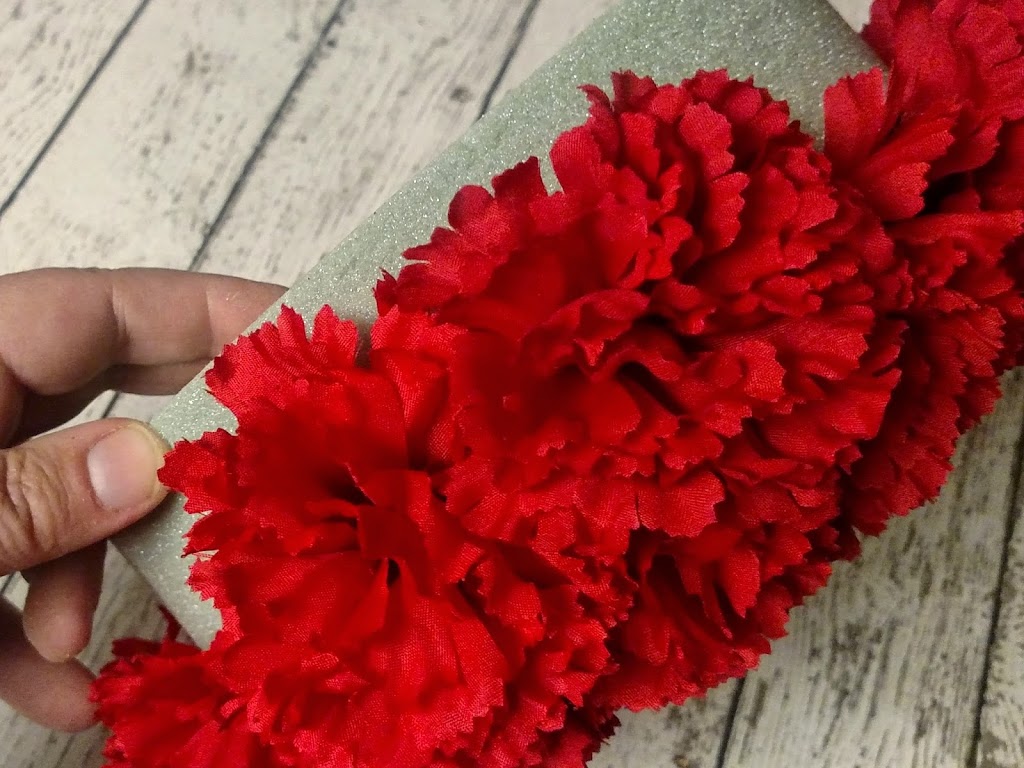 I love the wreath just as is without a bow, but I also like to add seasonal touches to objects in my home decor, so I added a big bow by simply tying a cute Valentines Day-patterned scarf that I picked up from Dollar Tree.  You could also use ribbon, but I love the sheer and light look the scarf adds PLUS I can re-purpose the scarf later by adding it to my wardrobe as an accessory to wear or wrapping it on a basket or pillow and so on…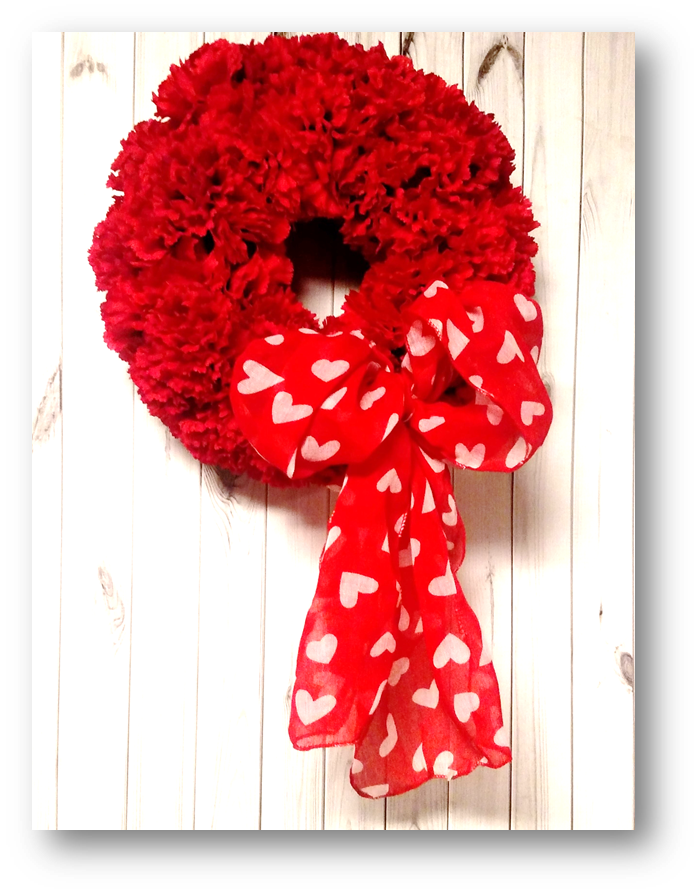 To hang the wreath, you could attach a bracket or hanger to the back, but I found that the foam form rests easy and balances well on just a simple nail or thumb tack.
There you have it!  Quick and easy-peasy beautiful decor for my home at a fraction of the boutique price!
PS – As typically happens when I set out to do Dollar Tree crafts, my mind bubbles over with ideas from the fun finds in the store, so stay tuned, I'll be bringing you another Valentines Day wreath craft later this week!