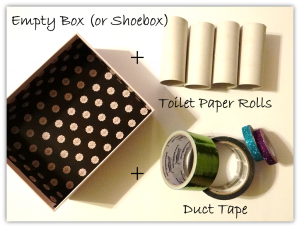 Most of your holiday festivities are over but the kids are still home.  Sure, their gifts are certainly keeping them busy, but inevitably, the dreaded "I'm bored," declaration will come!  Now is the time to get busy crafting, fashioning new out of old and maybe even adding in a little bit of excitement about returning to school by making a Duct Tape Art Tray to house art or school supplies.  It may also encourage your child to clean up their desk and room a bit, which is always a plus!

The supplies are simple items you likely have around the home:
1 empty 8 x 6 box (or a shoebox size)
4-8 toilet paper rolls (or 2-4 paper towel rolls halved)
duct tape
scissors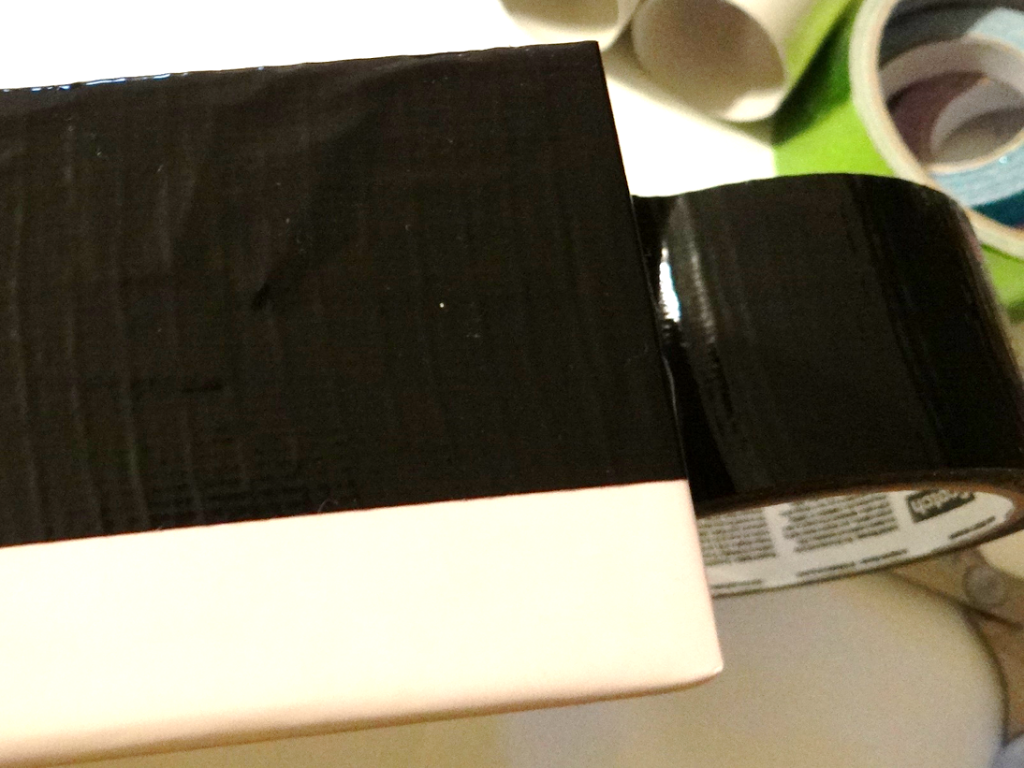 First, select your duct tape colors/patterns.  You can use standard silver duct tape or purchase colored duct tape with optional prints.
Next, using strips of duct tape, cover the bottom and sides of the empty box.  If you prefer, also cover the interior of the box with duct tape.  Be sure to overlap the edges of your duct tape for complete coverage.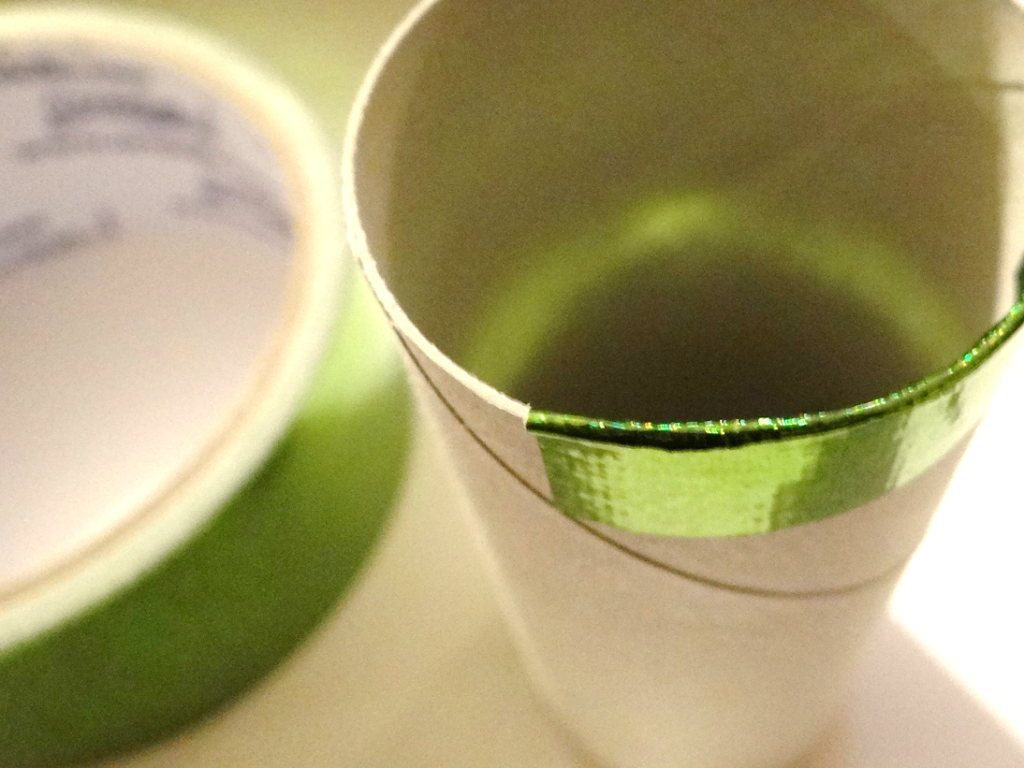 Cover each toilet paper roll with strips of duct tape in the color of your choice.  I chose two alternating colors to give the design more interest, covering two rolls in green sparkle and two rolls in black (the same color as the base.)  Be sure to overlap duct tape on one end of the roll to form an edge (as illustrated above.)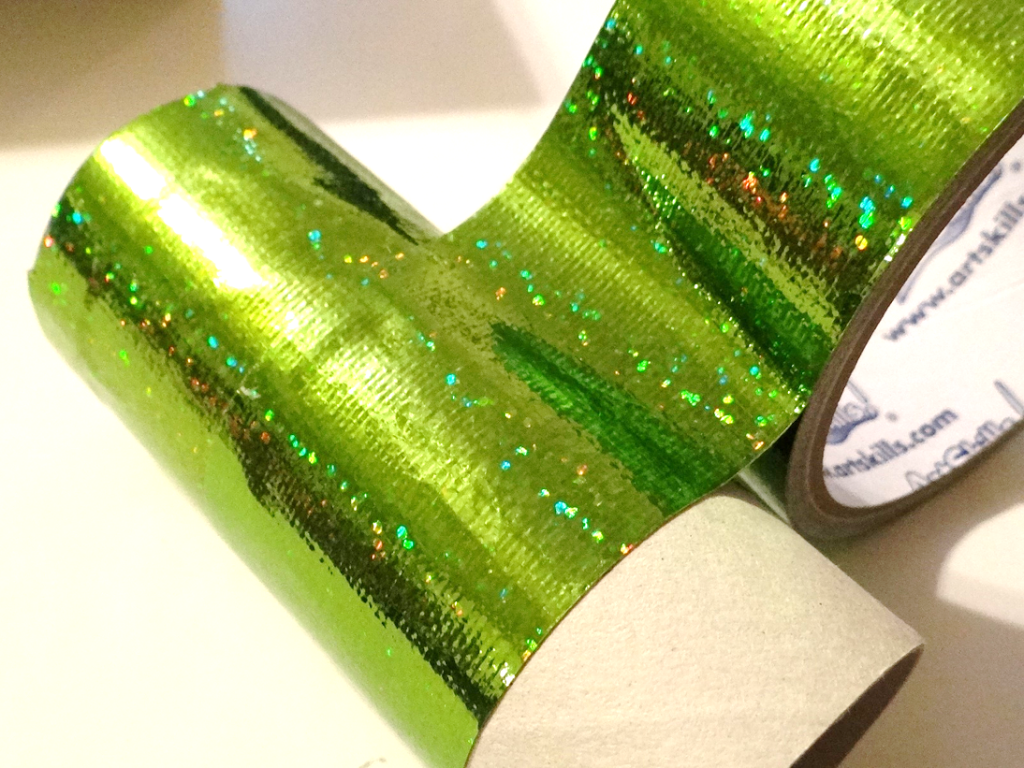 Once all of the toilet paper rolls have been covered in duct tape, add trim if desired.  I used thin teal and purple glitter duct tape to add lines to the rolls (as pictured below.)  These rolls will become your pencil, pen, marker, scissor (and so on) holders for your art tray.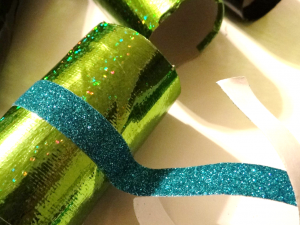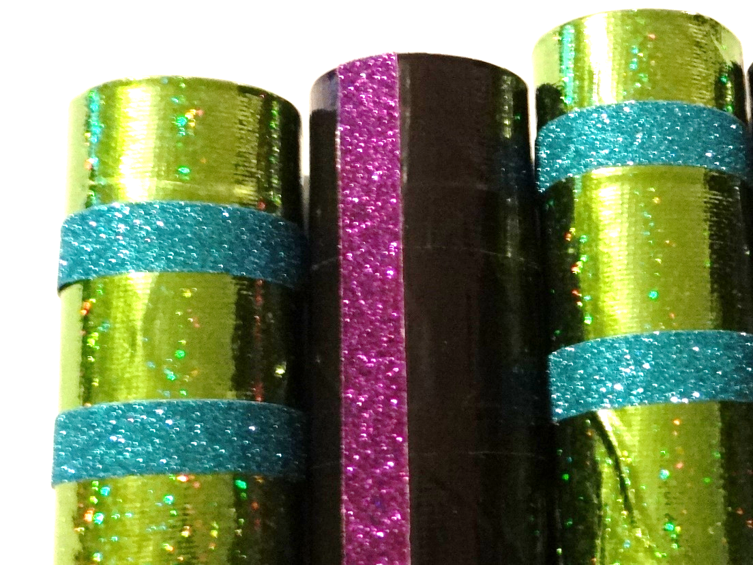 If desired, add strips of duct tape to create patterns on the art tray box, as well (as pictured below.)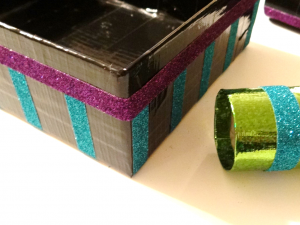 And viola!  You have all your components ready to assemble!  Use strips of duct tape to secure the toilet paper rolls to the inside of the box, or allow them to free-stand if you are filling the box with rolls.  As I lined the back end with four rolls rather than filling the box with roll holders, I used duct tape to secure the bottoms in a hinge-like fashion.
Find a clean spot on your desk or in a play area and fill your art tray with art, craft or school supplies.  When you are finished with this craft, encourage your child to use their art tray supplies to create more fun crafts!