One of the first things you think about when it comes to the holidays is the food – particularly the cookies.  I've collected some favorites from our Rural Mom Kitchen and from some of my favorite blogs to share with all of you.  Try out a few of  these new recipes.  They may just turn into a holiday tradition!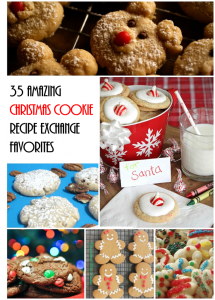 There are many holiday cookies from the Rural Mom kitchen we love, a few of our top favorites are:
PBJ Sugar Cookie Sandwiches
Giant Pumpkin Pie Cookie with Pumpkin Spiced Cream Cheese Frosting
Peanut Butter Chocolate Mint Cookies
Tri-Color Christmas Joy Cookies
Whole Wheat Low Sugar Gingerbread
It's hard to choose just a few, though, isn't it?  The more cookies, the merrier!  Here are some more recipes to love:
What's your favorite Christmas Cookie recipe?  Feel free to share in the comments below!