Despite their attempts not to be cuddly and cute and their directives from Skipper to be cuddly and cute to avoid detection… the Penguins of Madagascar are simply adorable!  And super fun to watch in their bungled covert operations.  Which is why we're excited to share that the PENGUINS OF MADAGASCAR full-length film will hit the big screen this year just in time for Thanksgiving!
Catch a sneak peek here and get ready to get the full scoop on the who the real Penguins of Madagascar are:

About the film
Super spy teams aren't born…they're hatched. Discover the secrets of the greatest and most hilarious covert birds in the global espionage biz: Skipper, Kowalski, Rico and Private. These elitists of the elite are joining forces with a chic undercover organization, The North Wind. Led by handsome and husky Agent Classified (we could tell you his name, but then…you know), voiced by Benedict Cumberbatch. Together, they must stop the villainous Dr. Octavius Brine, voiced by John Malkovich, from destroying the world as we know it.
Starring: Tom McGrath, Chris Miller, Christopher Knights, Benedict Cumberbatch, Ken Jeong, Annet Mahendru, Peter Stormare and John Malkovich
Directed By: Eric Darnell, Simon J. Smith
Produced By: Executive Producers: Tom McGrath, Mireille Soria, Eric Darnell; Producers: Lara Breay, Mark Swift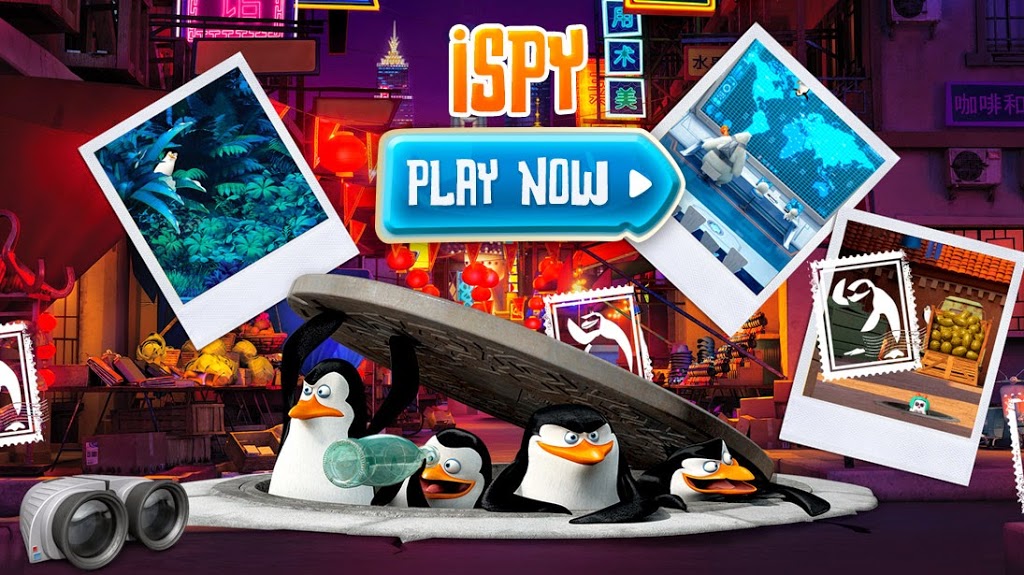 Penguins iSpy Game 
Want to have a little fun while you're waiting to see the film?  The Penguins of Madagascar are hiding! Play their spy game and see if you can find the penguins! Play now.
Official websites – #PenguinsMovie
Visit the Official Website
Follow @DWAnimation on Twitter
Like 'Penguins of Madagascar' on Facebook
Follow on Tumblr, Google+