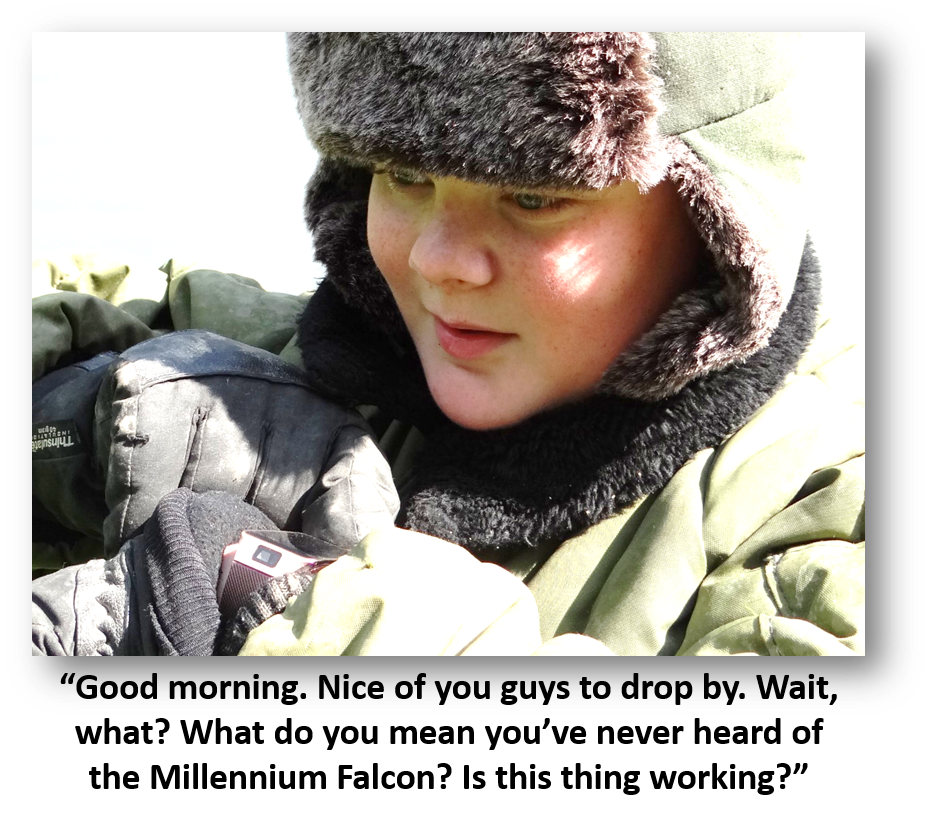 As a member of a pretty cool team of influencers, I received the Samsung Gear 2 from Verizon to test out.  My admiration, adoration, enchantment and pure giddiness over this device, along with my opinions, are 100 percent indubitably my own.  
In my lifetime, MP3, Blu-ray, Smart Phone and Tablet technologies have all "wow'd" me but nothing threw me for a futuristic sci-fi loop like the Samsung Gear 2.
Could be the Dick Tracy-ness of it, or maybe the Star Wars-like wrist communicator coolness factor.  Next to a light saber, a wrist communicator was high on my childhood wish list.  And then there was that other sci fi, you know the one we Star Wars folks don't talk about much but most of us secretly like anyhow, like with the whole "beam me up, thing."
All way cool stuff.
Stuff I just never expected to really be wearing on my wrist someday.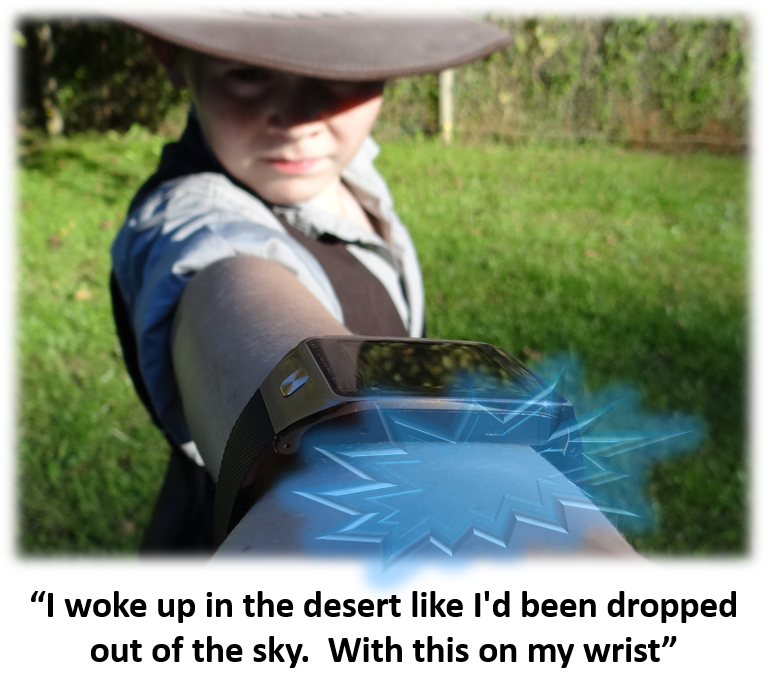 The best part, the Gear 2 isn't just a fantasy-fantastical gadgety thing, this clever piece of technology is chock full of crazy-cool, purposeful things.  Connected via bluetooth to my Samsung Galaxy Note 3, the Gear 2 allows me to receive notifications from my phone and apps including calls and text messages without ever having to reach for my phone.  It's all there.  Right. On. My. Wrist. Wow!
Check out the official video for the full demo of goodies on the Samsung Gear 2:
I've found that my Samsung Gear 2 has an unexpected benefit.  It's a total conversation starter.  Everywhere I go, someone notices it and inquires about the features and whether I like using it.  They probably get a little more conversation than they bargained for because I have plenty of accolades to hand out for this nifty device.
The personalized fitness manager built in that helps me track my steps, heart beat and even sleep patterns makes the Gear 2 the ultimate tool, combining everything we want in a smart-wrist-watch companion.  The fact that I can use it as a music player when I'm working out is so much less cumbersome than using my phone or other music playing devices.
It's dust and water resistant, which makes it easy to travel with regularly without having to fret about weather conditions.  I also find it's so much easier to quickly glance at my wrist to view a message received or incoming phone call and be able to instantly decide if I need to interrupt what I'm doing to respond.
In addition to all the bells and whistles, I also love the sleek style and the ability to customize the face-plate with various wallpapers and clock settings to match every outfit and mood that I have.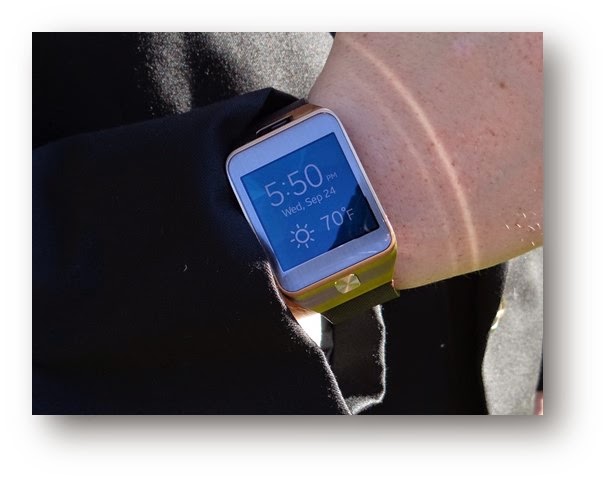 There's very little negative I have to say about the Samsung Gear 2.  I find the battery life generally takes me about three days to drain, depending upon how much I use it, so I feel that's more than adequate.  The fit is pleasant and not constrictive, it's not very heavy so I don't feel weighted down and it's generally comfortable throughout the day.
The ability to capture photos from my watch is the stuff of spy legends, but the photo quality isn't up-to-par with my Samsung Galaxy Note 3 which takes pictures that rival DSLR's.  But for a quick photo of something I need to remember like a book title or a quick fun picture of a friend to use for my address book, it does the trick nicely, sending the photos instantly to my smart phone for use.
Overall the Samsung Gear 2 is an excellent smartwatch product and still one that makes me feel very space age.  It's captured my heart and imagination, so much so, than when given the opportunity to test and keep a non-Samsung phone, I said "no" because it wouldn't be compatible with the Samsung Gear 2!  Which is possibly the only true drawback, you do need to have one of the 17 compatible Samsung smartphone devices to use this amazing piece of techno art.
Find more details and specs and such at: http://www.samsung.com/global/microsite/gear/gear2_features.html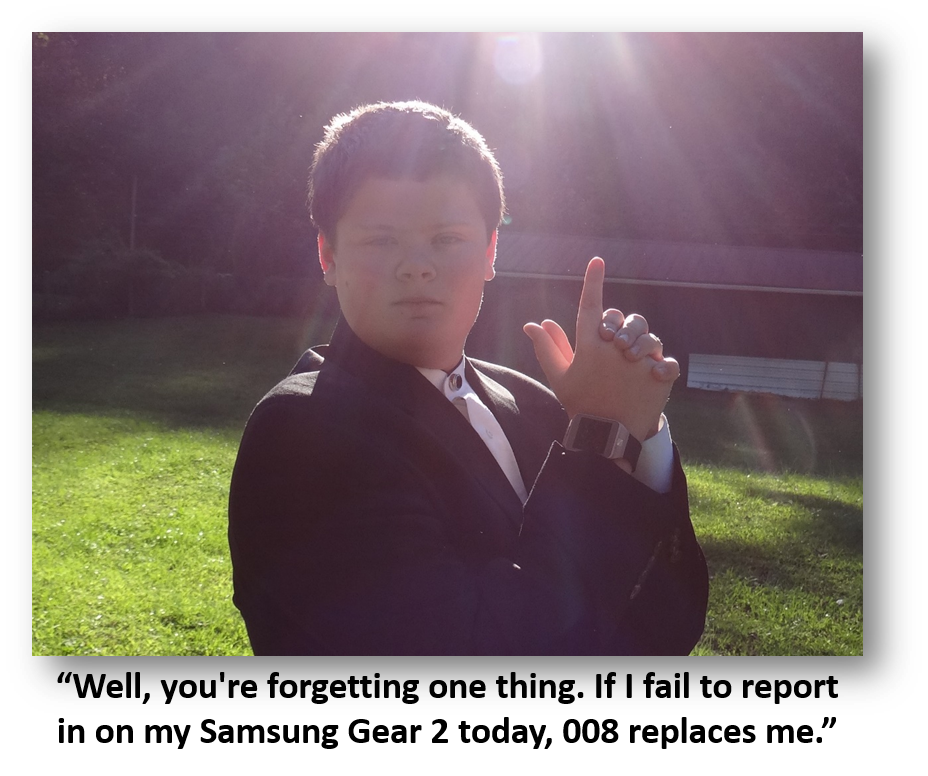 Special thanks to my sons for helping me with this feature and for playing their action and sci-fi photo roles so well!