We Rural Moms are certainly enthusiastic about our kitchen tools and decor – no surprise there!  I have to say, though, I get even more giddy when I find a product that not only provides functionality but also have great sentimental or personal meaning attached.
It's why I'm currently over-joyed that Epicurean sent over a Kentucky-shaped Epicurean State Cutting Board for our review.  If home is where the heart is, then my heart is certainly tied to our Kentucky kitchen!

There's a fine sense of satisfaction in chopping up fresh vegetables from the garden on a board that filled with Kentucky pride.  Even more satisfying to know that Epicurean State Cutting Boards not only represent the United States visually, but are made in the U.S. as well.  Additionally, they are eco-friendly, dishwasher safe and NSF approved.
Based in Duluth, MN, the company fully manufactures all of its products in the United States and is known for using unique materials to make innovative and functional products for the kitchen. Epicurean's State Cutting Boards were born out of excess skate park materials and they now set the standard for today's well-equipped kitchen.
With Epicurean State Cutting Boards, you can take pride in your current state of residence or opt to add have a taste of home from the state you were born in or even the states you've visited.  My sons want me to get all of the cutting boards so they can put a puzzle together of them and make a mural of them on our wall. (Which I happen to think is a really cool idea!) 

These novelty boards can be used for both chopping and serving and I know the Kentucky board will be a conversation piece at our next family gathering.  I'm really impressed with the quality and texture of the board and plan to use it often.  It provides and excellent chopping surface and clean-up is a cinch, too.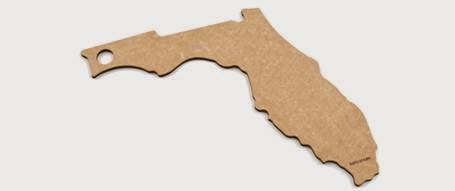 Epicurean newest addition of a Florida-shaped cutting/serving board to its popular State Shaped line.
Nearly all of the states are now available:
Alabama, Alaska, Arizona, Arkansas, California, Colorado, Connecticut, Delaware, Florida, Georgia, Idaho, Illinois, Indiana, Iowa, Kansas, Kentucky, Louisiana, Maine, Maryland, Massachusetts, Michigan, Minnesota, Mississippi, Missouri, Montana, Nebraska, Nevada, New Hampshire, New Jersey, New Mexico, New York, North Carolina, North Dakota, Ohio, Oklahoma, Oregon, Pennsylvania, Rhode Island, South Carolina, South Dakota, Tennessee, Texas, Utah, Vermont, Virginia, Washington, West Virginia, Wisconsin, and Wyoming
The Epicurean State Cutting Boards would be great for tail-gating fun, make a terrific holiday gift and of course, a lovely addition to your home kitchen!
For more information or to purchase, visit http://www.epicureancs.com/state-shape-cutting-boards.php
Special thanks to Epicurean for sending over a Kentucky State Cutting Board for our review.  All thought, opinions and true love of Kentucky are that of Rural Mom.