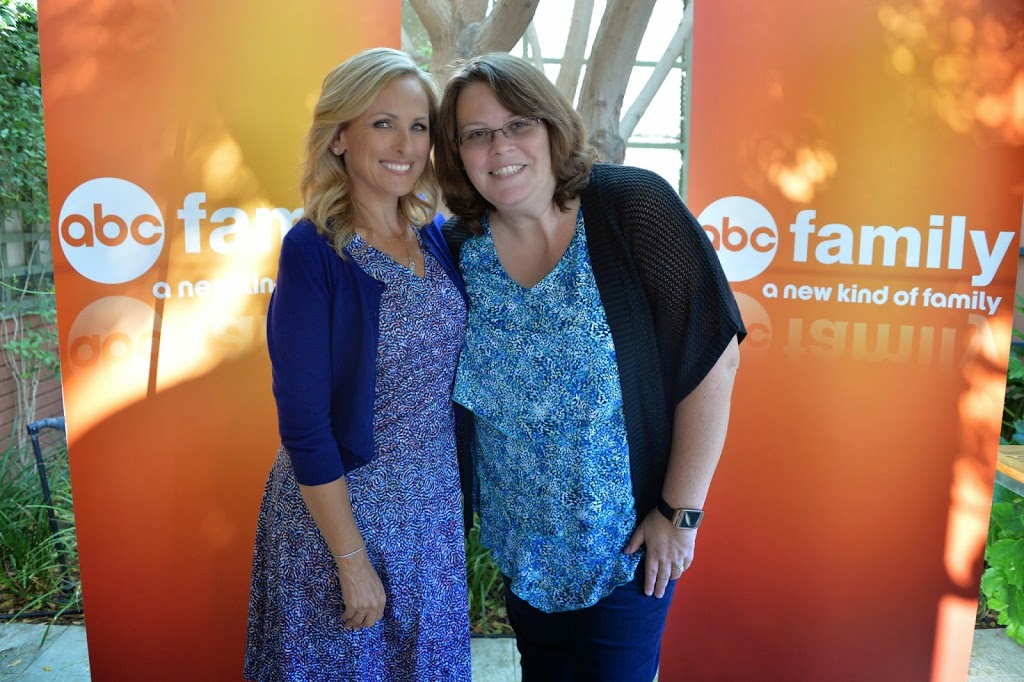 Marlee Matlin and I – what an amazing moment for me!  Photo credit: ABC FAMILY/ Eric McCandless
It takes a lot to render me starstruck.  I mean, I barely blinked an eye when Vin Diesel entered the room for our GUARDIANS OF THE GALAXY interviews.  Don't get me wrong, it's not that he's not a super-mega-blink-worthy-talented-star.  He is.  And I certainly admire his work. But, after all, though, like you and I are, actors and actresses are real people and I tend to see them as such.
My normal laid-back nature nearly did hand-springs over the garden area though when I walked into the Moms of ABC Mixed and spotted Marlee Matlin.  We had a crazy-full itinerary and somehow, I'd missed the memo that this Academy Award-winning actress, one of my very favorite actresses, was going to be sitting down for a casual chat with us.
Marlee Matlin. Sat. Down. For. A. Chat. With. Me.

Woah!
Okay, well, in truth she sat down for a chat with me and twenty-four other bloggers, but still…
Wow.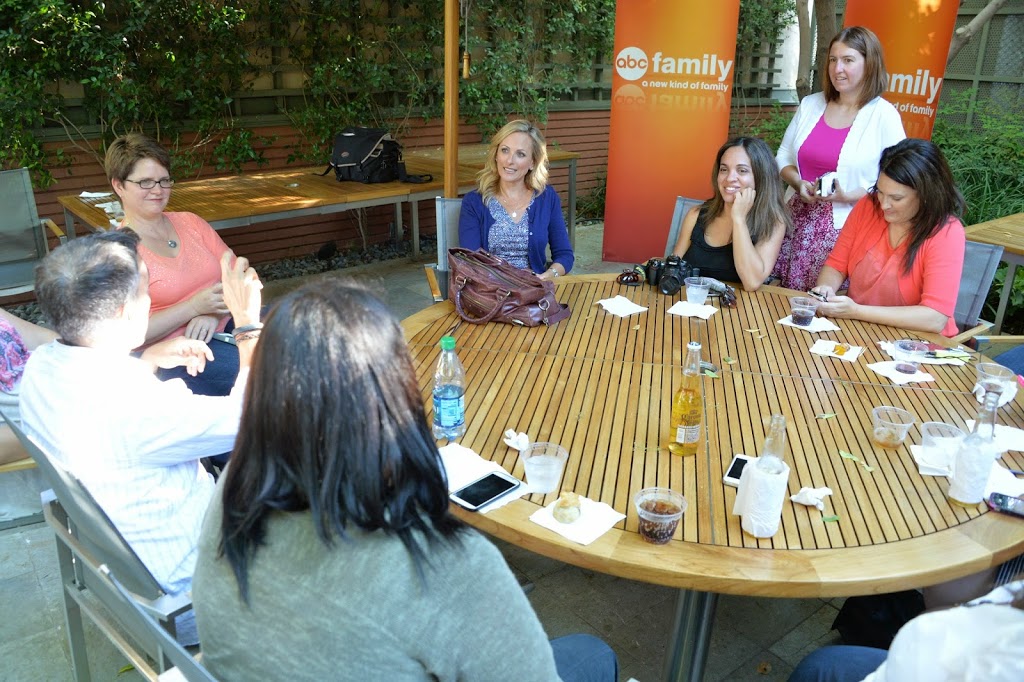 Bloggers chatting with Marlee Matlin.  Photo credit: ABC FAMILY/ Eric McCandless
Though I've met quite a few celebs over the span of my career, Marlee Matlin is the one that left me starstruck from the get-go.
Here was this ridiculously gorgeous, accomplished, funny, brilliant woman who is incredible down-to-earth in nature and delightfully charming in person conversing with us and it was all I could do to hold onto my hors d'oeuvre and keep my jaw from flapping like a frog at a fly fest.
Crazy right?
Or maybe not so much.
After all, Marlee Matlin is well worth a crazy-big-amount of adoration.  This woman is who has voiced and demonstrated so gracefully that she has "always resisted putting limitations" on herself has an IMBd page longer than the list of English idioms you can come up with.  From her role in "Children of a Lesser God," to appearances on "Blues Clues" and "My Name Is Earl" (actually one of my favorites!) to her current role as Melody on ABC Family's "Switched At Birth," Matlin really has pushed past any limitation to have an amazing, diversified career.
Matlin is also a successful author and a mom of four, not to miss mentioning an ambassador for several charities and all-around-truly-nice woman.
She talked about her children, shared funny moments and shared an adorable picture she had screen-printed onto a purse that her daughter drew.  She talked about how she felt people wouldn't recognize her during her normal daily routines when she goes without makeup or dress clothes.  Matlin shared with us her very witty point-of-view and humble approach to her long and successful career.
All of the questions I ever wanted to asked zipped right out of my head as I hung on every word. At the end of the mixer, the only words I managed to get out when I took a photograph with Ms. Matlin were "I'm so honored."  Which, in retrospect, actually managed to sum my sentiments up quite nicely.
I am so honored that I had the chance to meet this amazing woman I've admired for so long not just for her acting abilities, but for her tenacity and grace.  I'm thrilled I got to see a side of Marlee Matlin where she simply shared a conversation and kinship with fellow moms.  I hope that everyone should be so fortunate as I was to spend time with someone they admire as much!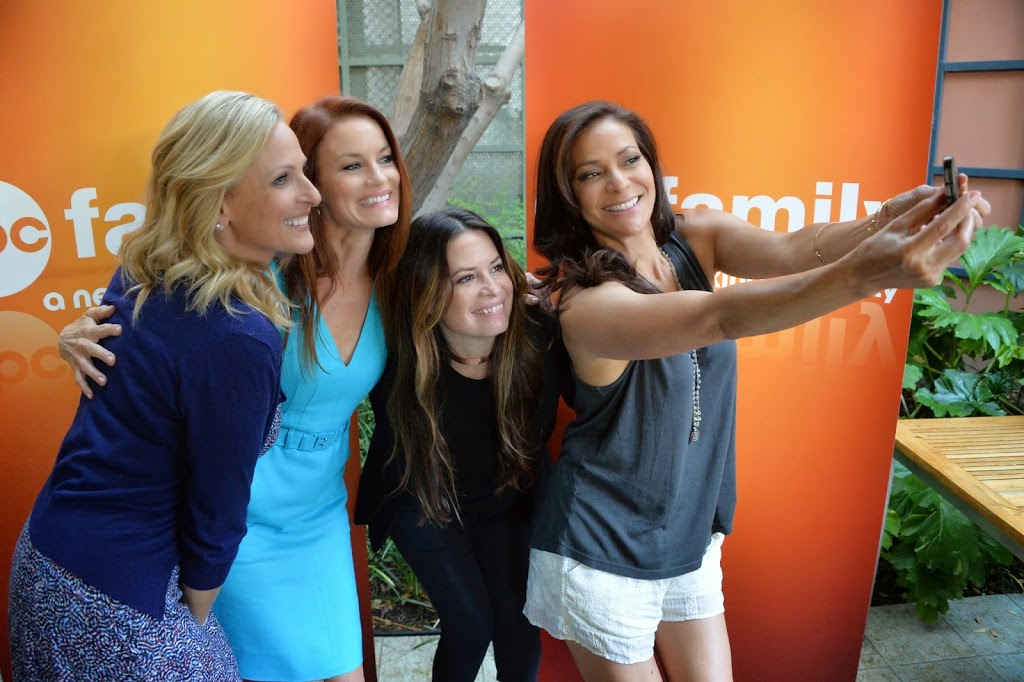 Selfie time! Photo credit: ABC FAMILY/ Eric McCandless
I would be remiss if I didn't mention that three other highly talented actresses and mom were in attendance at the Moms of ABC Mixer:  Constance Marie ("Switched at Birth"), Holly Marie Combs ("Pretty Little Liars") and Laura Leighton ("Pretty Little Liars")
Though I spent most of my time being a Marlee groupie, I did get a chance to chat a little bit with these other wonderful ladies, share my admiration for their work (Laura Leighton may be a "Pretty Little Liars" star to the new generation but I've been a fan of her work since the original "Melrose Place.")
All were great conversationalists and had plenty of fun "mom" stories to share.  Laura Leighton shared that one of her biggest mom challenges was explaining to her children why people might see her as a "mean" person due to the infamous actions of her "Melrose Place" character, Sydney.
It was really wonderful to find out how very family-oriented the Moms of ABC Family are in real life, not just on television!
—


Switched at Birth – 
Tune in on Mondays at 
8:00pm ET
/PT on ABC Family.
Official ABC Family "Switched at Birth" website: 
www.abcfamily.com/
switchedatbirth
Twitter: www.twitter.com/ABCFsab    @ABCFsab  #SwitchedatBirth  
Pinterest: www.Pinterest.com/abcfsab
Instagram: www.instagram.com/switchedatbirthabcf
Tumblr: www.switchedatbirth-onabcfamily.tumblr.com
Pretty Little Liars – T
une in on Tuesdays at 8:00 pm ET/
PT on ABC Family.
Official ABC Family "Pretty Little Liars" website: 
www.abcfamily.com/
prettylittleliars
Twitter: www.twitter.com/ABCFpll
Instagram: www.instagram.com/prettylittleliars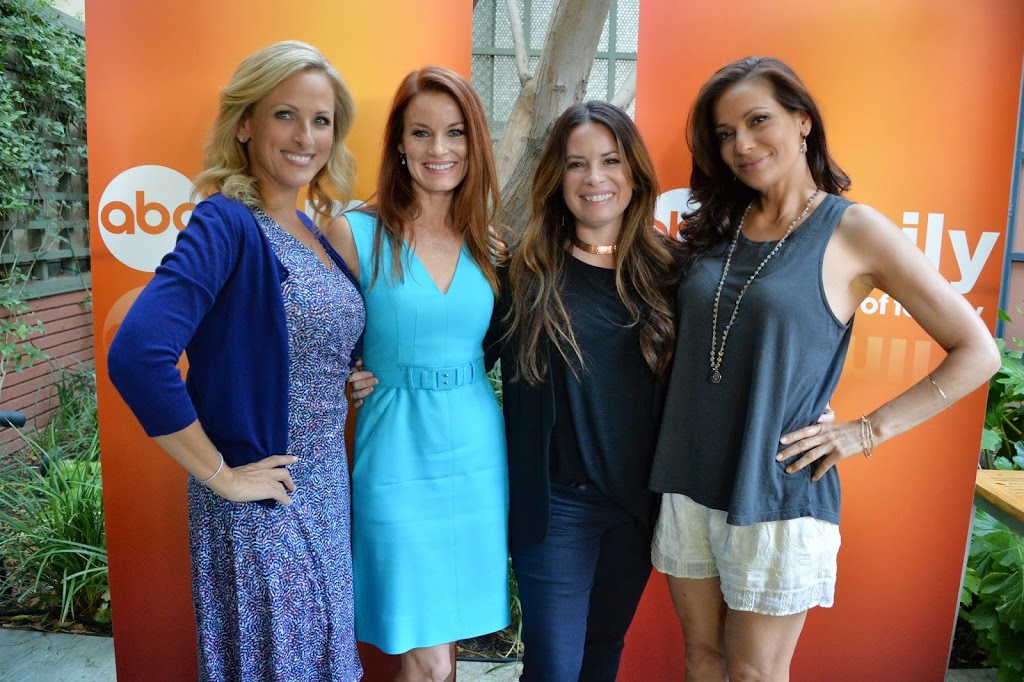 (left to right)  Marlee Matlin, Laura Leighton, Holly Marie Combs, Constance Marie.  Photo credit: ABC FAMILY/ Eric McCandless
Disclosure:  I received an exclusive trip courtesy of Disney to attend various events including the Moms of ABC Mixer Event.  I'm under no obligation to report anything other than my personal experience, thoughts and opinions.