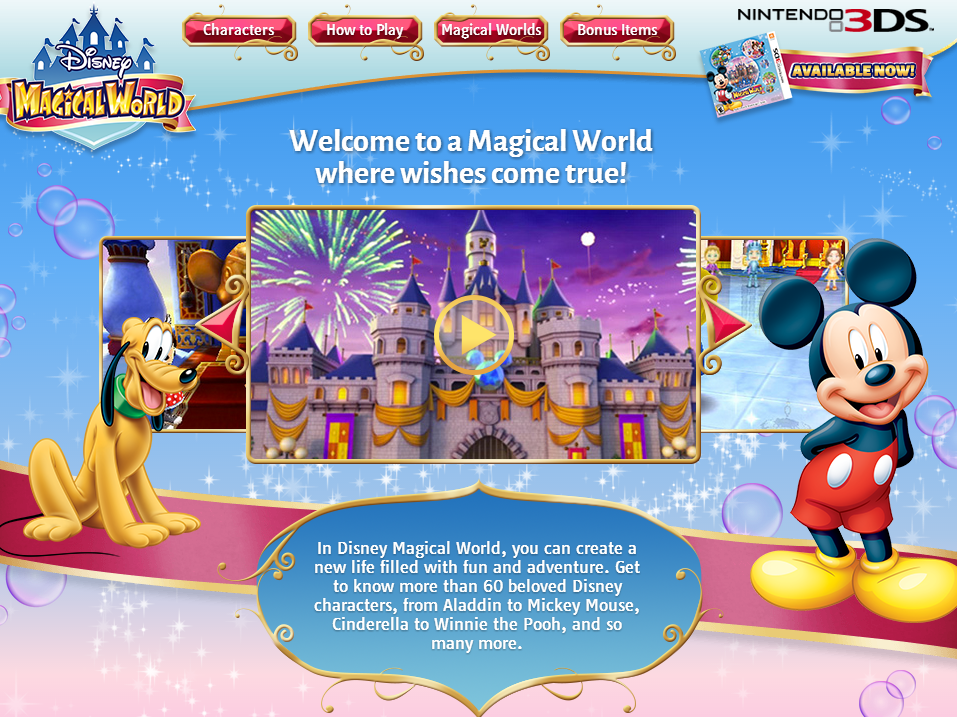 There's little mystery that here at Rural Mom we are huge Disney fans!  As such, we're pleased to share with you our experience with
the new Disney Magical World for Nintendo 3DS.  Special thanks to Nintendo and Disney for providing us the means to do so!
All thoughts, opinions and sheer love of Nintendo products and Disney are that of Rural Mom.
Some girls grew up wanting to be Disney princesses, but the mystical, quirky worlds of the Sorcerer's Apprentice and Pete's Dragon attracted me far more than handsome princes and damsels in distress.  I dreamed of pretending to be a pirate with Tom Sawyer and helping Tony and Tia escape to Witch Mountain.  Not surprisingly, the first rides I fell in love with at Disney World were Pirates of the Caribbean and Space Mountain.  The magic, adventurous, imaginative side of Disney has always fascinated me and still does!
There's a bit of Disney magic in all of us, I think, whether it's princesses or pirates or mix of both, we all have dreams and memories filled with a lot of pixie dust and Zip-A-Dee-Do-Dah!  In the spirit of eliciting that same Disney magic living inside all of us, Nintendo has recently launched Disney Magical World for the Nintendo 3DS family of systems.

A hands-on simulation game for the video game lovers of all ages, in the fantastical Disney Magical World you can meet and interact with over 60 classic Disney characters and explore Disney-themed areas like the world of Alice in Wonderland, Aladdin and Winnie the Pooh.  Your customize-able character can purchase or make Disney-themed clothing and accessories, plant and harvest crops, collect rare Disney character cards and eventually manage your own cafe and set off on ghost-hunting quests.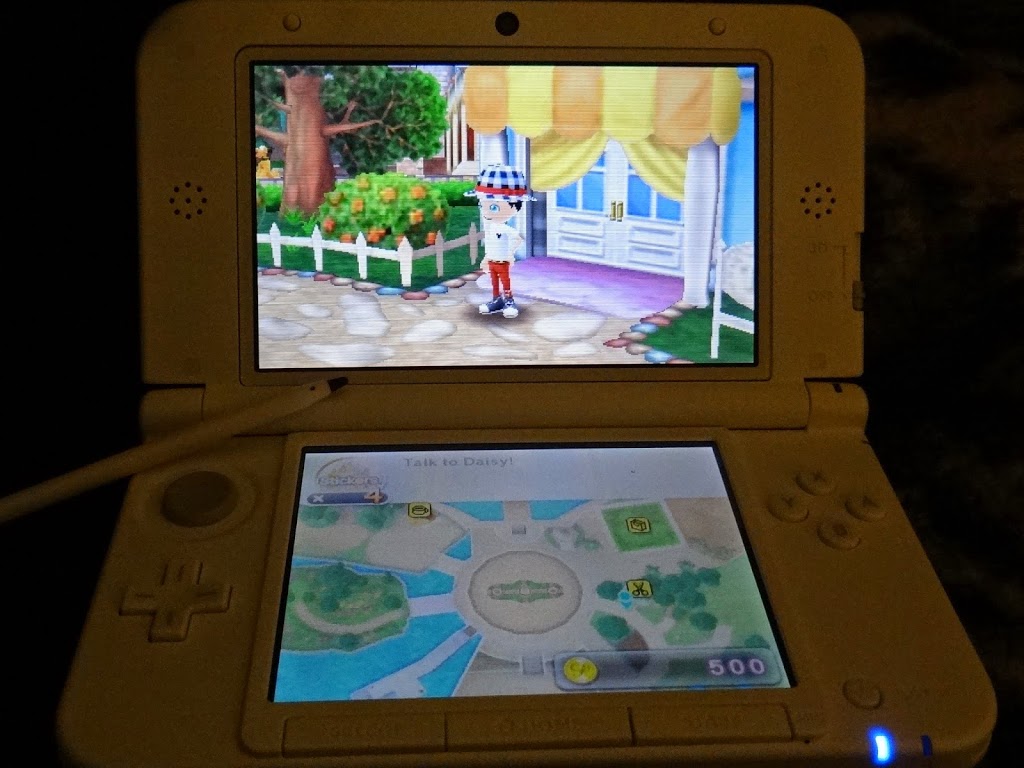 This game has Disney fans, adventure seekers and DIY-aficionados at heart.  Players can earn money through various missions, but more frequently, players gather crafting items to produce clothing and items for their cafe and in turn can earn money by selling their inventory.  As you complete your tasks, you also earn stickers and awards which help unlock additional levels and items for crafting.
The system clock provides a fun and varied day and nighttime scenes as well as seasons.  Players are not tied to the clock, though, (like they may find in other simulation games,) and can play at their own pace, picking up the game when opportunity arises.  Disney Magical World players can world-build offline or connect with friends to interact and see how they have customized their avatars and cafes.
Disney Magical World is truly a timeless game for all ages.  I love using it as a way to de-stress and immerse myself into a little fun playtime while waiting for doctors appointments or on long car trips.  The game has stunning 3D graphics that really bring the world alive as you venture through.  I found the ability to create a photo album (to fill with pictures I can capture with characters throughout the game play,) to be quite adorable. And despite identifying with pirates more than princesses, I'm truly looking forward to getting to Cinderella's world in the game so I can ballroom dance!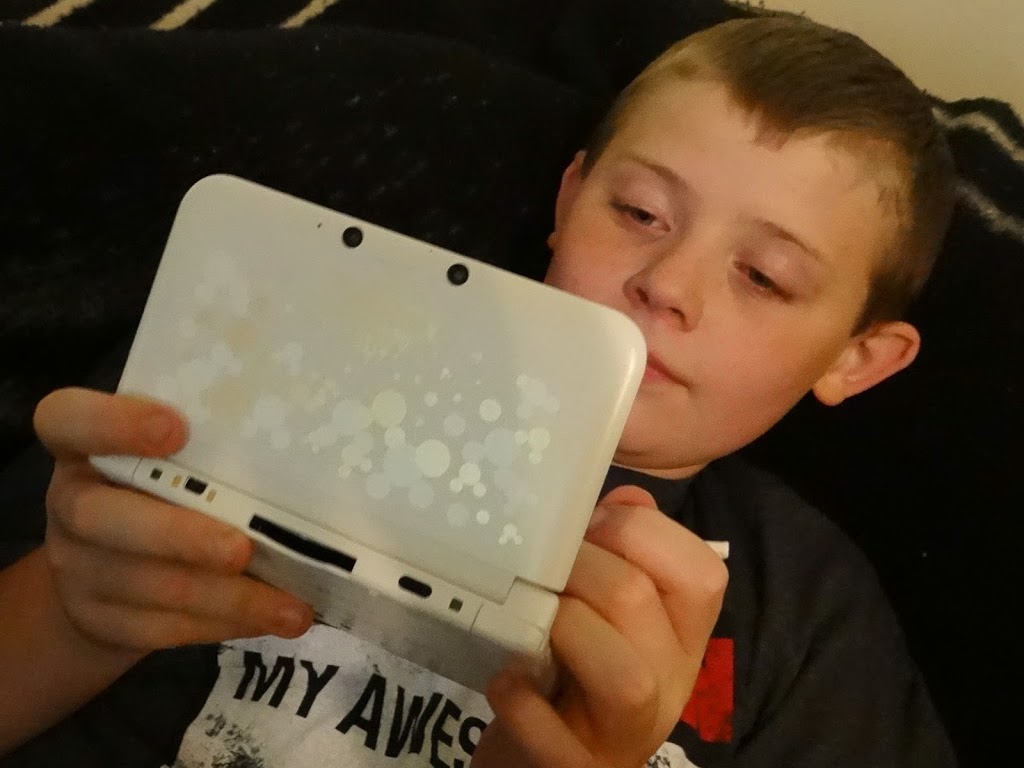 My sons (11 and 13) find the game an enjoyable way to "hang out" with their favorite Disney characters and surprisingly (to me,) really get into completing the missions and finding hidden objects.  They haven't reached the cafe level yet or the ghost fights, but are already chatting about it fervently as these ultimate goals have captured their interest and imaginations.  They are not as excited about crafting clothing or changing outfits but did get a real kick out of choosing the colors of their Mickey Mouse ears and gym shoes.
In addition to the Disney Magical World for Nintendo 3DS, new hardware is available –  a new Peach Pink Nintendo 2DS (a Target store exclusive edition) and the new Mickey Edition Nintendo 3DS XL (a Walmart store exclusive edition.) Each offers a fabulous way to further show off your Disney spirit and game play in style.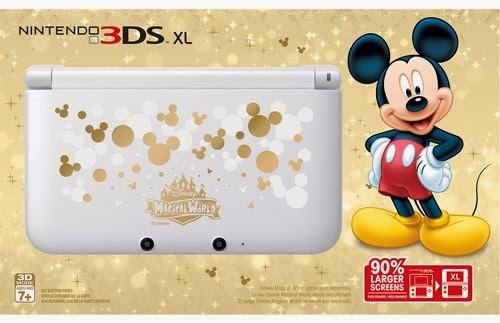 In a nutshell, Disney Magical World for Nintendo 3DS is whimsical, captivating and will soon have you tapping into the your own personal Disney magic!
And if you've been holding out to purchase a Nintendo 3DS system, now is the time, not just for playing this irresistible game but because the Mickey Edition Nintendo 3DS XL is by far the cutest, fashionable game player around!
Platform: Nintendo 3DS
Category: Role-Playing
Players:1 Player
Rated: E for Everyone
For more information, be sure to visit http://disneymagicalworld.nintendo.com/
What Disney character would you most like to meet along your journey in Disney Magical World?