Though the saying suggests food, I think we all know the way to our rural guy's heart is truly tech gadgets! And not just any technical wonder but one that serves a functional purpose.  After all robot dogs are cute, but if they can't fetch car keys, interest in the gift will quickly wane.
You want to give the gift that keep your guy thinking of you every day and thanking his lucky stars that he has someone who "gets" his love of all things cool, purposeful and techie.

We've got you covered.  These five clever tech gadgets will wow any guy on your shopping list — and with a price point under $50, you'll probably want to pick up one for yourself!  Far better to have matchy-matchy tech than outfits, anyhow…
looq @7PM Smart Remote Controller creates a universal remote out of any iOS/Android smartphone, making users king of the couch. No more fussing with multiple controls or switching between wands to control various media; @7pm is compatible with more than 9,000 different entertainment system models.
The 2-inch @7pm device plugs directly into the smartphone transforming it into an easy-to-use remote that boasts touch-screen controls and user personalization options. The "big button" display can be used to change channels and volume, create a favorites list, and switch between devices like a DVD, set top box, stereo, or almost anything else that uses an IR remote. Shake mode (optional) adds ease and fun as viewers simply shake the phone to adjust volume and/or channel settings. It just doesn't get any easier than that!  Plus, your guy will never have another lost remote!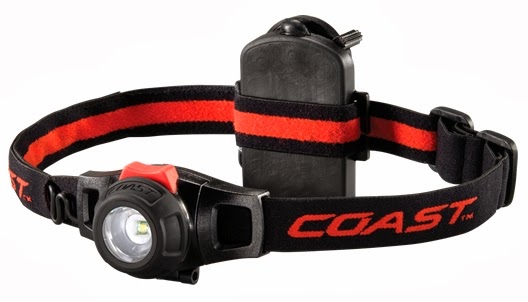 Coast HL7 Focusing Headlamp 
If yout guy loves camping, working on cars, spelunking, or if just always reaching for a flashlight, Coast HL7 Focusing Headlamp, available at BareBones WorkWear offers hands-free, superior light output.
The HL7 Focusing Headlamp boasts both adjustable focus and light dimming functions. The Bulls Eye spot beam pattern gives you a great focused spot with a maximum beam distance of 109 meters (357 feet), while producing an outer ring of flood light which allows you to see a broader area for added side vision.
For added durability, an expandable Z-Cord provides power to the LED from the battery pack and is built in to the headband to reduce the possibility of snagging. Tested and rated to ANSI/FL1 standards, the HL7 features an unbreakable LED and is impact and water resistant.
It's also a perfect light for reading in bed an night without disturbing a partner!
Kinivo, producer of quality mobile accessories, turned up the volume with their new ZX120, the second generation model of their best-selling pocket-sized mini speaker. The Kinivo ZX120 is a conveniently lightweight, rechargeable speaker with a longer built-in cable and extended battery life for up to 10 hours of continuous playback at high-volume, providing a more reliable, 360-degree audio source to last as long as you do.
The ZX120's uniquely designed expandable bass resonator produces monumental sound, compatible with any device bearing a standard 3.5mm port. Connect multiple speakers to amplify your music for maximum audio anytime, anywhere. Kinivo's ZX120 is ultra-portable, with a compact, built-in audio cable that folds to store directly into the bottom of the speaker when not in use.
Put it to great use on Valentines Day by making a track of romantic songs for your guy to use his new speaker with!
EatSmart Precision Voyager Digital Luggage Scale is a must-have travel accessory for any adventurer.  Or perhaps a great way to hint to your guy that it's time for a long, romantic vacation!
The EatSmart Precision Voyager Digital Luggage Scaleis a practical and savvy gadget that can avoid stress at check-in and save travelers money before they leave home and on the return trip. Within seconds, you'll know your luggage is under the weight limit and avoid the embarrassment of re-packing luggage at the baggage counter.  Most importantly, you'll save money by avoiding overweight baggage fees.  For a super low price, this gadget will become your a favorite travel companion.
Maybe you won't offer the key to your heart, but at least he won't forget the combination to the lock! The Master Lock 1500eDPX electronic directional interface offers speed, ease of use, and multiple personalized codes.
Organize and protect personal and valuable information with secure, convenient, digital storage at the Master Lock Vault Vault enabled – permanent Backup Master Code at masterlockvault.com. You'll have piece of mind for your toolbox or your and will never forget a combination again!