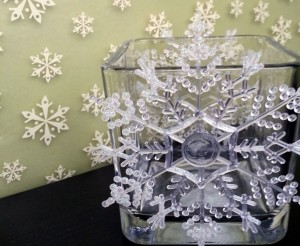 Decorating for the holidays is always fun, but it can be a real budget breaker.  Mixing in a few DIY projects adds a personal, festive touch to your home (or gifts!) and helps keep your pocket-book from emptying out before the season is over.
Creating your own decorated candle holder is very easy and only takes a few minutes of time. Everything you need (along with inspiration) may be found in your local dollar store.  The gorgeous crystal snowflake candle holders features cost only two dollars to make, yet they make a big impact.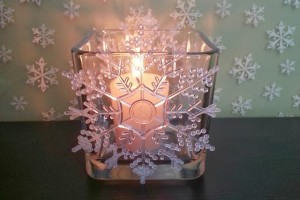 Imagine a row of them lighting up your mantle or adding ambiance to your holiday table. Everyone will be asking where you got them and you can "wow" them with your savvy secret.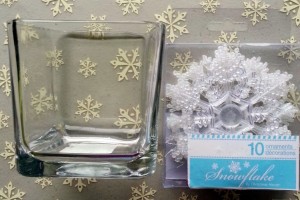 To complete this project you will need a pack of ten snowflake ornaments and as many short glass candle holders as you want to create. The snowflakes for this project are clear with a little glitter on them so they sparkle when a candle is lit inside them.  Red, blue, green, gold, silver and other color snowflakes will be available, too, or you may find other patterns that catch your eye to create additional looks.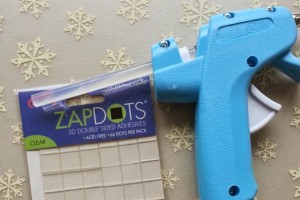 A good low temp hot glue gun, or alternately glue dots, will also be needed.
Begin by cleaning the outside of your glass candle holder to ensure that glue can adhere completely. Remove any strings intended for hanging the snowflake ornaments before doing any gluing.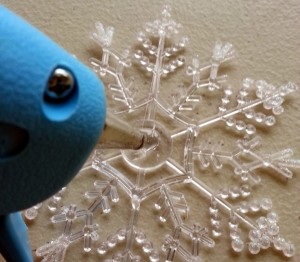 The snowflakes can sometimes be slightly larger in diameter than the candleholder will be so they need to be flat on the table when you are doing this project to ensure that the edges of the snowflake won't prevent the holder from resting flat.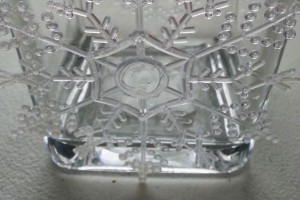 Add hot glue to the center of one snowflake and press onto one face of your glass candle holder. Try to get it as close to center as possible and again leave the candle flat so that the arms of the snowflake are flush with the bottom of the candle holder. Hold snowflake to glass until it remains in place.
Now you can lay the candle holder on its side. At the widest part of the arms of the snowflake, place a dab of glue and press each one into the glass. This will make sure that your snowflake is extra secure. You can use clear adhesive dots to secure the centers and arms of the snowflake, if you have them.
Once your snowflake is entirely glued down, all that is left to do is pop a candle in and find a spot in your home to decorate!