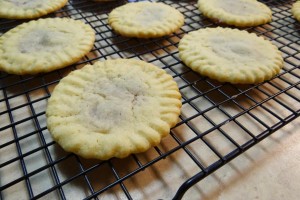 Getting the chance to explore the J.M. Smucker Company Store and Cafe when I recently attended an all-expenses paid meeting at The J. M. Smucker Company, was a true highlight of the trip.  The store is filled to the brim with all sorts of signature foods, memorabilia and kitchen supplies.  Truly a foodie wonderland for a gal like me!
One display that caught my eye was a freezer full of Uncrustables and I thought to myself "those probably wouldn't make the journey home" and "wouldn't it be cool if they had an Uncrustables cookie I could take on the plane."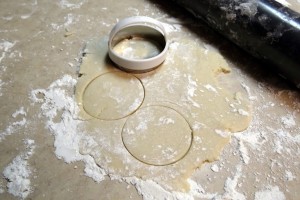 Now I'm sure the influence of being surrounded by jellies, jams, sugar cookie mixes and the like had a lot to do with the avenues my brain traveled that weekend, but the idea stuck with me.
So when the nice folks at J.M. Smucker sent me some of their holiday sugar cookie mix, I had to pull out the peanut butter and jam and put my theory into practice.  The result is quite tasty!  And judging by the way my children gobbled them up, they totally agree.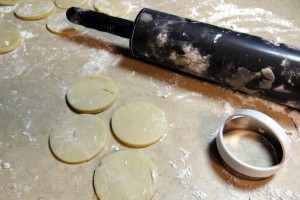 The recipe and process couldn't be simpler.  I hope you'll give it a whirl and even take it a step further adding your own favorite peanut butter and jelly flavor spin on this sweet treat.
PBJ Sugar Cookie Sandwiches
1 Box Pillsbury Traditional Sugar Cookie Mix
1/2 cup butter, softened
1 egg
2 tablespoons flour
Jif Creamy Peanut Butter
Smuckers Strawberry Jam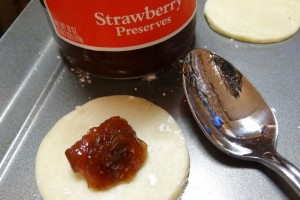 Using Pillsbury Traditional Sugar Cookie Mix, butter, eggs and flour, mix Pillsbury sugar cookie dough according to package instructions.  Chill in the refrigerator for 1/2 hour.
Preheat oven to 375 degrees F.
On a flat, floured surface, roll out a handful of sugar cookie dough to 1/4 inch thick.  Using a medium size biscuit cutter (2 1/2-inch circle,) cut out circle shapes.  Set shapes aside.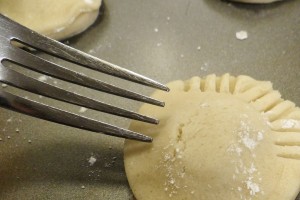 Merge remaining dough with another handful of sugar cookie dough and repeat rolling and cutting process until all dough has been cut in circle shapes.
Place circle shapes on ungreased cookie sheet, leaving a 1 inch space between shapes.  Spoon 1/4 teaspoon of jelly or jam onto the center of the circle shape.  Top jelly with a 1/4 teaspoon of peanut butter.
Lay another cookie circle on top of the jelly/peanut butter layer.  With a fork, gently press edges together using the tines of the fork to seal and create a simple edge pattern.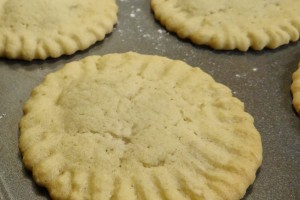 Bake cookies at 375, on the top rack of the oven, for 10-12 minutes.  Edges should be slightly browned.  Remove from oven.  Gently transfer to a wire cooling rack.
Cool for 15 minutes.  Serve and enjoy!  Store in an air-tight container.
Kitchen Notes:  Though it's tempting to, don't over-stuff your cookie sandwiches, they will tend to split open if you have too much filling in them.  Also, be sure to seal the edges.  On my first batch, I had a couple of "leaky" cookies where I didn't seal the edges well enough.
Feel free to use all jelly, jam or all peanut butter in the centers instead of a combination.  Just remember to mark them with an criss-crossed edge (or other light marking) to help you tell them apart after they have cooled.  Also, feel free to try different flavor combinations like crunchy peanut butter with peach jelly.  The possibilities are endless!