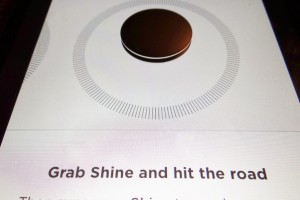 Best Buy and Shine are dressing up my holidays with motivation! As a
reviewer,
I have been received the product/service at a reduced price or for free. 
I have to confess, I've likely been through a drawer full of pedometers over the years trying to get a read on how many steps I'm taking each day in attempting to reach higher goals. Within a few days, I find over and over again, that there's just no reasonable way to consistently clip on a pedometer and make it a part of my fashion style.  Nor do I remember to record the results or find myself motivated by the hassle of clipping and un-clipping the unit to get a read on where I'm at.
Every pedometer that has come into my house has found itself donated to local charities in hopes someone else would reap the benefits I longed for.
Until now…
At last I've discovered a monitoring device with superb style.  From the second I received Misfit Shine, I was highly motivated simply to integrate it into my daily style immediately!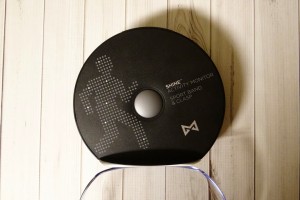 What is Shine? 
Designed to inspire the user to be more active and to set goals, Shine is a sleek, attractive activity monitor that can be worn with any outfit, anywhere.
Shine can be housed in a sports band or specialty items like leather bands and necklace holders are also available for truly customized looks, allowing you to transition from formal to casual in seconds.
Shine is exclusively available in additional colors at Best Buy including Silver, Black, Champagne and Topaz.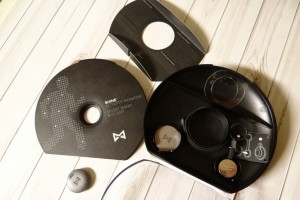 Okay, it's beautiful, but what does it really do? 
Shine uses a high precision 3-axis accelerometer to track your activity.  Working in sync with the Shine App on your iPhone, iPad Mini, or iPad, activities like walking, running, tennis, swimming and even sleeping are all tracked.  Shine then estimates your total calories burned each day and lets you set and track goals.
The device also show you the time when prompted, so it can readily take the place of a watch.  Shine runs on a coin cell battery (which lasts about 4 months,) and is water-resistant for swimming.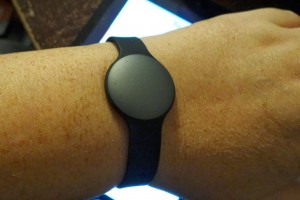 How does Shine work?
It couldn't be easier to use Shine.  I had no problems initializing an account, setting my Shine up and wearing it comfortably, daily.  With two simple taps of my finger to the top, Shine lights up to shop me my progress throughout the day.  With three taps and a visit to the app on my iPad Mini, I can tell Shine if I'm changing activities, such as if I go for a bike ride or finally have some time for sleep.
At the end of the day (or whenever I remember to) I place Shine on my iPad Mini and the data is instantly downloaded (as indicated by the circles pictured below.) 


The data on the app then pops up and shows me where I am in my progress.
The one thing I truly love, is that if I forget to download my data, it continues to store and will download the next time I pull up the app and connect it to my Shine.  A huge difference from activity measurement devices I've used in the past!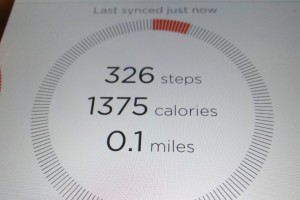 I'm gonna let it Shine! 
The holiday season is a really hard time to stay on track, but this year, I feel like I'll not only stay on track but exceed my fitness goals.  The little lights on Shine that tell me where I'm at to my daily goal are highly motivating.  Seeing the circle fill up makes me feel great each day and I'm really digging the results I get from walking more:  trimmer waist line, better sleep, more energy and a general overall great feeling for making my health a priority.
Plus, I have a stylish accessory that is totally fun to use and wear!
For more information and to purchase a Shine to dress up your wardrobe with the elegant colors of motivation, visit  http://www.bestbuy.com/site/promo/misfit-shine-112318
How will you Shine this holiday season?  What helps keep you motivated to reach your activity goals?