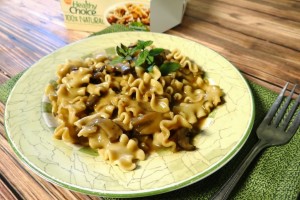 As a foodie, I don't wish to sacrifice taste for healthy options, so I'm constantly seeking healthy foods that taste great. As part of a sponsored post campaign for ConAgra, I'm adding enjoyable new options to savor!
Though I do not live a vegetarian lifestyle, I often embrace eating vegetarian dishes.  I certainly love all the tasty treats from the garden and reducing my meat consumption is a smart heart-healthy choice.
Healthy Choice fans recently shared their love of vegetarian options and the folks at Healthy Choice listened!  Five new 100% Natural Cafe Steamers have been introduced to help give consumers great new vegetarian options.  They're chock full of the quality tastes we love and the vital nutrition we've come to expect from the Healthy Choice brand.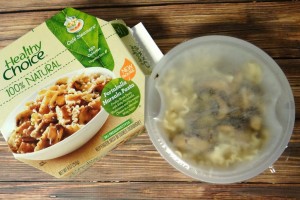 The Healthy Choice 100% Natural Cafe Steamers dish I first gravitated towards is the Portabella Marsala Pasta.  With the first leaves of fall dotting our lawn and the cool air rustling sweaters out of storage, a hearty, wholesome pasta dish is certainly the order of the day.
Besides, freshly made whole wheat past and rich crimini mushrooms, tossed with a savory Marsala wine sauce and topped with rich fontina cheese… is super hard to resist!
The 100% Natural Cafe Steamers use a tray-in-tray technology that separates the sauce from the other ingredients like vegetables and noodles.  This allows the pasta to cook al dente and the vegetables to be crisper until you are ready to mix them with the sauce and dive in delight in every flavorful bite.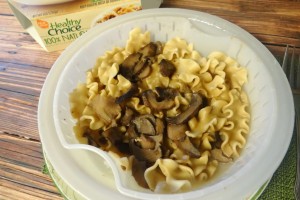 A plateful is plenty to fill you up at lunch or to enjoy as a light dinner. To fix a slightly heartier dinner, add low calorie vegetarian options such as a side salad or additional vegetable dish such as sauteed green beans almondine or carrots and parsnips.
Healthy Choice 100% Naturals Cafe Steamers vegetarian options also include:
Pumpkin Squash Ravioli
Tortellini Primavera Pasta
Asian Potstickers
Portabella Spinach Parmesan
Want to savor the experience for yourself? Grab a $1 off any 2 Healthy Choice Cafe Steamers http://bit.ly/14gzRlH and add some new rich vegetarian flavors to your lunch plate!
What new Natural Cafe Steamer vegetarian option would you like to try?