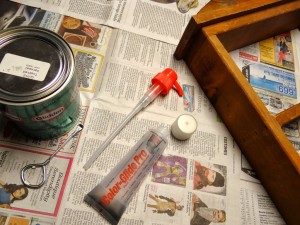 A little over a year ago, I rescued a shelf before it hit my neighbor's trash bin.  The wood was a bit beat up, marred in one spot and one of the shelves was broken.  What she saw as old and past it's use, I saw as something to be revived and refashioned for display.
I brought it home, fixed the shelf and placed it in the corner of my craft room… where it sat for, well, the past year.  (I have this habit of having good craft intentions, but not always the time to complete them readily.  Does that happen to you?)
Thanks to ColorGlide Pro, I was inspired this month to dust off that little shelf and finally give it a fresh new look.  New craft tools are certainly highly motivational!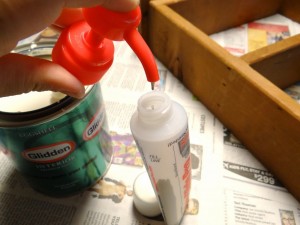 ColorGlide Pro is a lightweight brushless paint applicator with a felt tip that's ideal small and large paint job and DIY projects.  The concept is simple, yet brilliant.
You twist the felt tip applicator off, use the included pump to put the paint from any paint can or bottle into the tube, twist the applicator cap on, squeeze and glide on the paint.  Viola!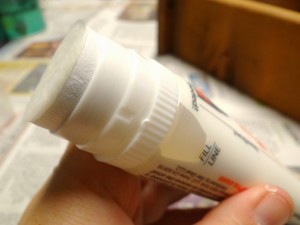 Available in two sizes (medium and large,) the ColorGlide Pro is a reusable tube that is designed for use with all projects, for long term use.  Unused paint can be stored in the bottle until it is needed again and will not dry out in the process.
Each ColorGlide Pro bottle is clear so you can clearly see the fill line, see how much paint is left and easily identify the color of paint. Check boxes are also printed on the tubes so you can easily mark (with a permanent marker,) when, where and what type of paint was used.  This makes it super handy to quickly identify what tube you need for touch ups.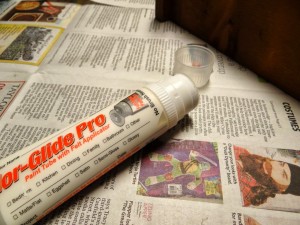 My first experience with ColorGlide Pro was a very positive one.  The tube was simple to fill and use.  The felt applicator spread the paint easily with a smooth and steady flow, leaving a nice, even coat with no streaks or unsightly marks.
No mess, no drips and minimal clean-up after.  I put the cap on the paint tube to re-use later and simply rinsed out the pump with warm water.  Wonderful easy-peasy DIY!
The only difficulty I had with painting the shelf, I anticipated.  Due to the wider design of the ColorGlide Pro applicator, I used a small paint brush to get into the inside corners of the shelving unit.  I could have used the ColorGlide Pro for the entire job, but would have had to stop and let some of the sides dry before completing the others to avoiding any streaks or marks in the paint. So, I opted to simply brush in the inner corners instead.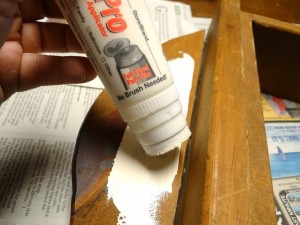 After one coat from the ColorGlide Pro, I breathed new life into a cute display box.  Can you believe this almost wound up in the trash?  I have another coat of paint to go and several ideas of how to best utilize this new treasure.  Stay tuned…
ColorGlide Pro will remain a valued addition to my DIY tool set for crafts and also for upcoming house painting projects.  Will be so convenient to have a mess-free tool for painting touch-ups and help with surface areas like doors and window frames.
For more information on ColorGlide Pro products visit www.colorglidepro.com.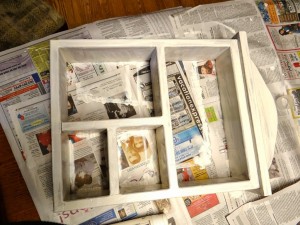 Special thanks to the DIY savvy folks at ColorGlide Pro for providing sample product.  All thoughts and opinions are that of Rural Mom.