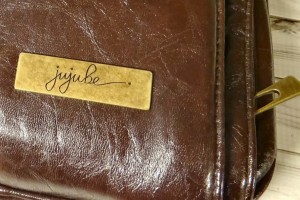 Thanks to Ju-Ju-Be for providing a well-designed test product, I'm now super organized with earth-friendly style.  
I have been searching high and low over the past year for a well-designed, eco-friendly travel bag capable of housing my laptop mini or more importantly my Kindle, which goes everywhere I go.  This is no easy task, I assure you.  Either I found something too big or too wide with no custom compartments, not enough padding or it simply wasn't a "green" option.
Until now.  Now, I've happily encountered the Ju-Ju-Be Micra Be Earth designed to house small laptops, tablets, and eReaders with functional style.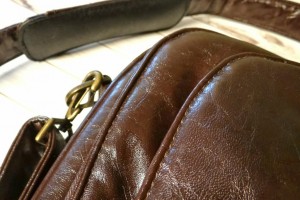 Ju-Ju-Be's Earth Leather looks like high quality leather and feels like super soft leather but it's made of earth-friendly materials and, catch this… it's machine washable.  Wild!
Everything about the structure of the Earth Leather Micra Be Earth bag is enchanting from the sturdy materials and top-notch accessories to the comfy, no-slip padded shoulder strap.  When you glide open the zippers, though, the real magic happens as a fashionable glimmer of teal fabric peeps through displaying compartments, pockets and even a key fob clip with removable pouch to round up all your essentials.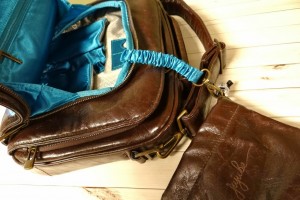 I found the pouch to be the perfect spot from my business cards, a little lip glass and my smartphone.  It can easily be detached and carried around separately for times I need to switch to my camera bag or toss in my room key and a credit card and it's great for carrying on a quick trip to swimming pool or store when I'm traveling.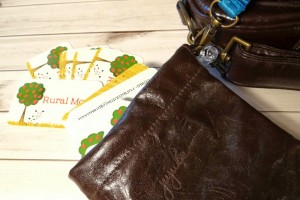 The pockets in the front compartment are designed to hold wireless mice, cell phones, business cards, pens, SIM cards, thumb drives, makeup and other essentials you wish to carry throughout the day.
The interior compartment is another wonderland of smart components.  Dual pockets hold charger cords, wallets, notepads and other necessities.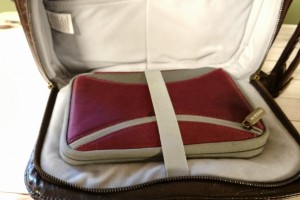 A secure bank holds your electronics in place and BeCool Venting Technology is used to help your devices breath.  (BeCool Venting Technology is a perforated foam and breathable lining that lets your laptop breathe when it goes in there hot.) The Corners  of the Micra Be are cushioned with an extra layer of shock absorbing foam, too, to help keep everything safe and snug.
The Ju-Ju-Be Earth Leather Micra Be Earth also has a top handle for carrying and a back pocket to help keep items like documents, tickets or maps easily accessible.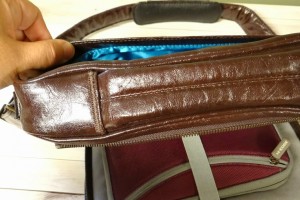 The quality, they say, is in the detail and the Ju-Ju-Be Earth Leather Micra Be Earth is certainly a well crafted carrying case chock full of splendid features! I've been searching for the bag of my dreams and I've certainly found it.  Thankfully, with it's durable design, it will be my constant companion for a long, long time.
Ju-Ju-Be also offers full-size Earth Leather laptop cases, handbags, totes, wallets and even messenger-style diaper bags.  For more information or to purchase, visit http://shop.ju-ju-be.com