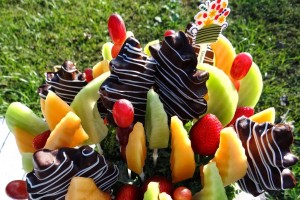 Thanks to Edible Arrangements we're sampling the Autumn Swizzle Bouquet. Fresh fruit on the table is a lovely treat!
Crisp honey dew, fragrant strawberries, sweet cantaloupe, red grapes and chocolate-covered pineapple… good golly, this is totally my dream table centerpiece!
Fall has officially arrived and along with it, Edible Arrangements
debuted the new Autumn Swizzle Bouquet. Featuring leaf-shaped pineapple dipped in gourmet semisweet chocolate, and decorated with ribbons of white swizzle, it's a fun way to celebrate the season and put fresh fruit on your table.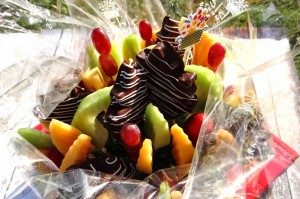 When we received our Autumn Swizzle Bouquet, it was a well-crafted fruit feast carefully packaged in a sturdy support base with cooling packs and cellophane wrap.  Opening it is half the fun to have all the fresh fruit aromas and colorful patterns greet you.
Each piece of fruits is cleverly cut and shaped to form a fun, yet practical edible showpiece, perfect for table centerpieces, after school treats, autumn-themed brunches, Halloween parties, hostess gifts and upcoming Thanksgiving gatherings.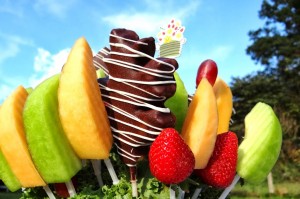 Each piece of fruit in an Edible Arrangements assortment is arranged on an individual stick making it easy to remove and enjoy a piece without disturbing the rest of the arrangement.
What more can be said about a delicious fruit centerpiece?  One word sums it up quite nicely = YUM!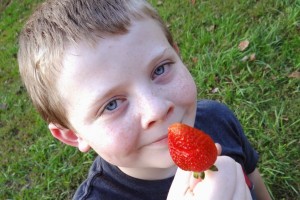 Though we thoroughly enjoyed every bit of the Autumn Swizzle Bouquet, the two unanimous favorites were the sweet, perfectly-ripened strawberries and the chocolate-covered pineapple leaf shapes.
I've never had chocolate-dipped pineapple before and boy-oh-boy, I've totally been missing out!  The flavor combo is amazing!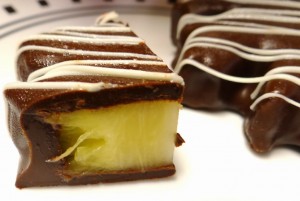 In addition to and amazing array of fruit bouquets, Edible Arrangements also offers individually dipped fruits, fruit truffles and cupcakes, too.  To order irresistible goodies for your table or next event, visit http://www.ediblearrangements.com
This fall, Edible Arrangements also wants its fans to have a chance at winning one of its new arrangements with its Fresh Fall Giveaway contest. From now until Halloween, Edible Arrangements will be giving away a fresh fruit fall bouquet or dipped fruit box to one lucky fruit fan a week.
To enter, first "Like" Edible's Facebook page, and then fill out the true or "Falls" trivia question of the week. If you answer the question correctly you'll be automatically entered into the contest for a chance to win!