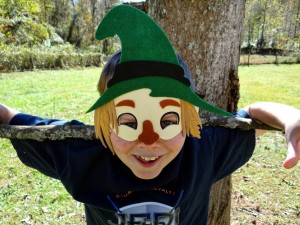 It's beginning to look a whole lot like Oz on our Rural Mom farm
thanks to the complimentary box of Darice Crafts we received. 
I'd tell you we were off to see the wizard, but the Emerald City already arrived on our doorstep in a box chock full of delightful Wizard of Oz-inspired crafts from Darice.
One of the most beloved films ever, The Wizard of Oz is celebrating its 75th anniversary next year.  Whether it's due to the incredible acting talents, the colorful characters in the film or the simplistic moral lessons prevalent throughout the story, Dorothy and her little dog, too, have wiggled their way into the hearts of millions along their fantastical journey from Kansas to Oz.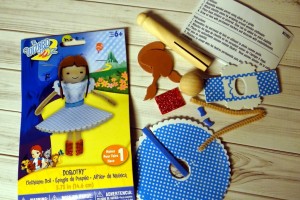 As a child I was enchanted with The Wizard of Oz.  I wanted Glinda, the good witch as a fairy godmother and totally coveted Dorothy's sparkly red shoes.  Putting together some of the Darice crafts brought back great memories of the movie I've practically memorized over the years.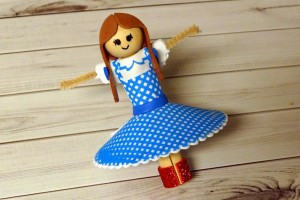 Naturally, I found myself humming "Somewhere Over The Rainbow" as I put together a super cute clothespin Dorothy. (You can thank me later for sticking that tune in your head!) 
A little bit of popping things in place, adhering the foam pieces to their designated spots, and three clicks of the glue gun for the skirt and my little friend Dorothy came to life.  I'm thinking with a little fishing line, she's going to make a terrific handmade ornament for our holiday tree next month.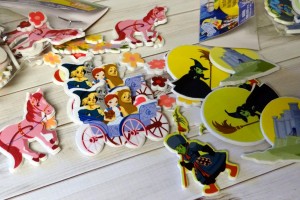 All of your friends and favorite scenes from The Wizard of Oz come to life with the amazing array of Darice crafts.  From Foam Stickers (above) to Foam and Felt Kits like that of Glinda the Good Witch (below,) there's something to capture the creative spirit of Oz fans young and old from this collection.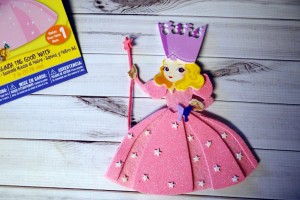 Darice's The Wizard of Oz craft collection also offers:
Color-In-Wood Kits
Pom Characters Activity Kit
Stained Glass Paper Pack
Felt Masks
Foam Kit Ruby Slippers Shoe Covers
Sticker Scenes
Paint-A-Poster
and even The Wizard of Oz Duct Tape in Yellow Brick Road, Ruby Slippers and Wicked Witch of the West patterns!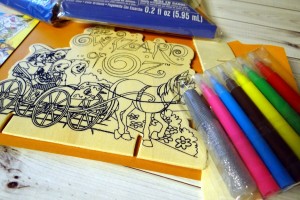 Want to bring a little Oz into your home?  These fun craft projects are available at Jo-Ann Fabric and Craft Stores, Michaels, AC Moore and other small retailers.
Find more information on:
Facebook https://www.facebook.com/Darice.Crafts
Twitter https://twitter.com/Darice_Crafts
Pinterest http://pinterest.com/daricecrafts/
Instagram http://instagram.com/darice_crafts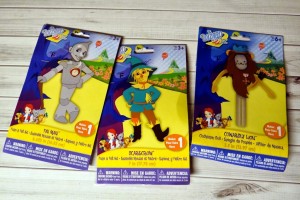 For additional product views and Wizard of Oz craft ideas, take a peek at what my fellow craft bloggers are up to here: