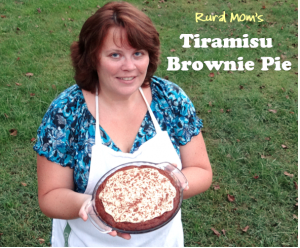 As a Cost Plus World Market Ambassador, I'm pleased to have this sponsored opportunity to share exciting news,
delectable gourmet foods and our family's rock'n Tiramisu Brownie Pie recipe with you…
The love and joy of baking is a family tradition passed down generation after generation to my grandmother to my father to me.  I can still smell all the scented memories permeating our family kitchen – fresh strawberries and rhubarb from the summer, cinnamon apples and caramel chocolates in the fall, pumpkin and spiced mincemeat for the holidays.  Oh, all the heavenly pies, upon pies and more pies!
It probably no wonder that I'm drawn to turning every baked good into a pie, which is half of how I came to turn one of my favorite Italian desserts into a delicious Tiramisu pie. The other half, the rich, deep dark chocolate brownie half was inspired by the need to please all of my family.  Traditional Tiramisu is lacked the substance and full flavor my chocolate-loving crew desired along with the ease of portability for family gatherings.
My solution?  Matching a brownie-like pie with the complex flavors of Tiramisu in one super easy to prep and take dessert… and Rural Mom's Tiramisu Brownie Pie was born!  The rest, as they say, is kitchen history and this Italian-inspired pie continues to be in high demand around here.
If I may be so bold, my family recipe really rocks!  I hope you savor each bite as I do. (PS: don't let anyone in on how simple it is to create, let them think you slaved over this one because they will!)  
Most of the ingredients in my Tiramisu Brownie Pie are from Cost Plus World Market.  They have an amazing selection of specialty and International foods, including oodles of Italian Food, that make it easy to add authentic flavor to your culturally-inspired recipes.
Do you have a family recipe that rocks?  World Market has partnered with the Live Well Network and their hit show My Family Recipe Rocks hosted by Joey Fatone. My Family Recipe Rocks features amazing hometown cooks across America! Joey Fatone and his crew are cooking up old family recipes, new homegrown dishes and meeting the people behind this great food in their own kitchens. You can tune in on Sundays 8:30p/7:30c (for local listings, check livewellnetwork.com)
Rural Mom's Tiramisu Brownie Pie
1 cup Sweet Tree Organic Coconut Palm Sugar
3 ounces Ghiradelli Bittersweet Chocolate Chips
1 teaspoon Neilsen-Massey Pure Vanilla Extract
2/3 cup All-Purpose Flour
1/4 teaspoon Baking Soda
10 Danesita Lady Fingers
2 cups Lavazza Caffe Espresso, brewed
1 package Halta Tiramisu Mix with Cocoa Powder
2 tablespoons Kahlua (optional, but highly recommended!)
1/3 cup Butter
2 eggs
Place lady fingers in a single layer at the bottom of a flat baking pan.  Pour espresso evenly over lady fingers and allow to soak while you prepare the brownie pie batter.
Preheat oven to 350 degrees Fahrenheit.
Over medium-low heat, in a medium size saucepan, melt butter and unsweetened chocolate.  Stir constantly until melted and fully mixed.  Remove mixture from heat and cool for 10 minutes.
Add coconut palm sugar to cooled chocolate, stir until fully mixed. (Coconut palm sugar is an eco-friendly, low glycemic alternative to cane sugar that I've recently started using in recipes with excellent results.)  
Add one egg, stir until fully mixed.  Repeat process with second egg.
Add vanilla, stir until fully mixed.
Add flour to chocolate.  Add baking soda.  Stir flour and baking soda into chocolate until full mixed.
Add Kahlua to chocolate batter.  Stir until fully incorporated.
Spread 1/2 the batter into a pre-greased round pie pan.
Add a layer of espresso-soaked lady fingers, leaving a small gap between each lady finger (as pictured above.)  You may need to cut some of the lady fingers into smaller pieces to complete your layer.
Pour remaining batter over the the layer of lady fingers and smooth top with a spatula.
Bake for 40 minutes.
Remove from over and cool on a wire rack.
This next part kind of feels like cheating… but since the Halta Tiramisu Mix is made in Italy, it's certainly authentic and tastes fabulous.  (But if you want to go the extra Tiramisu mile, and I sometimes do, you can create your own creme topping using traditional ingredients – Mascarpone, eggs, sugar, espresso- as you would in a traditional Tirasmisu dessert.)
While Tiramisu brownie pie is cooling, prepare the Halta Tiramisu creme mix topping according to package directions.  Place in refrigerator to chill for a minimum of 30 minutes.
When you are ready to serve the tiramisu brownie pie, remove Halta Tiramisu creme topping and spread a thick layer on top of the brownie, leaving a 1/2 inch edge around the outer layer (for ease of serving.)
Sprinkle cocoa powder from Halta Tiramisu Mix package on top of the Tiramisu dessert creme layer.
Slice pie into desired portions, serve and enjoy!