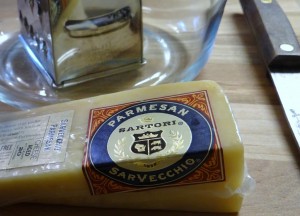 A little town in Northern Wisconsin, an ideal natural spot for raising dairy cows, is home to Sartori – a fourth generation artisan cheesemaker producing world-class premium cheeses that are amazing creamery delights for your taste buds to savor.
One of Sartori's most esteemed creations is the SarVecchio Parmesan.  For good reason, this internationally award-winning twenty-plus-month-old creation is kin to Italian counterparts but has a much less dry texture and less salty note.  Both a cooking and table cheese, it's perfect for recipe creation, wine pairings, Charcuterie plates and certainly for grating and sprinkling over all your favorites like salads, vegetables or Italian dishes.
Bold in it's own right as a showpiece, Satori Sarvecchio Parmesan is not overpowering in recipes, though, it's more supple and rich, adding great flavor without diminishing the ingredients around it.
Sartori also offers an incredible array of other cheese to please any palate including some intriguing artisan creations like the Expresso Bellavitano, Salsa Asiago, Tuscan Blend, and Extra Aged Goat Cheese.  For the full product line-up and more information, hop on over to http://www.sartoricheese.com/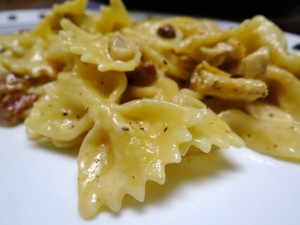 The basic recipe we use to create Parmesan Chicken Bowtie Pasta is the Johnny Carinos Bowtie Festival recipe found on the clever CopyKat.com Recipes website… with one difference, we prefer to make our own Alfredo sauce than to use a pre-made version.
If you like to cook from scratch with preferred cheese like Satori Sarvecchio Parmesan, then simply swap the recipe below for the Alfredo sauce listed in CopyKat's recipe.  (This Alfredo sauce is also great for using on its own with the pasta of your choice.)
Alfredo Sauce 
2 cups Heavy Whipping Cream
1/2 cup Satori Sarvecchio Parmesan Cheese, grated
1/8 cup Whole Milk
1/2 Tbsp. Black Pepper
In a 1 quart (or larger) sauce pan, add cream, milk and black pepper. Over medium-high heat, bring to a boil.
Remove sauce pan from heat, stir in Parmesan until fully melted and mixed in.  Viola!  You'll now have some excellent homemade Alfredo sauce.
Extra sauce may be stored for a few days in the refrigerator for later use in recipes or as a dipping sauce.

~Special thanks to Sartori for sending along samples to test in our Rural Mom kitchen.