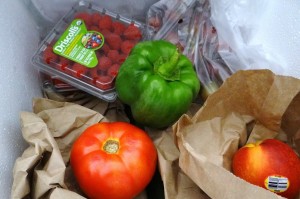 Even though I have easy access to grabbing fresh veggies and fruits from my ginormous garden and the ability to supplement with fresh produce from our farmer's market – seasons change and Boom! Pop! Fizzle… all our access to those fresh goodies are gone due to frost.
Canning and freezing sustains us, but really, who doesn't love the very peak of freshness from their fruits and vegetables?  Nothing compares to snap of a perfectly ripe pea pod or the incredible aroma of a nectarine when you first slice into it.
This is the beauty of what Green BEAN Delivery offers: a bundle of garden goodness on your doorstep when you need it, throughout the entire year.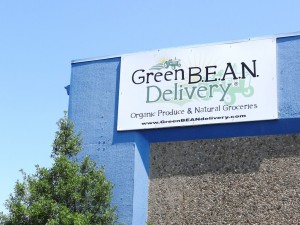 Currently available in Kentucky, Indiana, Ohio, and Missouri, Green BEAN Delivery brings organic and all-natural foods sourced from Midwest farmers and artisans, whenever possible, directly to local consumers' homes.
The company's network of local farmers and artisans gives members a healthy alternative to conventional grocery stores, while supporting local farmers and artisans. Which is all the more reason we adore this amazing service!
Users simply access the company's website to create an order by selecting a produce bin and the delivery frequency (weekly or biweekly.)  Each produce bin offers the ability to customize your order to either take advantage of the weekly produce picks or to choose what fruits and vegetables are of greatest interest to you.
Once you've placed your order, your bin is schedule and Presto! – It appears on your doorstep on your scheduled delivery date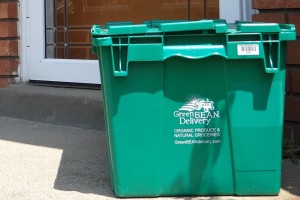 If you are home, you can simply accept the bin and if you are going to be out and about, no worries, each bin is well packed with an insulated cooler and cooling pack to keep everything fresh.  You can also instruct your driver on where to place the bin (ideally in a shady, secure spot) to await your return.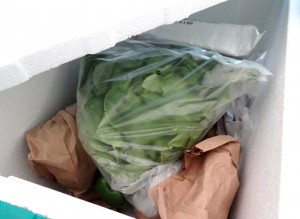 Green BEAN Delivery products are all-natural and free of additives and preservatives. In addition to fruits and vegetables, members can choose from more than 400 products available each week including local eggs, dairy, meats, breads and other unique artisan foods.
The container we sampled was the small fruit and vegetable bin, designed for 2-3 people.  Inside we found buttercrunch lettuce, yellow squash, green peppers, cucumbers, green beans, apples, strawberries, nectarines, red raspberries, grapes and tomatoes (a sample of which is pictured below.)  All-in-all, I found the contents to be plentiful for a week's use for our family of 4.
Along with receiving a bin, I had the opportunity to tour the Louisville warehouse and found the operations there to be impeccable.  The well-organized facility and super friendly, knowledgeable staff were very impressive.  A lot of quality control goes into packing each bin and the employees take great pride in the ability to source local ingredients and work directly with regional farmers.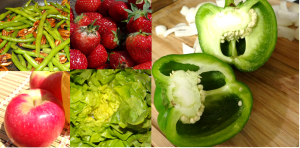 Is there a catch?  I couldn't find one.  The price point on a weekly small fruit and vegetable bin is $35.  Highly reasonable for local organic produce with no hidden fees.
There's also an even smaller bin designed for 1-2 individuals that you can couple with groceries and have your entire weeks' worth of meals delivered straight to your door.  Ideal for busy people or for those with limited access to the grocer and farmer's market.
Green BEAN even recycles the bin and packing materials, picking them up at delivery time when they drop off your new bin.  I'm absolutely enthralled with every eco-option this company practices!
Want to check out Green BEAN Delivery for yourself?  Visit http://www.greenbeandelivery.com for complete details. 
Special thanks to Green BEAN review for providing sample product and access to facilities and information to support this editorial.  All thoughts and opinions are that of Rural Mom.