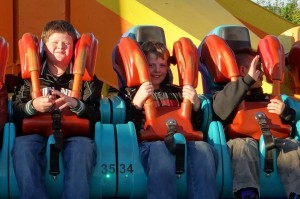 For seven weekends in September and October, America's favorite roller coast haven morphs into an exciting arena of Halloween fun.  The entire theme park including rides, shows, parades – even the dinosaurs – get decked out in Halloween style!
It's hard not to smile when you walk into Cedar Point, the entire park is full of life, laughter and energetic colors.  Halloween brings about a new level of delightful daytime pumpkin-filled cheer but when the bright lights fade away, nighttime steals the show with sinister snarl… you certainly never know what's going to creep out of the fog or what thrill awaits your next turn!
HalloWeekends at Cedar Point offers a slew of family-friendly tricks and treats from mild to wild for every age and scare-level. Special attractions include: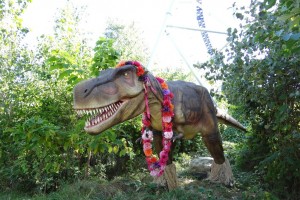 Trick or Treat with the Dinosaurs – a new activity where children can walk the trick-or-treat trail on Adventure Island to see more than 50 life-sized dinosaurs while collecting fun treats from stations along the way.
Howl-O-Palooza – a new children's area featuring entertainment and activities
Monster Midway Invasion Celebration parade – friendly monsters and spooky-cute floats entertain viewers on the midway (at 4 p.m. on Saturdays and Sundays) 
Nighttime Scares for Chillseekers – haunted houses, trails of terror, decked-out coasters, and high-energy live shows are specially designed to frighten the night
We attended the first HalloWeekend of 2013, which coincidentally was our first Cedar Point visit.  The theme park on its own is chock full of fun rides, oodles of shopping, fabulous foods, interesting characters and amazing delights around every corner.  Top it off with the HalloWeekend flair and the fun factor boils over to leave you breathless!
Even the hotels and restaurants on property get in on the action.  Cedar Point certainly goes all out to celebrate the Halloween season and deliver a bewitching experience.
For more information on HalloWeekends at Cedar Point, visit http://halloweekends.com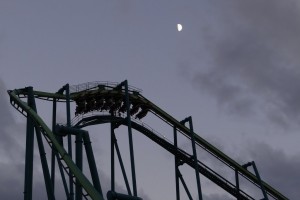 Disclosure:  I attended a blogging conference hosted at Cedar Point.  As part of the press conference, I did receive discounted accommodations.  All thoughts and opinions of Cedar Point are that of Rural Mom. I'm under no obligation to share my experience or information about this theme park, I choose to because this is a quality option for family travel!