Remember my snuggle aficionado?  Well, he's in crazy-good-comfort mode since the DownLinens All Season Down Comforter arrived in our home for review.  Filled with 100 percent hypoallergenic down, it has become a go-to blanket for everyday fluffy-cuddly moments.
As an all-season piece, this comforter is warm enough for winter, yet light enough for summer use… eliminating the fuss of switch of changing blankets throughout the year.
We've certainly had fun with it from the get-go.  When the All Season Down Comforter arrived, it appeared in a little-bitty box and my son and I both wondered "how on earth did they fit a King size comforter in that tiny box?
Well, the thing about a quality down comforter is the fibers make it easy to compact a whole lot of fluff that easily expands into yard and yards of luxurious blanket.
When we removed the comforter from the protective casing, it when from this flat little square: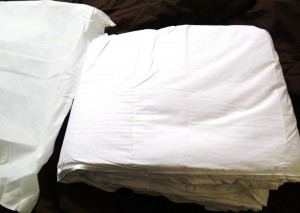 To this balloon of cloud-like comfort: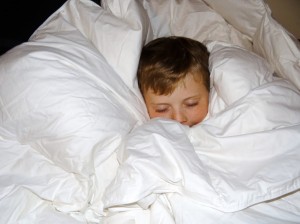 No shifting in materials either, the down is well distributed throughout the blanket.  The methodology behind this is DownLinens use of "baffles" in the sewing process.  Baffles are strips of fabric incorporated into the comforter sturcture that keep the clusters of down from shifting and causing cold or bare spots.  (All DownLinen comforters are sewn using the baffle technique.)
Now, being the proud owners of an irresistible down comforter does come with a little responsibility.  If you treat your comforter well, though, it will offer consistent performance and last for many, many years to come (especially when it's a high quality comforter like those found on DownLinens.) These tips will keep your comforter in tip-top shape:
Daily – shake it!  It prevents the down from ever clumping in one area.  A good time to do this is in the morning when you make the bed or at night-time right before you go to bed.
Quarterly – freshen up! Every three to six month, bring your comforter outside and let it hang out in the shade.  This keeps the comforter nice and fresh between washings.
Occasionally – treat it! Spot clean stains with warm soapy water.  Stain removers can be used too, but should be washed away with clean, warm water and a soft white cloth.  After you treat the stains, use a hand held hair dryer, on low temperature setting, to dry the comforter or hang the comforter on a clean laundry rack to air dry.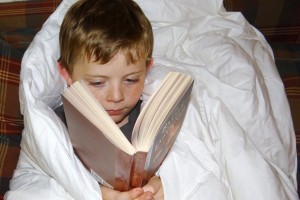 Every 3-5 months – wash it!  A professional laundry or dry cleaning facility is the preferred method for washing real down linens.  If you decide to wash them at home, keep these guidelines in mind:
use a gentle detergent to avoid residue damage
do not use fabric softener or detergent with included fabric softener
wash on warm and gentle cycle and run 2-3 rinse cycles
dry the comforter on the lowest heat setting
toss a few clean tennis balls in the dryer, when drying, to help fluff the comforter back up
when the comforter is dry, hang it up to air out for at least 24 hours to insure it's fully dried (trapped moisture causes mildew)
Every morning and night – enjoy it! A real down comforter is an amazing treat.  So soft and suggly, sweet dreams are easy to have when you're enveloped in pure bliss.