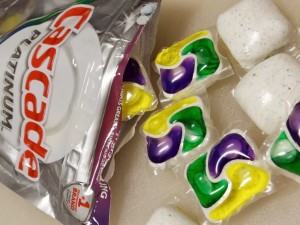 I participated in a campaign on behalf of Mom Central Consulting for Cascade. I received a product sample to facilitate my review and a promotional item as a thank you for participating.
If you've been hanging around Rural Mom long enough, you know we always whipping something good in the kitchen.  You might think my choice kitchen appliance is the oven, but it runs a close second to my ultimate favorite – the dishwasher.   As much cooking as we do around here, that handy gadget is simply invaluable!
The problem is, that invaluable appliance sometimes provides less-than-ideal results.  It's no fault of the machine, though, it's simply a matter of what dishwasher soap I choose to trust with our utensils, glassware, serving sets and bake ware. I'll wager you've made some of the same mistakes I have…
Mistakes like failing to remember to fill the rinse aid compartment and in turn, having spots and streaks galore on your dishes.  Or, worse, forgetting to pre-wash a plate and ending up with stuck-on residue after the wash cycle is done.
These mishaps can ruin your plans for a dinner party, have your kids wiping off streaks on glasses with their t-shirts, and certainly are not acceptable for any food photography plans (as we often have around here when sharing recipes with you.)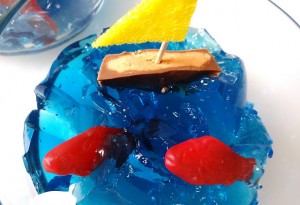 Spots and streaks on dishes can be a real eyesore, particularly if you are photographing glass dishes. 

It doesn't seem like much, but when you are busy, it's easy to forget to all the prep work prior to putting your dishes in the dishwasher and when you have to use a pre-wash, wash, and rinse aid, it's not always convenient to remember all three.
The really good news?  There's an instant problem solver that will bring joy to your dishwasher woes – new Cascade Platinum
This little dishwasher powerhouse contains:
a premium, advanced triple-action formula (works hard to keep your dishes looking their best)
Increased enzyme power delivers better tough food cleaning than Cascade Complete Pacs (meaning it helps gets the nasty food residue off)  
Unique liquid-top dual surfactant system delivers exceptional shine for the dishes (AND helps keep your dishwasher sparkling) 
Specially designed chelant and polymer system helps prevent hard-water film build-up on your dishes, glasses and even the interior walls of your dishwasher (no more icky, spotted dishes)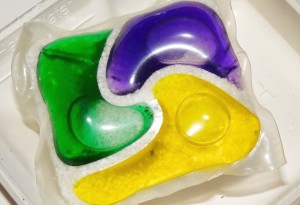 With Cascade Platinum, the only thing you're going to have to remember is:
a) put the dishes in the dishwasher
b) pop the Cascade Platinum pack in
c) hit the wash cycle and enjoy the sparking results
No fuss, no muss, no extra formulas or liquid boosters needed.  It really is that simple and effective – which absolutely makes me one super happy Rural Mom in the kitchen.
Cascade is also bringing you clever ways to improve your food presentation by partnering with Top Chef judge Gail Simmons.  Gail discusses why presentation is just as important as preparation in a series of videos located on the Cascade Facebook page and the Cascade YouTube page.
For more information on Cascade Platinum, visit the Cascade website.