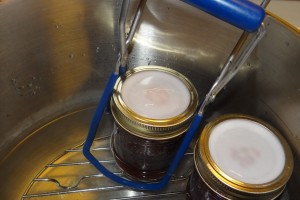 Fagor Jar Lifter makes it super easy to lift hot jars in and out of the pressure cooker.
I get a little giddy when strawberries are in season. For me, it not only signifies that I'll soon be filling my plate with one of my favorite fruits but also that I'll soon be pulling out my canning equipment for the first gardening canning session of spring!
This year, I had a second reason to celebrate strawberry season as I received the Fagor Duo 9-Piece Pressure Canning Set to test out in the Rural Mom Kitchen. Lovely to have a shiny new appliance to accompany me in processing strawberry jam.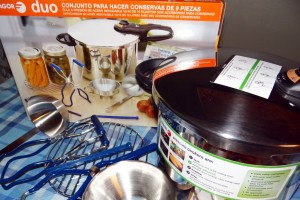 Fagor Duo 9-Piece Pressure Canning Set
The Duo 9-Piece Pressure Canning Set includes; a Fagor 10 quart Duo Pressure Cooker/Canner, a full color cookbook containing all the necessary preparation instructions and recipes for home canning and 7 incredibly handy canning tools: canning rack, jar wrench, jar lifter, funnel, magnetic lid wand, ladle and bubble freer.
The process of making strawberry jam is really quite simple, but having the correct tools makes preparation and canning a total breeze!  Watch how the Fagor Duo Pressure Canning Set enhances the experience…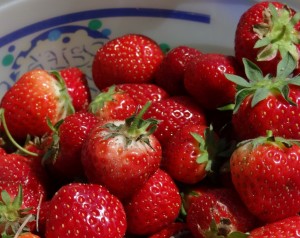 To make this version strawberry jam, you'll need:
2 quarts of strawberries
1 package of powered pectin
6 cups of sugar
1/4 cup of lemon juice (optional: I don't use this in mine, but many people do)
6-8 glass jelly canning jars
6-8 canning jar lids and bands
Fagor Duo 9-Piece Pressure Canning Set
First, you need to wash and remove the stems from your strawberries, then crush them.  I use a food processor, but you can also use alternate methods such as a potato masher.
Rinse canning lids, band and jars to ensure they are clean, then place in very hot water to await jam filling.
Pour water in pressure cooker.  Insert canning rack at the bottom of cooker.
NOTE: The amount of water you use will depend upon whether you are boil canning or pressure canning – consult your canning guide to determine the proper amount.  For this recipe, we are pressure canning, so you will need enough water to over 2-3 inches of the bottom of the jars.  (Hint, you can estimate, it's easy to add or subtract water if needed.)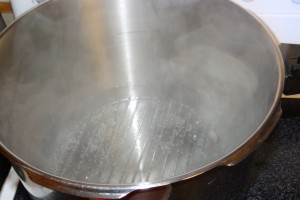 Begin heating water over a high heat in preparation for canning.
Heating the water is where the Fagor Duo Pressure Canner excels.  It's has a nice, thick, sturdy construction but heats up very quickly and evenly.
In a large sauce pan over a medium-high heat, combine strawberries and pectin (and lemon juice, if used.) Stir occasionally and bring to a boil.  Add sugar and return to a hard boil.  Boil for 1 minutes, stirring continuously.  Remove from heat.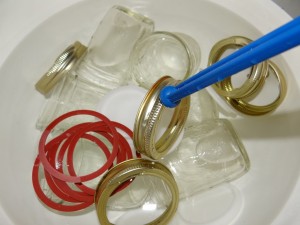 Fagor Magnetic Lid Wand in action.
Use the Fagor Magnetic Lid Wand and Jar Lifter to remove one lid, band and jar from the hot water bath.  The Fagor tools are ingenious!  Before having the Magnetic Lid Wand and Jar Lifter, I scorched a lot of fingers when canning!
Skim foam from strawberry jam, if needed and discard.  Using the Fagor Ladle and Funnel, ladle hot jam into glass canning jar, leaving a 1/2-inch headspace.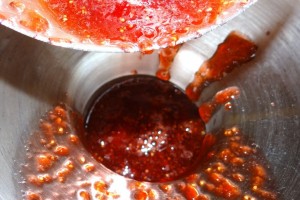 Fagor Ladle and Funnel makes it easy to pour jam into canning jars.
Use the Fagor Bubble Freer to ensure the jam is free of bubbles that may cause it to process incorrectly.
Place lid on top of canning jar, making sure the seal is tight against the rim.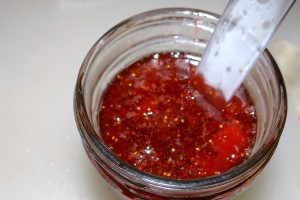 Fagor Bubble Freer helps reduce air bubbles in jam to help ensure correct processing.
Use the Fagor Jar Wrench to adjust and tighten band around the jar.  Again, Fagor rescues you from scorched fingers with another nifty tool!  Plus it makes tightening or loosening the band really easy, which absolutely makes it a keeper.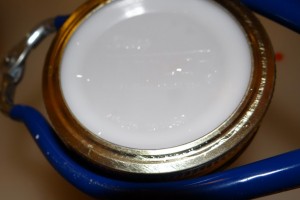 Fagor Jar Wrench in action
Use Fagor Jar Lifter to lift sealed jam into the pressure cooker.
Continue to fill jars and place in pressure cooker until all jam is used.
TIP: If you wind up with more jam than jars that will fit comfortably in the pressure cooker, pour jam in a glass bowl to cool.  When cooled, place it in the refrigerator and you will have fresh jam in the morning for breakfast!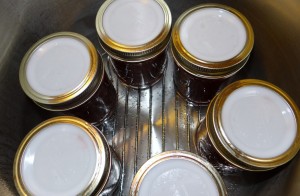 Adjust water level, if needed.  Place lid on pressure cooker and follow manufacturer's instruction for pressure canning strawberry jam.
Two features I love on the Fagor Duo Pressure Cooker are:
–  the sliding seal (the big orange slide button pictured below,) which locks the pressure cooker.  When the seal is in the unlocked position, the pressure cooker will not build up steam.  It's a great feature that keeps you safe in the kitchen when pressure canning
– the pop up button (the little yellow button pictured below,) which signifies when pressure has properly built up in the pressure cooker to begin timing the cooking process.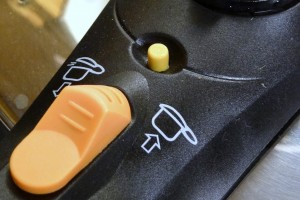 Close-up of handle on lid of Fagor Duo Pressure Cooker
When the pressure cooking timing is complete, you remove and cool down the pressure cooker according to manufacturer's instructions.  When depressurized, you will be able to remove the jars from the pressure cooker and cool them on a rack.
When cooled, check the seals and if they have sealed properly, you'll be ready to rinse the jars off and store them for later use.
There's nothing like fresh homemade strawberry jam.  No store brand can compare.
And there's no comparison to having the best tools at hand to complete your canning process.  I swear, it actually makes the fruits of your labor taste even better!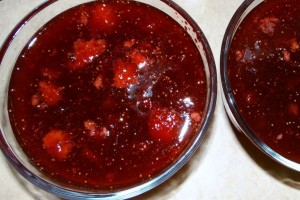 Fresh strawberry jam, chilled and ready to delight in the delicious flavors!
Overall, the Fagor Duo Pressure Canning Set is the perfect canning set for beginners as it contains everything you need to get started including recipes and expert advice.  It's also the ideal set for experienced canners.  With the high quality pressure cooker and extra-ordinary tools in the set, it will elevate your canning processes to an exceedingly-enjoyable new level.
For more information on the Fagor Duo Pressure Canning Set and other terrific Fagor products, visit http://www.fagoramerica.com/home
Special thanks to Fagor for providing sample product to help facilitate this experience.  All thoughts and opinions are that of Rural Mom.