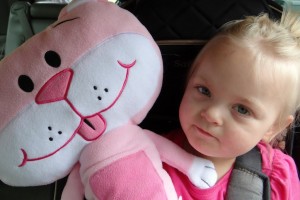 Keeping children entertained on car trips is always a challenge.  Keeping children comfortable during a car ride is an even bigger one.  Countless times my children have tugged at their seat belts or have had neck pains from sleepy, floppy heads.
What's the solution?  Well, you can pack a bag of play toys, a pillow and perhaps purchase a seat belt wrap-around to buffer the discomfort… or you could check out SeatPets, an innovative solution I think is simply fantastic!
SeatPets are plush pillows with a seat belt attachment that provides cuddly comfort and support for your child's neck and head.  They have compartments to stow drinks, snacks, toys and the ability to keep your child happy and entertained throughout the car ride and beyond.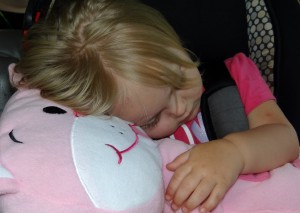 When you're done using SeatPets in the car, your child can carry them around as they would any other stuffed animal.  They make a great pillow at nighttime and can be attached to bicycles and scooters, too.  SeatPets are a plush friend your child can take nearly everywhere.
Included with SeatPets is a backpack strap, too, which allows the child to carry their favorite SeatPet with them to school, when hiking, through airports, and any other travel adventure.
We tested Mercedes the Cat SeatPet with my grand daughter and as you can see from the pictures, she's certainly enjoying the comfort.  Overall, I'm impressed with the quality of this toy helper and the benefits it provides.  It was great to see my grand daughter have a place to rest her head comfortably during our long car trip and the fun reactions she had to her cute new pal.
SeatPets are available in multiple character styles including Love Bug the Ladybug, Bentley the Dog, Yukon the Cow, and Malibu the Monkey.

For more information or to purchase, visit https://www.seatpets.com/
I am a Jay Play Ambassador.  As such, I receive sample product from time to time to review.  All thoughts and opinions are that of Rural Mom.