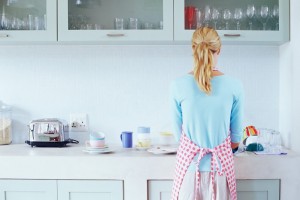 SeabuckWonders certainly understands skin care, but they also have the inside scoop on what moms really want.  Follow their tips to reduce your risk of missing the mark this Mother's Day by avoiding these popular (humorous) beliefs or "Mammoth Mom Myths":
Moms LOVE to spend their free time cleaning! A new mop, dish scrubber or toilet brush will make her feel more loved and needed and oh-so-special.

What all mothers REALLY want is to cater to their families 24/7, so give her that honor by wrapping up a brand new serving tray set complete with pre-made hors d'oeuvres to feed everyone in the family (make sure it's got lots of Dad's favorite snacks—Mom LOVES to please her man)!
Two words: Mom Jeans! That's right—the kind that really emphasize the backside with HUGE pockets! Moms love to look like their own mothers and can't wait to 'fill their mothers' jeans.' Make sure you sneak in her closet and find her pants size, and then go up a size or two to give her plenty of growing room—you know, the way she would always buy your shoes a little bigger. She'll appreciate how thoughtful you were to actually investigate her current size and to anticipate her growing assets to boot!
And the number one mammoth mom myth to avoid…
"Surprise, Mom! We're moving back in!" What would make a mother happier than to have ALL of her grown children move back home? And of course, you've got a spouse and kids of your own now—with ALL of her kids and grand kids back under her roof, a minute won't go by without her getting to be a mother! She can re-mother you, mother-in-law your spouse, grand-mother your kids, and EVEN dog-mother your pets! WOW! This Mother's Day will be epic!
YIKES! Make it STOP! Reboot! Put on the brakes!
So what DOES Mom really want? Something pure – something personal – something pampering.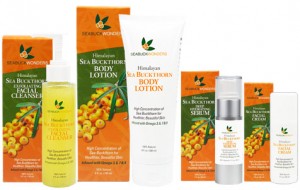 If you're mom (or you) are like me, then you'd certainly appreciate a gift of SeabuckWonders.  I added some of these stellar products to my skin care routine last winter and still remain pleased with the results.  One of my favorite features is the amazing, subtle scent, it's very fresh and uplifting… always putting a smile on my face when I'm using the facial cleanser or body lotion.
SeabuckWonders' personal care products are natural, non-GMO, cruelty-free, organic products are packed with a high concentration of sea buckthorn oil for maximum results. That means healthier, softer and more beautiful skin for Mom and for all those who add these products to their daily routine.
Kick it up a notch by adding in some of SeabuckWonders' supplements like the Sea Buckthorn Berry and Seed Oils and Omega-7 Complete. Among others, the respected Dr. Mehemet Oz of "The Dr. Oz Show" has been praising sea buckthorn oils and liquid supplements for their profound balancing, soothing and rejuvenating properties. This cherished "super fruit" is rich in antioxidants, essential amino acids, vitamin E, the rare Omega 7, and 190 other bioactive nutrients.
You can find all of SeabuckWonders' amazing products at www.seabuckwonders.com. Purchase online or find a store in your area, and make Mom happy this Mother's Day. She deserves it!
Special thanks to SeabuckWonders for providing their fun Mammoth Mom myths and samples to facilitate this conversation.  All thoughts and opinions are that of Rural Mom.