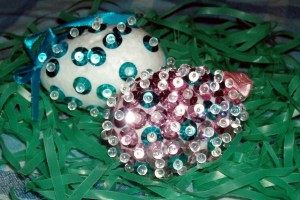 If your looking for a craft to add a little "bling" to your Easter decorations, one that's fun for family craft time, or one to keep little hands busy while you're prepping for the Easter celebration, sequin eggs will be a sure-fire hit!
Styrofoam eggs
straight pins (or blunt edge plastic pins, great for toddlers)
sequins, various colors (by preference)
ribbon, thin in (white or coordinated colors)
Instructions:
Set up your sequins and pins so that they are easy to sort through and select.
Cut a 6-8 inch length of ribbon and fashion into a bow with a loop (for hanging) for the top of the egg.  Or, optionally, cut a length of ribbon to wrap around the egg and tie at the top – it should be enough to wrap around the egg plus 5 inches extra to fashion a bow.
Select a sequin, thread pin through the hole of the sequin and secure to the Styrofoam egg.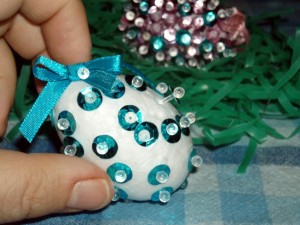 Repeat until egg is covered in your desired pattern.  You can cover the egg completely, create a random design, or have fun with shapes and initials.
When you are finished applying the sequins to the eggs, attach the ribbon to the top of the top of the egg using straight pins to secure.
Hang finished eggs on an Easter tree, use for decorations throughout the home, hang on small plants or bushes, gift to friends and family, or simply use for table decor.