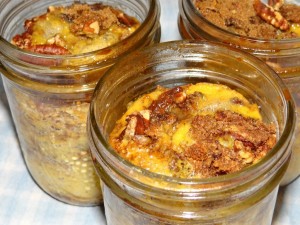 Old Fashioned Bread Pudding With Crunchy Pecans
It's not really surprising I guess that I love mason jars.  After all, I live smack dab in the middle of the Appalachias, it's tradition here to use mason jars for nearly everything… but outside of canning, I hadn't really thought about cooking in them.  Boy was I in for a treat!
In fact, a lot of treats because there's plenty of sweet mason jar cooking goodness in the pages of 150 Best Desserts in a Jar.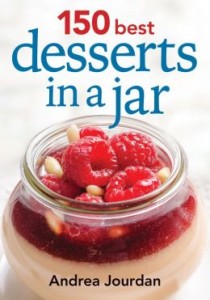 Such a clever and fabulous way to make single serve treats, I think cooking desserts in mason jars is going to become my all-time favorite.
150 Best Desserts in a Jar contains  ideas for puddings, cobblers, pies, cakes, jellos, custards, trifles and even sweet soups and parfaits.  You'll find all of your traditional favorites and some exciting innovations, too, like "Iced Mocha Syllabub," "Chocolate Tapioca," and "Burnt Orange Creme Brule."
Easy-to-follow recipes are compliments with baker's tips, techniques and even helpful hints on choosing the right jars to make your dessert presentation pop.
Full color photos of some of the desserts featured will have you itching to get in the kitchen immediately.
The first recipe I tried was the "Old-Fashioned Bread Pudding with Crunchy Pecans" (pictured above) and it totally sold me on mason jar cooking – what a fabulous concoction!
150 Best Desserts in a Jar is a welcomed addition to my Rural Mom Bookshelf that will be dog-eared in no time as I work my way through each delicious recipe.  No doubt my party guests will be super delighted as I serve up "Grilled Banana and Whisky Mousse" for our next gathering…
Thanks to Robert Rose for providing an advanced reading copy to facilitate this conversation.  All thoughts and opinions are that of Rural Mom.