My Rural Mom friend suggested to me…
America's Favorite Recipes!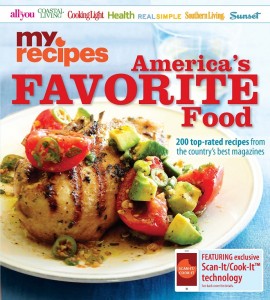 As you've no doubt figured out, we're wild about great recipes around here and I have to confess, I have more than my share of cookbooks in my Rural Mom kitchen (but, you really can't ever have enough cookbooks… can you?)
In any case, if you're looking for one cookbook this year that has it all, America's Favorite Food: 200 top-rated recipes from the country's best magazines
 will do nicely!
Full illustrated with mouth-watering pictures and easy-to-follow instructions America's Favorite Food includes popular recipes from magazines like All You, Cooking Light, Real Simple, and Southern Living.  All tried and tested to ensure you're bringing delicious dishes to your table.
You know how you like to clip recipes from past issues of magazines you'd like to try- it's like that, only highly organized, lot more user-friendly, and even has a free Scan-It, Cook-It feature for smartphones! Each page in the book connects readers exclusively to interactive bonus features online, from how-to videos to customizable recipes and shopping lists.
Need kid-friendly dishes, a quick-and easy weeknight meal options or a low-calorie dessert?  You are going to find it in the pages of this cookbook.  Two of my favorite features include the "Ask and Expert" tips peppered throughout the guide and the reader comments.  It's a bit like having an advanced chef and a few friends in your kitchen to help cook.
One must-bake asap recipe that's made my list is the "Chocolate-Bourbon Cake" featured on page 248.  Yes, this is what I expect to serve on Christmas Eve…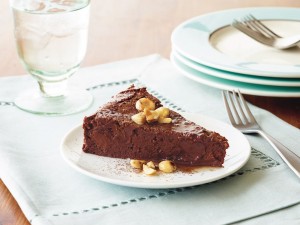 In a nutshell, yum!
The My Recipes America's Favorite Food cookbook is suitable for budding or advance chefs, and along with gifting, you'll certainly want to scoop up a copy for your rural kitchen!
Disclosure:  We often receive advance reading copies of books for review and choose to share the best of the best with you.  All thoughts and opinions are that of Rural Mom.