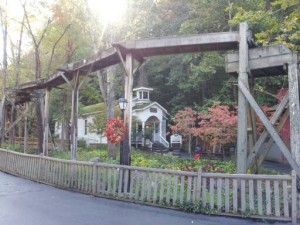 Robert F. Thomas Chapel at Dollywood (10/12)
When visiting Dollywood this fall, I was surprised and pleased to learn that the beacon theme park of the south has tailored their park menus to cater to special dietary concerns including food allergies, vegetarian, diabetic, and gluten free choices.
Now, while enjoying the music, rides, artisans and atmosphere of Dollywood, gluten free guests can feel confident they'll get all the fixin's of a down-home meal without worry.  Certainly southern hospitality and sensitivity at their finest!
Research from the University of Maryland Center for Celiac Research indicates that approximately 18 million people, or 6 percent of the population, are gluten sensitive, meaning they have a reaction to ingesting gluten that includes symptoms of digestive disorders, fatigue, depression, and joint pain.  The approach Dollywood is taking to address gluten free lifestyles is a much-needed and welcome one!
An increase in the request for special dietary needs meals Dollywood staff received from guests prompted research of food allergies and what they could do to ensure families visiting the park would be able to eat together without fretting over dietary concerns.
Dollywood's studies, with guidance from the Food Allergy and Anaphylaxis Network, found that for every one thousand guests that entered their gates approximately 40 had special dietary needs. To address this growing need, they created a Start Fresh Program which includes training staff on different food allergies and giving them operational procedures for preparing safe foods.
Gluten free menus can be found at the Backstage Restaurant and Granny Ogle's Ham N Beans, two of Dollywood's primary dining restaurants. Various treats and snacks can be found throughout the park. I even spotted a delicious gluten-free cookie at Spotlight Bakery (near the entrance of the theme park.)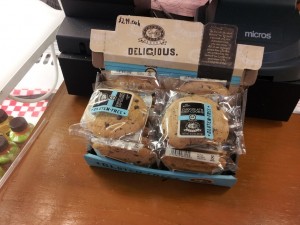 If a guest has questions prior to visiting the Dollywood, the Foods Office can be reached at (865) 428.9428. At the park, all restaurants on park have ingredient books and will be happy to share ingredient labels of any product a guest inquires about.
More information can be found on the Dollywood website at 
How wonderful to be able to enjoy a fun-filled visit without making sacrifices at mealtime or having to carry in your own snacks. Dollywood is well known for the rides and award-winning live entertainment, but certainly deserves high accolades for their amazing efforts to accommodate all of their guest's dietary needs and concerns!