Last week I introduced you to the UNREAL movement to UNJUNK America's food and how we are helping by introducing these innovative candies choices to our neighborhood.  UNREAL Candies have no corn syrup, no artificial preservatives, no artificial colors or flavors, no hydrogenated oils or fats, and in my opinion, a fresher, more satisfying taste.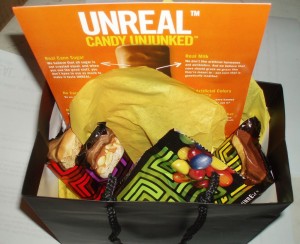 UNREAL goody bags we put together for our neighbors
My boys and I loved the UNREAL Peanut Butter Cups, Candy Coated Chocolates and all the UNREAL goodness so much, the we decided a neighborhood party unjunking was in order- in other words, we took our celebration door to door in reverse trick-or-treating style.  This would also give us the chance to have real conversations and help convey the reasons why our family wants to help influence change in the way junk food is produced.
To compliment our natural candy selection goody bags, we decided to purchase and personalize pumpkin pie pumpkins and gift them along with instructions on how to bake (see end of post for directions.)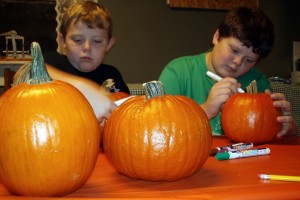 Personalizing pumpkins with Painters Markers to gift.  
My boys really enjoyed the opportunity to create something special for each neighbor and to share the new UNREAL candies that passed their fickle taste tests.
UNREAL has all their favor flavor combinations and styles, but includes 40% less sugar on average than competitor brands and identifiable ingredients on the package.  While I certainly won't be allowing any more candy consumption than I normally do, I feel better about handing them a more natural alternative.  The only drawback I've found is that UNREAL doesn't come in bite size portions for smaller snack indulgences, but no doubt, that will likely be on the horizon.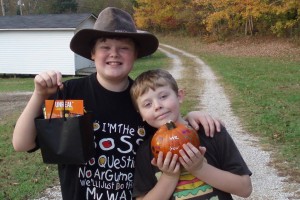 Heading down our country paths with UNREAL gifts for our neighbors'
We're not done yet, we still have a couple goody bags and pumpkins to deliver this weekend, but so far, our friends and neighbors were delighted with the boys' expressive pumpkins and their willingness to share candy, rather than to be on the receiving end.  We've had some great conversations about how important it is to know what's in our food and how easy (and tasty!) natural products can be.  It's been  a lovely experience Unjunking our rural neck o' the wood this Halloween season with UNREAL!
You can easily unjunk your neighborhood, too.  Did you know that UNREAL candies cost the same as other top candies?  What's missing is the junk, not the savings.  I've also noticed they were on sale at our local CVS, so be sure to watch for extra opportunities to stock up!
For more information on UNREAL Candies, visit www.getunreal.com/
————–
Fresh Pumpkin Pie Directions:
Cut open pumpkin, removing stem, creating a circle in which to reach into the pumpkin to remove seeds and stringy portions of pumpkin. Cut pumpkin into chunks. In saucepan over medium heat, in 1 inch of boiling water heat the pumpkin to a boil. Reduce heat to simmer, cover and cook for 30 minutes. Drain and cool.  Remove the peel and mash cooked pumpkin with a potato masher.
Prepare a traditional pie crust or used a crushed graham cracker or crushed vanilla wafer crust for a twist on traditional.
Preheat oven to 425 degree.
Beat 2 eggs, 1/4 tsp Allspice, 3/4 cups of Brown Sugar, 1/2 tsp. of Salt, 1/2 tsp. of Cinnamon, 1/4 tsp. of Cloves, 1/2 cup of Milk, and 2 cups of the cooked pumpkin mash.
Bake at 425 degrees for 10 minutes, then lower oven temperature and bake at 350 degree for 30-40 minutes.  Custard should be well set and standard toothpick test should come out clean.
Disclosure:  I received compensation and goodie bag materials to host an unjunking mission.  All thoughts, opinions, and ideas are that of Rural Mom.