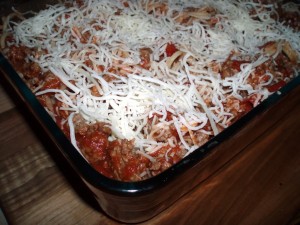 Gluten Free Baked Spaghetti (recipe below)
As I've found out, gluten free living can certainly be a challenge to maintain and does mean sacrificing some ol' stand-by food favorites and discovering new substitutions to maintain a healthy, balanced diet.
One of my biggest hang-ups, though with going gluten free is that my family does not have the need-to that I do, so supper time has been more challenging, having to often make separate dishes and say "no" to some dishes I'd normally enjoy.
But, I'm not okay with that.  There are some things that simply need to fit together and I need a way to fit my dietary needs in to mesh better with my family's preferences.  One love we all share in preferences for dinner is pasta and the thought of having to continuously adapt is a bit too daunting for me.
So, it's cool to see the Past Fits (www.pastafits.org) program from The National Pasta Association, which discusses how Pasta Fits into…
• Your Lifestyle – Pasta meals can be fast and easy to make on the go! Many pasta meals can be on the table in less than a half-hour.

• Your Budget – As of March 2012, on average pasta costs $1.45 per pound. You can add lean meats and proteins to your pasta for a low budget meal that the whole family loves.
…and the biggie for me • Your Diet – With roughly 100 calories per half cup serving, very little sodium or fat and no cholesterol, pasta is an ideal foundation for building healthy meals.Pasta is a great delivery system for protein-packed veggies and lean meats. And pasta is now available in a wide variety of diet-friendly choices like whole grain and gluten free!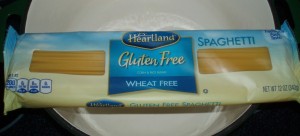 The first dish I tackled was our standard go-to family favorite for a quick, hearty week night meal that is super easy to prepare: Baked Spaghetti.  The basics of this dish are items we normally have on hand and can easily be adapted based on what leftovers we might have, such as swapping chicken or pepperoni for the ground beef, and using fresh or canned tomato sauce.  To test out how my Rural Hubby and sons would react to my gluten free revisions, I stuck to the tried-and-true basic recipe:
1 lb. of Lean Ground Beef, cooked and crumbled
1 box of Heartland® Gluten Free Wheat Free Spaghetti, cooked
1 quart jar of Spaghetti Sauce (homemade or organic gluten free store variety)
2 cups of Mozzarella, shredded (from block cheese, not pre-bagged as it may contain gluten)
Pre-heat oven to 375 degrees.
In a 9 x 13 baking pan, layer spaghetti, ground beef, and sauce.  Mix together thoroughly.  Stir in 1 cup of shredded Mozzarella.  Sprinkle remaining shredded Mozzarella evenly across the top of the spaghetti mixture.
Bake for 15-20 minutes, until cheese is completely melted.  Serve and enjoy!
Results:  I found the Heartland Gluten Free Wheat Free Spaghetti easy to cook, very similar to regular spaghetti preparation.  The noodles separated easily and did not clump.  They were slightly thicker than standard spaghetti noodles, but looked and tasted very authentic (in other words, nummy!)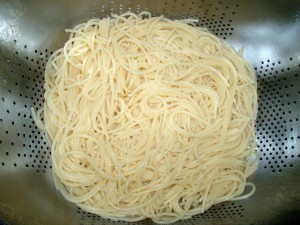 The real test: My family didn't even know the difference until I told them.  I loved that I could make one meal to satisfy all of our tastes and dietary needs.  My husband already knew about gluten free eating and all the findings I have made to date, but this was a terrific way to discuss why it's helpful for me to be eating gluten free (rather than them simply recognizing there are "mommy foods" around the house,) and why some people need or choose a gluten free lifestyle.
Though I won't be making every family meal gluten free and will continue to cook things separately when needed, it's so great to have a pasta option that truly does fit our lifestyle!
Disclosure:  I received sample product to review.  All thoughts and opinions are that of Rural Mom.